Thanks to You
Auggies are engaged in learning and service. Gifts to scholarships at Augsburg help create experiences and opportunities that allow students to focus on their studies, pursue funded research, and study abroad. More than 95 percent of Augsburg students benefit from academic scholarships and grants that support an active education and fund students' engagement in their communities and the world.
I am extremely grateful for your donations towards my studies. As an international student, this means a lot to me as it opens many doors and opportunities each day I spend here at Augsburg. Most importantly, this gesture gives me motivation and inspiration to work hard in my day-to-day activities. Lastly, I strive to be someone successful and one day come back and do the same as you did for me. – Metti Gari '20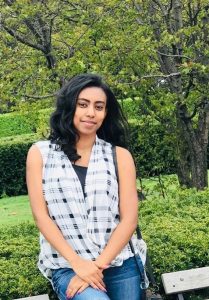 Metti Gari '20 is a recipient of the Dr. Courtland L. Agre Memorial Scholarship, Iver and Marie Iverson Scholarship, and Reverend Arnold J. Melom Scholarship. Metti served as a public safety dispatcher at Augsburg, was an international student mentor and undergraduate student researcher for the Center For Sustainable Nanotechnology, and completed her research with Dr. Vivien Feng on the Genotoxicity of Lithium Cobalt Oxide towards Bacillus Subtillus.
Augsburg welcomes additional contributions to the funds listed below. Donors can
give online
and note designation in the "Other" field. If you would like assistance in making a gift, please contact Institutional Advancement at 612-330-1171. Students are invited to contact Augsburg's financial aid office about scholarship applications.
Endowed Scholarships
Ada Bakken American Indian Scholarship
Adeline Marie (Rasmussen) Johnson Scholarship
Adolph Paulson Scholarship
Ailene Cole Theatre Arts Scholarship
Albert and Solveig Birkeland Scholarship
Alfred and Margaret Syring Scholarship
Alma Jensen Dickerson Scholarship
Alne-Swensen Scholarship
American Indian Scholarship
Amin E. Kader Business Scholarship
Andreas Helland Scholarship
Andrew and Constance Burgess Scholarship
Anne Pederson Scholarship
Anne Thompson Endowed Scholarship
Arne and Jean Markland Scholarship
Arnold and Neola Hardel Scholarship
Arthur Carl Mammen Scholarship
Arvida Norum Scholarship
Augsburg Associates Scholarship
Augsburg Business Alumni Scholarship
Augsburg Nurses Alumni Association Scholarship
Augsburg Seminary
Augsburg University Chemistry Alumni Scholarship
Augsburg University Endowed Scholarship
Augsburg Women Engaged Endowed Scholarship
August Molder Art Scholarship
Barbara (Tjornhom) and Richard K. Nelson Scholarship
Barbara Carlson Gage Endowed Scholarship
Barbara L. Baker Scholarship
Barry and Cynthia Carlson Family Endowed Scholarship
Bernice Kolden Hoversten Memorial Choral Scholarship
Beth Halverson Cass Scholarship
Beverly Durkee Mathematics Scholarship
Bodo F. Suemnig Scholarship
C.A.L. and Esther J. E. Anderson Scholarship
Carl C. and Kathleen A. Casperson Scholarship
Carl Fosse Scholarship
Carl H. Chrislock Scholarship
Catha Jones Scholarship
Centennial Singers Scholarship
Charles and Catherine Anderson Diversity Scholarship
Charles and Catherine Anderson Scholarship
Chung Yen and Choi Wan Chan Scholarship
Clair E. and Gladys I. Strommen Scholarship
Clarence and Otillia Richter Scholarship
Class of 1931 Scholarship
Class of 1967 Diversity Scholarship
Class of 1968 Endowed Scholarship
Class of 1998 Scholarship
Clayton and Ruth Roen Scholarship
Clifford A. Peterson Scholarship
Clifford and Martha Nylander Scholarship
Conrad Sunde Scholarship
Corinne and Herbert Chilstrom Scholarship
Curtis and Marian Sampson Music Scholarship
Dagny Christensen Scholarship
Dahlberg and Peterson Family Scholarship
Dave Hagert Scholarship
David and Sharon Mortrud Scholarship
David Gronner Scholarship
David J. and Elaine Hill Melby Scholarship
David J. Formo Scholarship
David L. Shaver Scholarship
David Mathre Scholarship
David R. Winsor Scholarship
Debra Boss Montgomery Scholarship
Don Warren StepUP Scholarship
Donald A. Olsen Endowed Scholarship
Donna Demler McLean Endowed Scholarship
Dorothy Lijsing Kleven President's Scholarship in Choral Music
Dorothy Solheim Schalk Scholarship
Douglas and Grace Schroeder Scott Endowed Scholarship
Dr. Bernhardt J. Kleven Scholarship
Dr. Blanca-Rosa Egas Scholarship
Dr. Bruce and Sharon Reichenbach Scholarship for International Students
Dr. Courtland L. Agre Memorial Scholarship
Dr. Diane Levy Jacobson Endowed Scholarship
Dr. Einar O. Johnson Scholarship
Dr. Grace Dyrud Endowed Scholarship
Dr. Kenneth C. and Mrs. Dorothy A. Bailey Philosophy Scholarship
Dr. Kenneth D. and Mrs. Linda (Bailey) Holmen Chemistry Scholarship
Dr. Kenneth D. and Mrs. Linda (Bailey) Holmen Scholarship
Dr. Kristofer and Mrs. Bertha E. Hagen Scholarship
Dr. Lowell and Janice Kleven Scholarship
Dr. Norma Noonan Scholarship
Dr. Paul R. and Maxine H. Fridlund Biology Scholarship
Dr. Stephen "Gabe" Gabrielsen Memorial Scholarship
E. Milton Kleven President's Scholarship in Public Service
Edward Yokie and E. Lorraine Yokie Scholarship
Edwin C. Johnson and Stan L. West Scholarship
Edwin W. and Edith B. Norberg Scholarship
Edwin Yattaw Scholarship
Edwina L. Hertzberg Scholarship
Eleanor Christensen Edwards Scholarship
Elias B. Eliason, Sr. Scholarship
Elias P. Harbo Scholarship
Elva B. Lovell Life Scholarship
Emil M. Fossan Scholarship
Ernest S. Egertson Family Scholarship
Esther J. Olson Scholarship
Esther Peterson Gronberg Scholarship
Fairview Nursing Alumni Association Scholarship
Floyd Lorenzen Scholarship
Floyd V. and Ruth M. Case Scholarship
Forrest T. Monson and Thelma (Sydnes) Monson Scholarship
Forss-Herr Scholarship
Frank and Beatrice Livingston Endowed Scholarship
Fritjof E. Christensen Endowed Scholarship
Galaway Foundation Scholarship
Gamble-Skogmo Foundation Scholarship
Garry Hesser and Nancy Homans Scholarship
Gary Tangwall Scholarship
Genevieve E. Stelberg Scholarship
George and Ella Lange Scholarship
George Soberg Scholarship
Gerda Mortensen Scholarship
Gertrude S. Lund Scholarship
Gilmore Family Scholarship
Glen and Marilyn Person Scholarship
Good Samaritan Fund
Grace Anne Johnson Scholarship
Grace Carlsen Nelson Scholarship
Grace Jewel Jensen Buster Scholarship
Grace Scholarship
Graves Family Endowed Scholarship
H. Theodore and Michele Grindal Scholarship
Hanwick Thanksgiving Scholarship
Harold B. and Laura M. Lanes Scholarship
Heidi Huber Scholarship
Helen (Mohn) Henderson Scholarship
Henry and Leona Antholz Scholarship
Henry P. Opseth Scholarship
Honeywell American Indian Scholarship
Honeywell Student of Color Scholarship
Hoversten Peace Scholarship
Hoyt and Lucille Messerer Endowed Scholarship
Inez Olson Schwarzkopf Scholarship
Iver and Marie Iverson Scholarship
Iver and Myrtle Olson Scholarship
Jacob and Ella Hoversten Scholarship
James and Shirley Norman Family Endowed Scholarship
James M. Kingsley American Indian Scholarship
James P. Pederson Scholarship
Jerold and Vera Benzel Family Scholarship
Jerome and Winifred Formo Scholarship
Jeroy C. and Lorraine M. Carlson Scholarship
Jim and Shelby Andress Education Scholarship
Joan L. Volz Scholarship
Joel and Frances Torstenson Scholarship
Joel and Mary Ann Elftmann Scholarship
Johan H. O. Rodvik Scholarship
Johan, Theodore and H. Alfred Weltzin Scholarship
John and Agnes Siverson Scholarship
John and Gracia (Nydahl) Luoma Scholarship
John and Vera Thut Scholarship
John Andrew Adam Scholarship
John G. Quanbeck Scholarship
John L. and Joan H. Ohlin Scholarship
John Norris Memorial Scholarship, St. John's Lutheran Church
John R. Jenswold Scholarship
Jorgensen Sethre Scholarship
Judith (Olson) Nelson Scholarship for Health and Physical Education
Judith A. Christensen Scholarship
Karen Neitge Scholarship
Kay Halverson Scholarship
Keith Hoffman Scholarship
Kenneth C. Bailey Scholarship
Kenneth O. Lower-Nordkap Scholarship
Kent Anderson American Indian Scholarship
Kerridge/Mueller Scholarship
L. Gracia Christensen English Scholarship
Laura Ann Erickson Scholarship
Lea A. and Elsie L. Wildung Scholarship
Lee Family Scholarship
Leif Sverdrup Physics Scholarship
Leland and Louise Sundet Scholarship
Leland B. Sateren Choral Music Scholarship
Leola G. Anderson Scholarship
Leonard and Anabelle (Hanson) Dalberg Scholarship
Leonard and Sylvia Kuschel Scholarship
Leonard and Winifred Leifgren Scholarship
Leroy and Isabel Anderson Scholarship
Lester A. Dahlen Family Endowed Scholarship
Lingen Johnson Endowed Scholarship for Education and Music Therapy
Linnea A. Danielson Scholarship
Lockridge Grindal Nauen Minority Scholarship
Lois A. Swenson Scholarship, Center for Global Education and Experience
Lois Oberhamer Nye Scholarship
Loren Del Paulson Scholarship
Loren Manuel Schottenstein Scholarship
Lucille H. Messerer Scholarship
Lucy Bodnarczuk Scholarship
Luthard O. Gjerde Scholarship
Lynn Halverson Scholarship
M. Anita Gay Hawthorne Scholarship
M. J. Estrem Scholarship
Mabeth Saure Gyllstrom Scholarship
Magnus and Kristofa Kleven, David and Florence Lijsing President's Scholarship
Margaret E. Andrews Scholarship
Marianne Anderson Entrepreneurial Scholarship
Marilyn and John Paul Nilsen Scholarship
Marilyn Petersen Scholarship
Marilyn Solberg Voice Scholarship
Marjorie and James R. Gronseth Jr. Memorial Music Scholarship
Marlys Johnson Simengaard Scholarship
Marolyn Sortland Halverson String Scholarship
Martin and Esther Quanbeck Scholarship
Martin Olav and Sylvia Lee Sabo Scholarship for Leadership in Public and Community Service
Marvin T. Nystrom Scholarship
Mary E. (Mimi) Johnson Scholarship
Mary E. Larsen International Studies Scholarship
Mary Witt Scholarship Fund of the Center for Global Education
Mathwig-Steen Endowed Scholarship
Max David Bassinson Music Scholarship
Mayo Savold Memorial Scholarship
McKnight Foundation Scholarship
Megan Roth Shroat Endowed Scholarship
Mildred and Eleanor Krohn Scholarship
Mildred Ryan Cleveland Scholarship
Mimi Baez Kingsley Modern Language Scholarship
Minnesota Society of Certified Public Accountants Endowed Scholarship
Miriam Cox Peterson Endowed Scholarship
Morris G. C. and Hanna Vaagenes Missionary Scholarship
Murphy Square Literary Award
Myles Stenshoel Scholarship
Nathan R. Schott Scholarship
Nic Thomley Endowed Scholarship
Nicholas Lenz Memorial Scholarship
Norman and Louise Bockbrader Scholarship
Norman D. and Ilene G. Holen Scholarship
O. I. Hertsgaard Scholarship
Ole K. and Evelyn L. Olson Scholarship
Oliver M. and Alma Jensen Dickerson Scholarship
Onesimus Scholarship
Orville and Gertrude Hognander Family Fund
Orville C. Hognander Business Scholarship
Pastor Bob Evans Scholarship
Pastor Carl O. and Edith W. Nelson Scholarship
Pastor George J. Knudson Scholarship
Pastor Red Nelson Scholarship
Paul G. Jr. and Evelyn Sonnack Scholarship
Pederson Samuelson Scholarship
Pennock Scholarship
Philip and Dora Quanbeck Scholarship
Philip and Ruth Helland Scholarship
Philip W. and Helen Taylor Rowberg Scholarship
Phyllis Kennedy Family Scholarship
Phyllis M. Baker Scholarship
Prairie Island Indian Community Scholarship
Professor Jeanne Boeh and Mr. Bernhard Fleming Economics Scholarship
Professor Kenneth N. Erickson Physics Scholarship
Professor Roberta Stewart Kagin Scholarship
Raymond E. and Margaret J. Anderson Scholarship
Reuben I. and Marion Hovland Scholarship
Rev. Clement A. Gisselquist Church Music Scholarship
Rev. Dr. Harald D. and Jonette T. Grindal Scholarship
Reverend and Mrs. George Pauluk Scholarship
Reverend Arnold J. Melom Scholarship
Reverend Horace E. Nyhus Scholarship
Reverend John Hjelmeland Scholarship
Reverend Lawrence and Gertrude Sateren Scholarship
Reverend Mark Ronning Music Scholarship
Reverend Martin J. and Olga S. Olson Scholarship
Reverend Olaf Rogne Scholarship
Richard G. Asleson Scholarship
Robert and Joyce (Engstrom) Spector Scholarship
Robert D. and Carolyn W. Odegard Scholarship
Robert E. Paulson Scholarship
Robert Ellingrod Scholarship
Robert Karlén Chamber Music Scholarship
Robert Warzyniak Scholarship
Robert Wick Scholarship
Ronholm Scholarship
Rory Jordan Scholarship
Roy and Eleanor Krohn Scholarship
Roy C. and Jeanette Tollefson Scholarship
Russel and Virginia Smith Scholarship
Russell and Helen Quanbeck Scholarship
Ruth E. and Duane E. Johnson Psychology Scholarship
Ruth Ilene Lindquist Physics Scholarship
Ruth Krohn Kislingbury Choral Music Scholarship
Ryan Adrian-Hendrick Rivard Scholarship
S. Luther and Carol B. Kleven Family Scholarship
Sam Coltvet Memorial Choral Music Scholarship
Senior Challenge Endowment
Sesquicentennial Scholarship
Shakopee Mdewakanton Sioux Community Scholarship
Shika Addo Memorial Scholarship
St. Luke's Lutheran Church Centennial Scholarship
Stan Person Scholarship
Steen Family Scholarship
Susan H. and Dean C. Kopperud Scholarship for Excellence in the Field of Music
Susan Halverson Mahler Scholarship
Sylvia and Arvo Johnson Endowed Scholarship
Theodore and Lucille Nydahl Scholarship
Theodore and Virginia Menzel Scholarship
Theodore J. Hanwick Scholarship
Thomas D. and Gretchen S. Bell Scholarship
Thorpe Family Scholarship
Thorpe Family Scholarship, Bethany Lutheran Church
Thorvald and Anna Burntvedt Scholarship
Thrivent Financial for Lutherans Adult Learner Scholarship
Thrivent Financial for Lutherans Fund for Lutheran Students
Thrivent Financial for Lutherans General Scholarship
Thrivent Financial for Lutherans Learning Disability Scholarship
Thrivent Financial for Lutherans Opportunity Scholarship
Thrivent Financial for Lutherans Physical Disability Scholarship
Timothy O. Olson Scholarship
Torgney and Valborg Kleven Scholarship
Trinity Lutheran Congregation 125th Anniversary Scholarship
Tze-Lien Yao-Hsieh, Lenorah Erickson, and Mildred Joel Scholarship
Wayne and Carol Jorgenson Scholarship
Welckle Endowed Scholarship
Westwood Lutheran Church Second Mile Mission Scholarship
William and Anne Frame Scholarship
William J. Henry Scholarship
William Randolph Hearst American Indian Scholarship
William Randolph Hearst Scholarship
Yackel Endowed Scholarship, Center for Global Education and Experience
Yackel Students of Color Scholarship, Center for Global Education and Experience
Non-Endowed Scholarships
Charles and Ellora Alliss Educational Foundation Scholarship
Dawn Ludwig Legacy Scholarship
Doran Family StepUP Fund
George S. and Mary K. Larson Scholarship
Groves Foundation Emergency Assistance Fund
Ingram Grant American Indian Support Fund
Instituto de los Mexicanos en el Exterior Scholarship
Jane Burkleo Scholarship, Minneapolis Foundation
Mary Roberts Wilson Scholarship
Math Scholarship
Mathematics: Data Analytics Scholarship
Minnesota Private College Fund
Music Scholarship
Olson-Peterson-Wiggins Scholarship
Peace Scholars Fund
Presser Undergraduate Scholar Award
Ralph and Grace Sulerud Scholarship
Reverend Donald C. Carlson Scholarship, Normandale Church
Sharon L. Upton Scholarship
Sherry Lou Engebretsen Scholarship
StepUP Student Scholarship
The Inner Peace Scholarship
Thomas C. McCue Scholarship
Todd Hubbard Scholarship
US Bancorp Foundation Scholarship
Wittenbreer Family History Award
Other Endowments
Anne Pederson Women's Resource Center Endowment
Athletic Endowment Fund
Batalden Faculty Scholar Program in Applied Ethics
Bernhard Christensen Chair Endowment
Business Chair Endowment
Campus Ministry Endowment
Christensen Center for Vocation Endowment
Clair and Gladys Strommen Center for Meaningful Work
Clair Strommen A-Club Tournament Endowment
Class of 1957 Endowment
David Huglen Strommen Endowment
Donald and Phyllis Holm Endowment
Dr. Kenneth D. and Mrs. Linda (Bailey) Holmen Faculty Growth Fund
Edor Nelson Endowment
Faculty Salary Endowment
Frame Endowment for Facilities Maintenance
Gage Learning Disabilities Program Endowment
Grangaard Faculty Development
Groves Learning Disability Endowment
Information Technology Endowment
John and Allette Quanbeck Lecture Fund
Johnson Scandinavian Library Fund
Judith Christensen Endowed Math Fund
Judith Christensen Endowed Physics Fund
Karon Garen Fund for Urban Debate
Linda Schrempp Alberg Award
Lowell O. Larson Endowed Travel Fund
M. Joel Canadian Studies
Malcolm and Maybelle Estrem Entrepreneurial Studies
Marina Christensen Justice Fund
Master of Arts in Leadership Endowment
Minnesota Debate Endowed Fund
Modern Language Department Endowment
Nursing Outreach Endowment
Paul Steen Race Reconciliation Project Endowment
Paulson Endowment for Art
Reuel Harmon/Dodge Nature Center Endowment
Sabo Endowed Chair
Sesquicentennial Campaign Endowment
StepUP Growth Endowment
StepUP Program Endowment
Sundquist Business Professorship
Sverdrup Visiting Scientist Lecture Fund
Piper Family StepUP Program Endowed Fund
Vocation Endowment