Construction on the Norman and Evangeline Hagfors Center for Science, Business, and Religion is now into its fifth month. We appreciate everyone's help keeping the construction area safe for workers and the campus community. You can help keep the construction area safe by ensuring that no unauthorized personnel enter the construction site at any time. Only authorized personnel–wearing hard hats and safety vests–should enter the site.
CONSTRUCTION SITE WORK
Work expected on the construction site this week includes the following: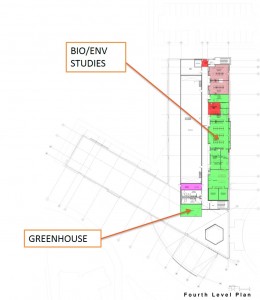 Fourth-floor formwork. The concrete pours for the third floor of the north wing are complete. This week, construction crews will continue putting the formwork in place for the fourth floor of that wing. (See diagram at right showing the floor plan for the fourth floor on the north wing. The illustration show the general intent of the fourth floor; layout and final design may be revised slightly from the drawing.) Fourth-floor concrete pours are expected to start early in the week of September 12. The concrete pours will again involve restricting parking along 21st Avenue South between South 7th and South 8th streets to allow for staging of concrete trucks in the area to enable a consistent concrete supply for each pour. Watch for Amail and signage for parking restrictions on campus.
Continued column construction. Construction of third-story columns will continue on the north wing of the building this week,
Grade-level concrete slab is complete. Last week, the final section of the grade-level concrete slab for the first floor was poured. As a result, the entire footprint of the building is now in place.
Road repair on South 6th Street and 21st Avenue South. The City of Minneapolis is expected to complete asphalt patching along South 6th Street and 21st Avenue South later this fall. The street patching is the final activity to be completed in that area following the utility work done this summer.
Work west of Oren Gateway Center.  The utility work on the west side of Oren Gateway Center is now substantially complete. Concrete work and the installation of screen fencing are anticipated to be completed this fall.
Electrical and concrete block installation in the basement. This week, crews will begin installation of the electrical conduit in the basement. They will also begin concrete-block construction of the interior basement walls.
Storm sewer work. Storm sewer work will begin on the construction site this week. No work or impact outside of the construction area is anticipated for this activity.