As the fourth floor of the north wing becomes visible, construction crews begin installation of the structural steel that will connect the two wings of the building to the lobby area of the Hagfors Center. See the picture below from Thursday afternoon, October 20, showing the structural steel in place for the top level of the building.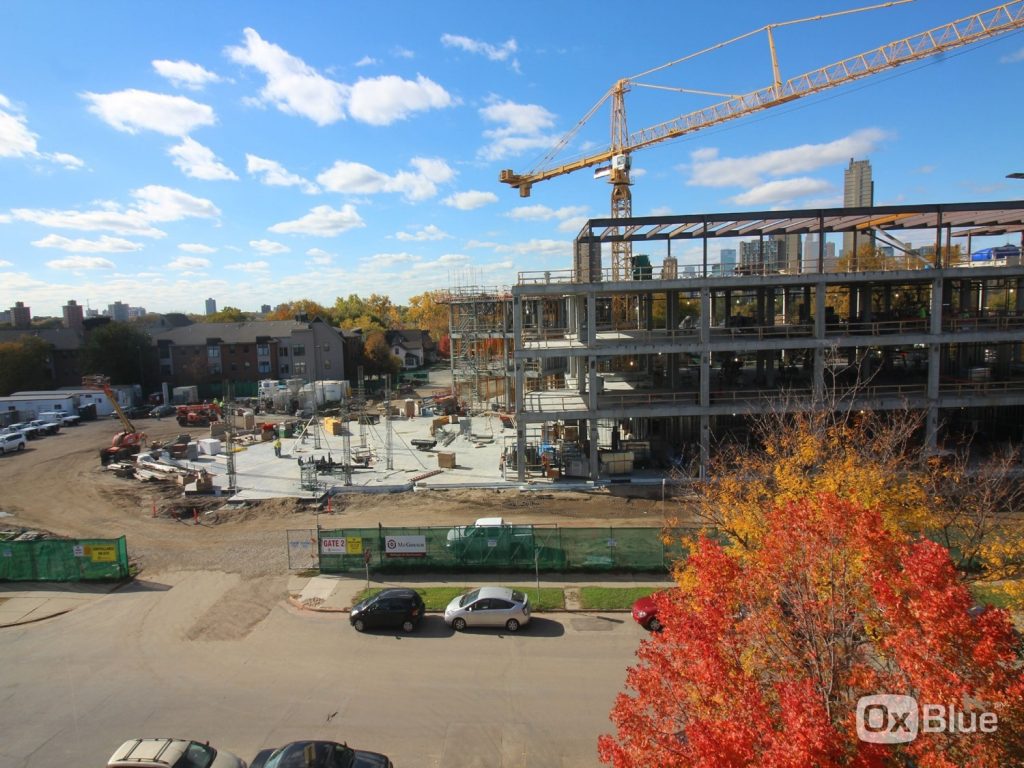 CONSTRUCTION SITE WORK
Fourth-floor roof construction. Construction on the fourth-floor roof of the north wing is underway. With this installation, the building has reached its full height.
North and west wing connection. Installation of the steel beams that connect the north and west wings of the building will begin this week. The construction of this area will connect the two wings to the main lobby and create the second- and third-floor walkways that overlook the lobby of the building.
Preparations for construction of the skyway. Excavation for the skyway footings is scheduled this week. The excavation will take place on both sides of 21st Avenue South – on the construction site and on west side of Lindell Library. This work will intermittently affect sidewalk traffic, so McGough Construction will coordinate necessary safety measures during the excavation work. Once the excavation is complete, the concrete pours for the footings will begin. As previously noted, the skyway work will require the removal of one or more trees on the east side of 21st Avenue South. McGough Construction will work with the City of Minneapolis to determine plans, as needed, to ensure that the City's tree quantity requirements are met. Augsburg's Facilities Department is working to minimize disruption to building access and trash service on the west side of Lindell during construction.
Removal of concrete formwork. With the concrete floor slabs complete for all levels of the building, the formwork tables will be dismantled and hauled off site.
Piping, electrical, metal framing, and duct work. Construction crews are up to the third floor of north wing with installation of piping, electrical, metal framing and duct work.
Work on the west of Oren Gateway. Fabrication of the screening fence for the area west of Oren Gateway Center is underway. Excavation for the footings of the screening fence will begin in the next few weeks.