Construction of the lobby and the area that connects the two wings of the Hagfors Center continues this week, with work on the columns and structural steel decking — giving passers-by a view into how the building's main entrance will open up onto 21st Avenue South.
CONSTRUCTION SITE WORK
Construction work this week includes the following: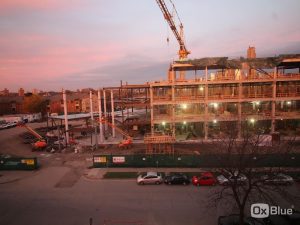 Lobby columns. The six soaring columns that will grace the lobby of the Hagfors Center have reached their full, 3-story height. As the concrete has been poured on each section of these columns, the cardboard form has to ensure the concrete is protected and cures consistently along each column. The cardboard form will be removed after all the column sections are cured.
Steel decking installation. Steel decking is being installed on the second level of the area that connects the lobby with the north and west wings of the building. Also underway this week is the layout of decking for the third floor and structural steel erection for the lobby roof. After the beams and columns are in place, there will be several weeks of detail and welding work to complete these structures.
Skyway piers. The skyway pier on the east side of 21st Avenue South will be poured this week. The concrete pour for the pier on the west side of the street was completed last week.
Fourth-floor construction. Crews are spraying the structural steel with fireproofing on the fourth floor of the north wing. Exterior wall framing for the fourth floor will also continue this week.
Temporary wall on the third floor of Lindell Library. Another temporary wall will be constructed inside Lindell Library to facilitate opening the west side of the building for the skyway connection. The new wall will be on the west side of the third level. The sitting area, elevators and rest rooms will still be available after the wall is installed.
Piping, framing, mechanical duct work and electrical installation. Metal framing of the interior corridor walls of the second and third levels of the north wing continues this week, along with installation of piping, electrical, and mechanical duct work.
West side of Oren Gateway. Construction of this area will be postponed until after winter due to additional coordination with underground utilities. McGough Construction and Augsburg's Facilities are finalizing the design for the screening fence, which will then need review and approval by the City of Minneapolis. Excavation and installation in this area are expected to occur in the spring.
New exterior construction elevator. A new construction elevator has been installed on the north side of the building. Once the gates are installed at each level and the testing is complete, the elevator will be operational for use in transporting construction workers and materials.