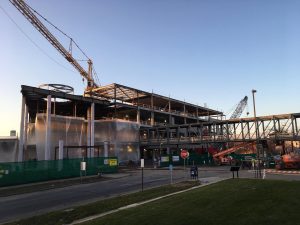 The Hagfors Center Topping Off ceremony was held just before Thanksgiving, and the skyway structure was set in place the weekend after Thanksgiving. Following are details about those two activities as well as activities on the construction site this week.
Topping Off Ceremony
The Tuesday before Thanksgiving, Augsburg students, faculty, staff, and neighbors gathered outside the Hagfors Center construction site to watch the final beam being lifted into place as the culmination of the Topping Off ceremony for the building. The beam will be installed as part of the chapel roof on the third level of the main lobby area of the building. See the timelapse video and photos below of the ceremony.
0:00 The crowd gathers on the corner of 21st Avenue South and South 7th Street, and the crane is lowered to the beam, which is situated across the street from the construction site.
0:07 Crew members hook the beam to the crane, and the beam is lifted off the ground, with a potted tree on top (which will be planted elsewhere next spring) and a banner below that reads "We Are Called. Auggies."
0:11 The crane flies the beam up to the top of the building and over the lobby area, with the suspended chapel on the third level.
0:19 The beam, tree, and banner are secured by crew members on the top of the building structure.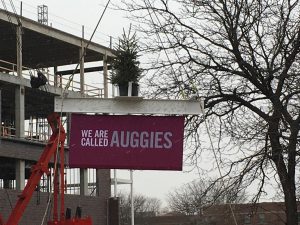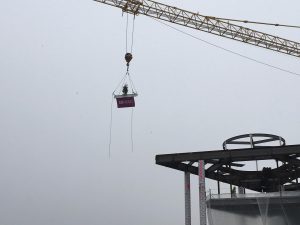 Skyway Installation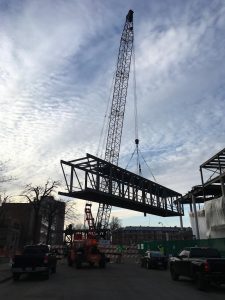 On Saturday, November 26, construction crews set the steel structure for the skyway in place across 21st Avenue South, setting, aligning, and bolting the structure in place. The skyway is scheduled to be connected to the west side of Lindell Library after the spring semester is over. See pictures below of the skyway structure on the construction site, before installation, and across 21st Avenue South during installation.
Construction Site Work
The following activities are scheduled on the construction site this week: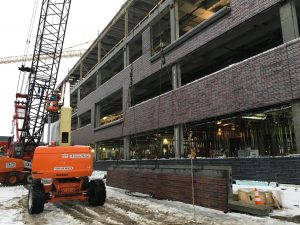 Precast exterior brick. Installation of the precast exterior brick continues on the east side of the building this week. Installation will begin on the north side after the east side is complete. (See photo at right.)
Lobby roof and chapel floor. The concrete pour for the roof of the main lobby area and the floor of the suspended Gundale Chapel are scheduled this week.
Fireproofing. The structural steel of the first level in the main lobby area will be sprayed with fireproofing this week.
Mechanical and electrical installation. Crews continue the mechanical and electrical installation in the north wing this week.