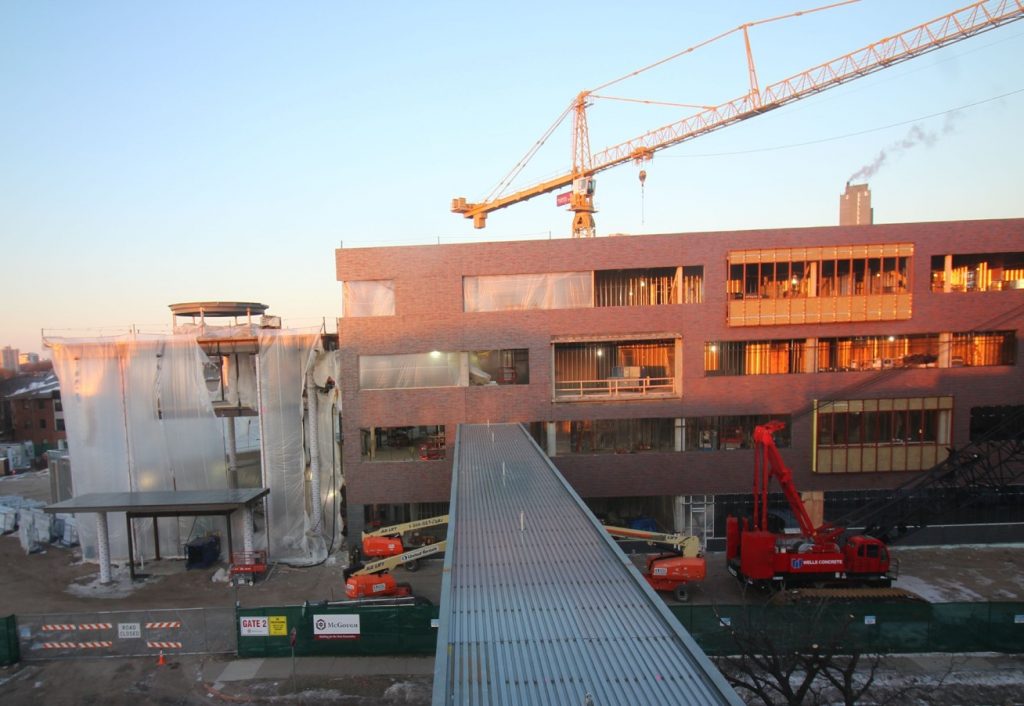 Construction on the Hagfors Center for Science, Business, and Religion enters its ninth month, and a new year! Below is a summary of the construction work scheduled for the first week of January.
CONSTRUCTION SITE WORK
Learning Commons facing the staircase. The elevators are behind the two-story wood wall.

Main lobby stairwell. Steel work begins this week on the staircase in the main lobby area. As shown in the architectural drawing, the staircase (at the right, in the image) is open to the lobby area and provides access to the skyway entrance on the east side of the building. (Note: the elevator in the main lobby area will be located directly behind the two-story wood wall in the lobby area.)

West stairwell. The concrete pour for the steps of the west staircase is anticipated to be completed lat this week or early next week.
Precast exterior brick.The final precast brick panels will be installed on the north wing this week, and installation of the precast panels will commence on the west wing.
Window frames and glass. Installation of the exterior accent-colored window frames and the glass continues this week on the north wing.
Interior work. Mechanical, electrical, and interior wall framing installation are ongoing in the building.