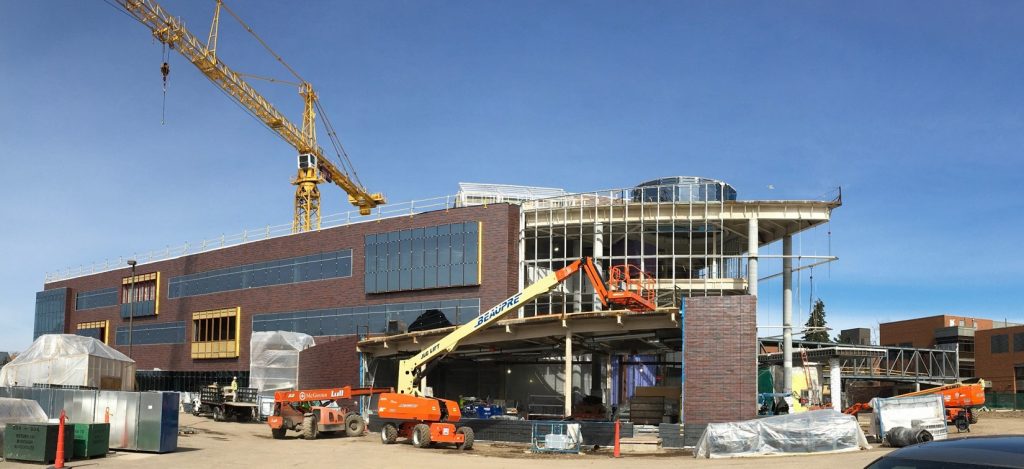 It's spring break at Augsburg, but construction on the Hagfors Center continues this week. Below is a summary of scheduled construction work this week.
Construction site work
Skyway painting and street closure. The steel structure for the skyway between the Hagfors Center and Lindell Library is scheduled to be painted this week. This work requires the closure of 21st Avenue South between South 6th and South 7th streets. McGough Construction scheduled the skyway painting during spring break in order to minimize the impact on traffic and parking on campus. Depending on weather, the painting project could possibly continue into the weekend of March 18-19. As a result, an afterhours work permit is required from the City of Minneapolis. Notification is part of this permit process. Any complaint regarding this work can be received by Minneapolis Information and Services at (612) 673-3000 or by calling 311 for phones with a 612 area code.
Lobby curtainwall. Installation continues this week on the structural framing for the lobby curtainwall. Crews are also installing the aluminum curtainwall framing (see photo above) for the three-story exterior of the main lobby.
Rooftop mechanical area. Crews have completed installation of the exterior insulated finish on the wall between the fourth story and the rooftop mechanical area. The duct work for the air handlers will be set in place on the roof this week, which is the last of the major installations in the mechanical area. (See photo below, at right.)
Greenhouse. Installation of the structural aluminum framework for the rooftop greenhouse is in progress. This work can be seen on the south side of the building, above the chapel roofline. (See photo below, at left.)
Brick wall on the flexible classroom. The hand-laid brick wall on the flexible classroom is scheduled to be complete this week (see photo above). Crews will then begin setting up scaffolding and framing for the brick work in the main entrance area.