New sidewalks, new seating, a new roundabout, and sunny skies. The work being done this week around Hagfors will offer a more concrete vision (literally and figuratively) of the new, emerging landscape for campus pedestrians.
See below for additional updates on this week's construction work.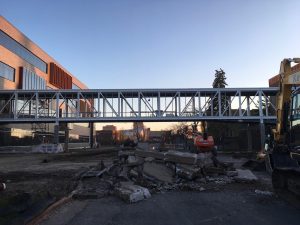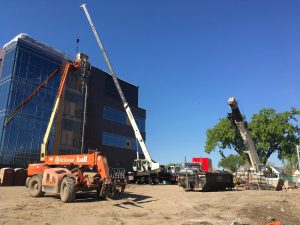 Construction Site Work
Equipment for "grow rooms" has been placed.

The freight elevator passed inspection and will now be used to transport construction personnel and materials.

Closure of 21st Avenue South; restricted parking in Lot A. In order to accommodate the next phase of construction, a portion of 21st Avenue South and South 7th Street are now closed to pedestrian and street traffic through the summer. Pedestrians are still able to cross 21st Avenue South to access Anderson and Luther residence halls to the south of the construction site; and vehicles can still access South 8th Street and the parking lots south of it. Vehicles and pedestrians are able to use the north end of 21st Avenue South to access Riverside Avenue, South 6th Street, the driveway adjacent to Oren Gateway Center, and the private home south of Oren. Augsburg also has designated Lot A as construction-related parking only. Special permits are required to park in that lot.

The roundabout. Site work for what will be the roundabout at the intersection of 21st Avenue South and South 7th Street — just outside the main entrance to the building — is underway. Crews are removing sidewalks and starting excavation to prepare for this work (see photo).
Outdoor seating. Concrete pours for seating areas along the east side of the building (21st Avenue South) are scheduled this week.
Skyway. Final framing and for the exterior glass will be completed on the skyway walls, as framing and insulation for the underside of the skyway begin (see photo).
Skip hoist. The skip hoist on the north end of the building has been removed, crews will begin installing the precast brick panels where the skip hoist used to be. A mobile crane has been erected on site for this work (see photo).
Emergency generator pad. Crews will begin to pour concrete for the emergency generator pad in the electrical yard on the north side of the building.
Rooftop. Installation of the louvers on the screen wall for the rooftop mechanical area is underway this week The louvers allow for air circulation to the the mechanical area while hiding the mechanical equipment from view.
Grow rooms. Some of the equipment has arrived for two of the biology "grow rooms" (see photo).
Freight elevator. The freight elevator at the north end of the building has passed inspection and is now operational (see photo from last week).Going forward, crews will use this elevator, instead of the external skip hoist, to move equipment and materials to upper floors.