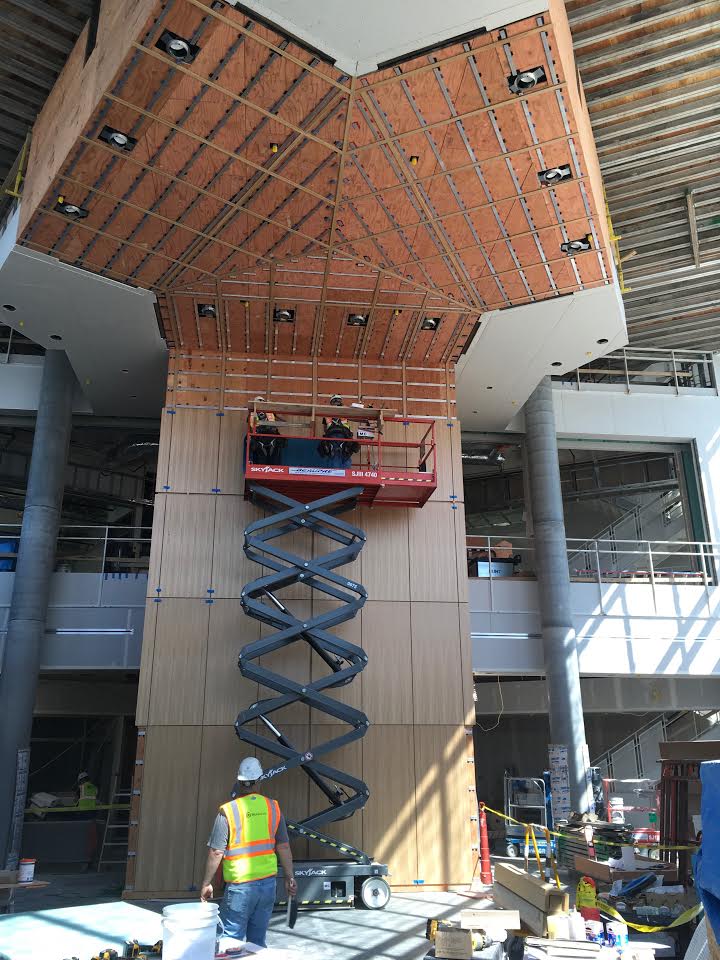 Construction Site Work
Interior
Interior work continues in the Hagfors Center corridors.

Elm wood wall. Crews continue installation this week of the elm wood panels on the two-story wood wall at the center of the lobby. (See photo above.)

Lobby work. Electrical, mechanical, and sheetrock work continues in the lobby area of the building this week. Crews are also completing the work in the upper level of the lobby area, after which the temporary work platform around the suspended chapel (which was installed in early April) will be removed.
Skyway. Work has begun on the skyway tie-in to Lindell Library, which includes installation of a glass curtainwall and door system. For now, the work is visible only from the skyway side (not from inside the library).
Other interior work. Installation of electrical, mechanical and drywall is underway on all levels of the building (see photo of a corridor under construction, at right). Crews also are continuing lab casework installation on the second level, having completed this work in the basement and on the first floor.
Exterior
Outdoor stairs. Steps from the sidewalks on north and east sides of the site will be poured this week, weather permitting. Site plans ensure that all sidewalk areas of the site also have accessible entrances and exits.

Installation is underway of the posts for the screen wall for the electrical yard on the north side of the building.

Electrical yard. Installation of the posts for the screen wall on the north side of the building is underway (see photo, at right). The wall will screen the electrical equipment on the site from view.

Site work on the south side. Crews began digging the storm water basin on the south side of the building this week. The long-term plan is to extend this basin to the east, creating a greenway across 21st Avenue South and into the center of campus. That extension requires the demolition of the existing science building and would be part of a future construction project. Until then, the basin will be located within the Hagfors Center construction site boundaries.
Color accent on the flexible classroom space. The color-accent fins — similar to those on the bump-out windows on the rest of the building — have been installed on the exterior of the flexible classroom space on the south side of the building.