Work begins this week to prepare the lobby floor for the terrazzo art installation. The artist, Stan Sears, will begin work on site to lay out the floor. To learn more about this and other art installations in the building, see the detail about the sponsored artwork on the Art and Identity web site.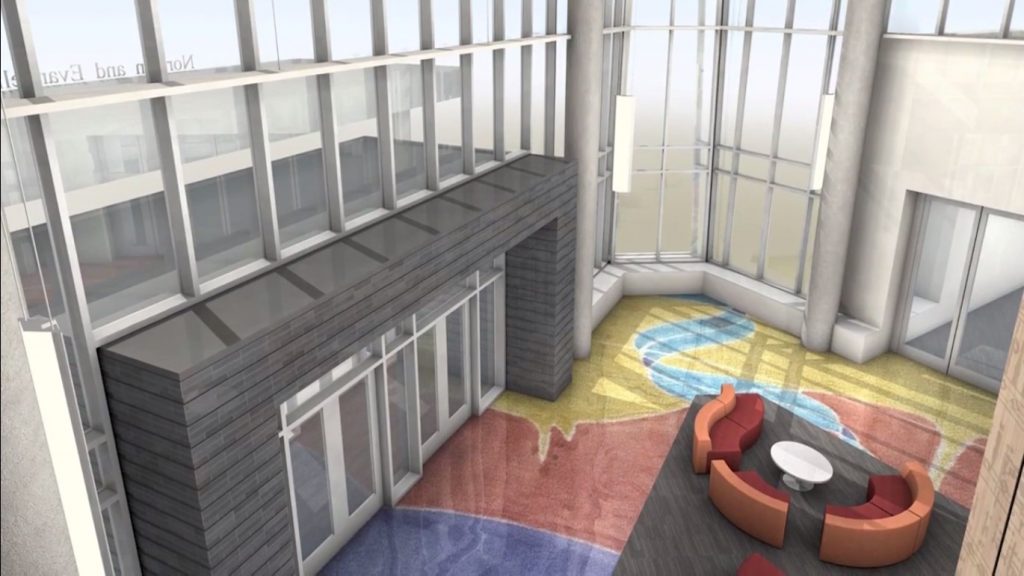 Construction Site Work
Removal of 6th Street curb cuts and approaches. Existing curb cuts and former driveway approaches on the south side of South 6th Street are anticipated to be removed in the next couple of weeks, The construction fence will be temporarily modified as necessary to complete the work. The curb approaches are not needed on South 6th Street because the driveway to the parking lot on the north side of the building will be built on 21st Avenue South. Regular curb will be installed along South 6h Street at a later date.
Landscaping. Excavation work continues on the storm water basin on the south side of the site. The photo below shows a glimpse of the progress on digging the basin. Crews also are spreading top soil throughout the construction site in preparation for landscaping work.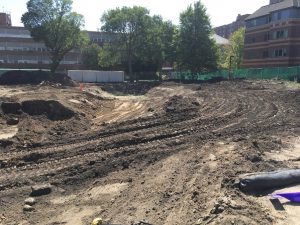 Terrace work. Crews will also pour charcoal-color concrete bands on the building's south terrace. The colored concrete is the darker color shown in the drawing of the main entrance plan (below). A similar pattern will also ring the rotunda area.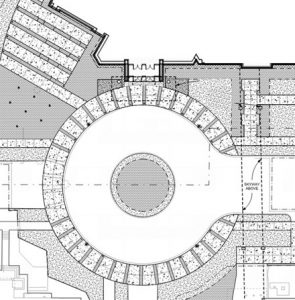 Rotunda. The curb that forms the inner ring of the rotunda has been poured, and crews now are working on the curb that will form the outer ring. (See photos below.)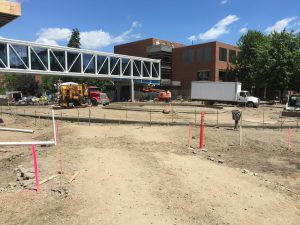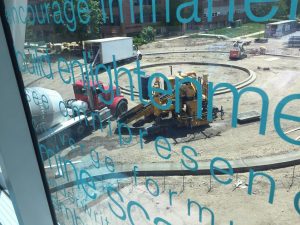 Lobby ceiling. Crews have finished installing the elm wood that surrounds the chapel suspended over the Hagfors Center lobby. (See photos below.)