While the behind-the-scene work continues (electrical, grading, ventilation, etc.), this phase of construction tends to be even more exciting for onlookers. Much of the interior and exterior finishing work is taking place so rapidly that passers-by are able to more readily see concept become reality.
Highlights from this week and progress from last week include: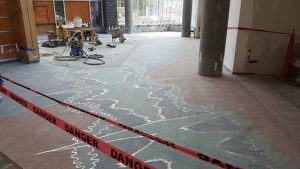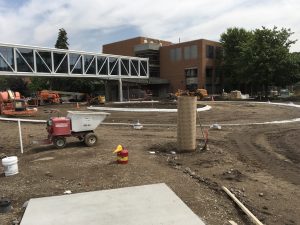 Terrazzo lobby floor. This week, crews are entering the completion phase for the Hagfors Center's terrazzo art installation (see photo above – also, see last week's update for a view of the progress and information regarding the concept). The process of grinding it with finer and finer stones, then finishing with a special sealer for preservation, begins this week.
The roundabout. Prep work and grading is complete, and concrete pours for the sidewalks circling the roundabout (see photo, right) will take place this week.
Stormwater basin. The construction trailers, used as offices for site supervisors and as a meeting point for touring donors, were removed last week to make room for excavation, allowing crews to finish grading for the stormwater basin.
Oren Gateway. Concrete pours surrounding Oren Gateway (pictured, below) are yet another finish that started last week and will continue through this week.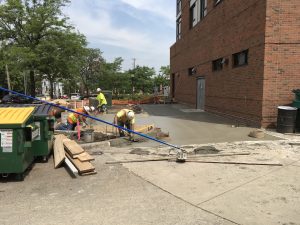 Grow rooms. Installation of grow rooms will begin this week. These rooms are climate-controlled chambers used for plant research.
Carpet installation. On the interior, flooring installation continues. Resilient flooring started previously and will be moving up to the second floor while office areas are being prepped for carpet installation.