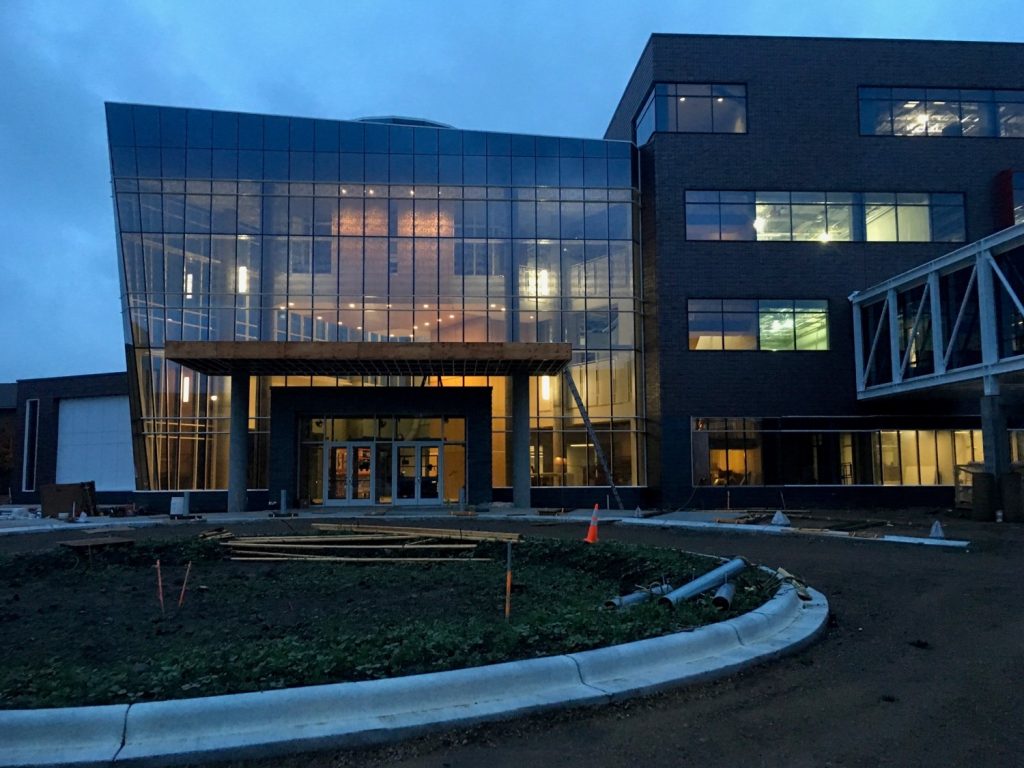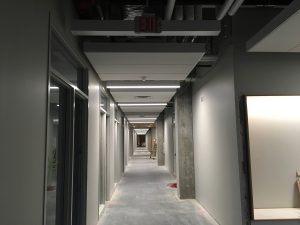 As students start to move back to campus and activity starts to gear up for the fall semester, it's an important time to remind everyone about safety around the construction site. Only authorized personnel are allowed on the construction site until the building is open to the campus. We appreciate everyone's cooperation in keeping the site safe!
Construction Site Work
First floor – carpet, ceiling clouds, and more. Carpet installation is starting on the first floor of the west wing this week. Crews are also hanging ceiling clouds in first-floor corridors. (See photo at right.) Electrical wall plates, data ports, and emergency exits signs are also being installed throughout the first floor.
Second floor – ceilings and flooring. Crews are installing rubber lab flooring in the labs on the second level of the building. Ceiling tile installation is also underway in the second-floor offices.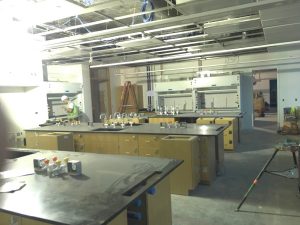 Third floor – lab work and painting. Work in the labs is progressing throughout the building. The labs on the first and second levels are substantially done. The photo at right shows the status of a chemistry lab on the third floor. All lab casework will be delivered to the site by the end of this week, which is a significant milestone, and casework installation will be ongoing for some time. Painting is also in full swing on the third floor this week, as all offices have been taped and sanded in preparation for painting.
Mechanical equipment. Crews are flushing and filling the building's mechanical equipment, getting it ready for operation.
Site work. Installation of the irrigation system is underway this week. Crews also are continuing to spread top soil throughout the site.
Roundabout. Pouring of the accent-color concrete sections continues on the roundabout this week (see photo, below). Crews will also start paving the roundabout this week, weather permitting.