After hosting a successful tree-planting service toward the end of last week, the landscaping and implementation of many "green" design features continues to take place on the interior and exterior of the Hagfors Center.
Read more about the specific developments that took place last week and those that will continue this week.
Construction Site Work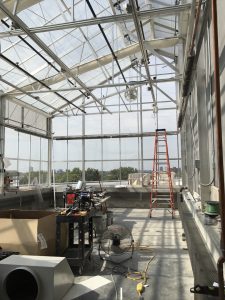 "Live Roof"– Trays with various species and shades of sedum were installed last week on the new, green rooftop garden resting above the Hagfors Center's flexible classroom (pictured, above).  
Greenhouse- Mechanical equipment is being installed in the greenhouse (pictured, right) to manage humidity, heating, and cooling.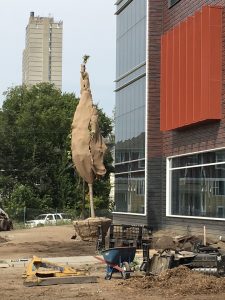 Landscaping- Exterior landscaping work continues after the successful placement of a mature State Street Maple in the roundabout. Another of the largest trees, second to the maple, is the Bur Oak (pictured, right), which will be planted to the west of the building this week.
Sod- The entire plot south of the Hagfors Center, near Anderson Hall, was covered with fresh sod (pictured, below).
Parking lot- Finishing work took place in the newly paved parking lot as crews painted striping lines to mark the parking spaces.
Skyway- Final metal panels will be installed on the underside of the skyway.
Corridors- Rubber floor tile is being installed and, aside from the base trim that has yet to be placed, first floor corridors are nearly complete.
Christ Learning Commons- Wood-slat ceilings are being installed, and audio visual for the projection system in the Hagfors Center's flexible classroom are being worked on this week. The aforementioned "Live Roof" rests above this learning space.
Aquarium room– Epoxy will be laid as a moisture barrier on the floor of the aquarium room this week.
Chemistry labs– Plumbing is being finalized and copper lines will be tested in chemistry labs on the third floor.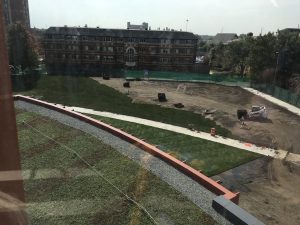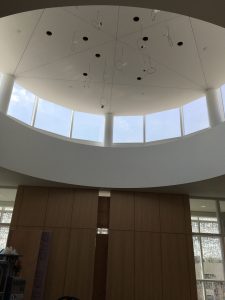 Gundale Chapel– The chapel ceiling was finished last week. All that remains at the chapel ceiling is the installation of artwork (taking place in late November), which will hang from the cables (pictured, right). Other work in the chapel includes the installation of carpet along with the installation of a glass panel, which will be placed between the two wood panels comprising the feature wall.