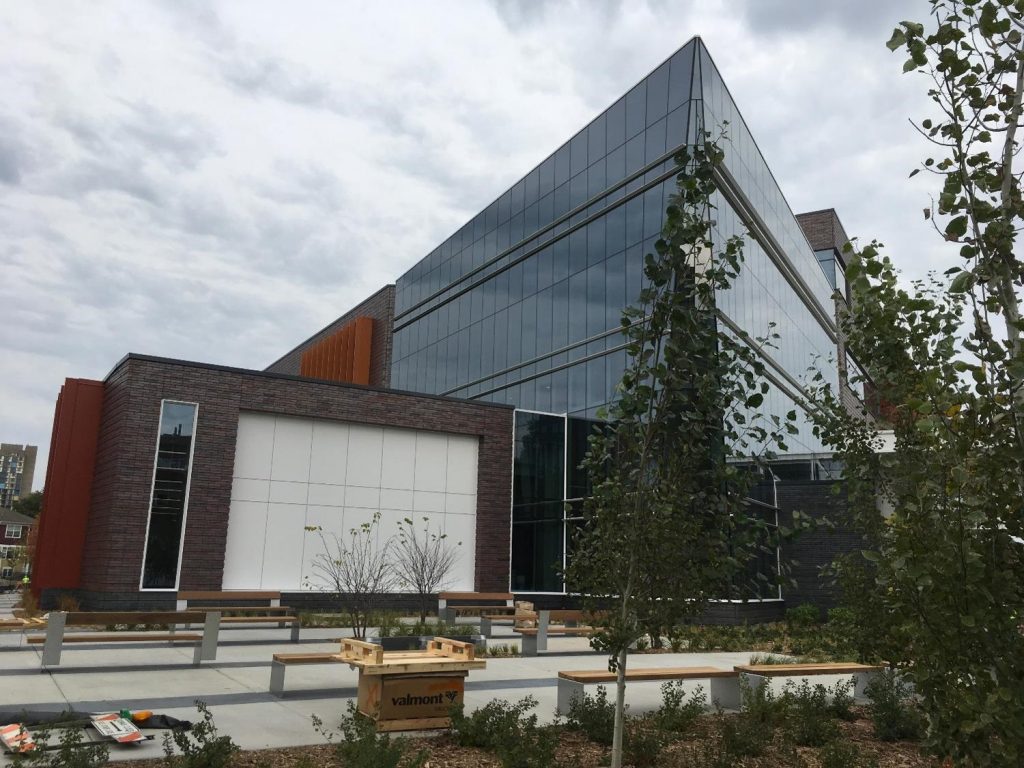 Construction Site Work
Outdoor benches.The benches outside the flexible classroom (pictured above) are made from Brazilian Ipe hardwood, a dense and durable wood that is naturally long-lasting. Bench installation is also in progress along the east side of the building.
Plantings. Landscaping crews continue with plantings on the north and west sides of the site this week.

Operable partitions allow for flexible use of classroom and lab space.

Interior walkthroughs. The final walkthrough of the basement and first-floor classrooms, labs and offices was successfully completed last week.

Operable partition walls. The photo at right shows the operable partition wall installed in a lab, providing flexible use of the two adjoining spaces.
Epoxy flooring. The epoxy floor in the roof-top green house is complete, and crews continue to work on the floor in the grow rooms this week.
Ceilings. The wood ceiling in the flexible classroom is substantially complete. (See photo below, at right.) Installation work continues this week on the ceilings in the skyway and common areas.
Second-level lobby area. Work on the ceiling and the floor is in progress in the second-floor area overlooking the lobby. (See photo below, at left.)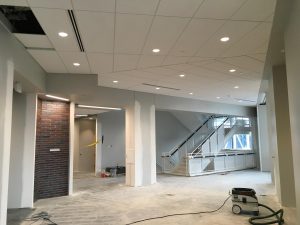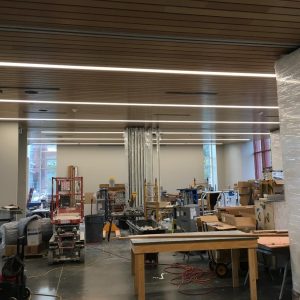 Donor brick wall. The wall of donor bricks in nearing completion. The photo below at right shows the completed section of the wall on the third floor.
High-profile tours. Last week, members of the Augsburg Board of Regents toured the Hagfors Center as part of their fall 2017 Board meeting. (See photo below, at left.) On Monday this week, participants of the Society of College and University Planners North Central Regional Conference also toured the building.

The completed portion of the donor brick wall on the third level of the Hagfors Center.