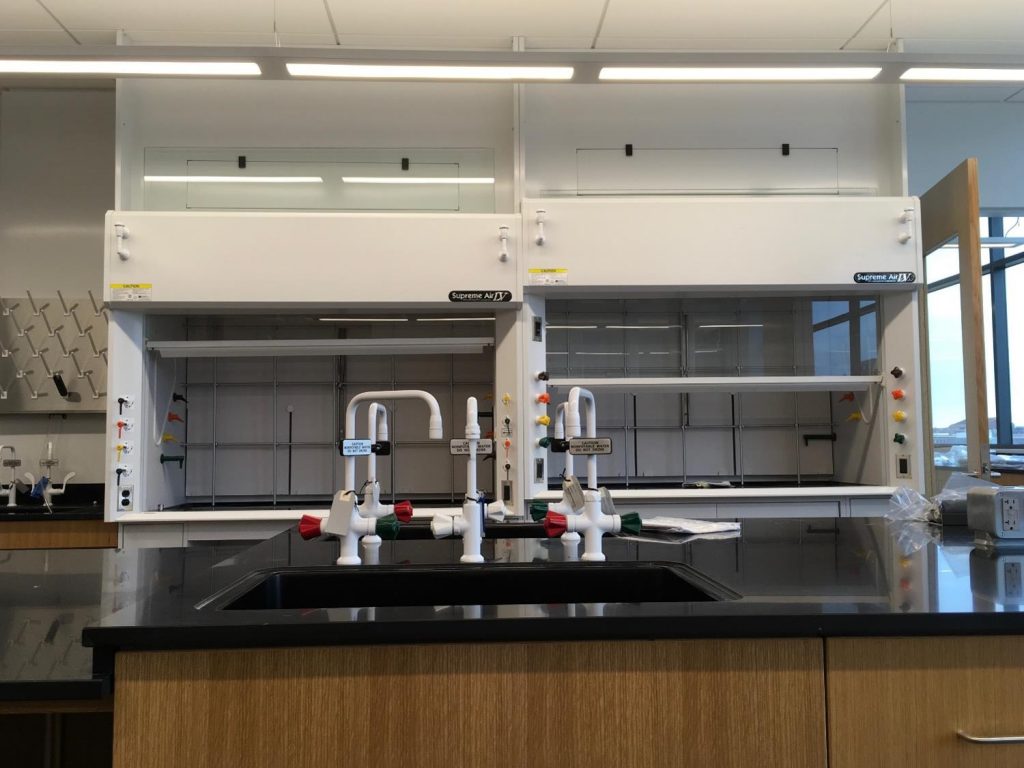 Construction Site Work
The flammable materials storage area is substantially complete.

Lab work. Installation of stainless steel countertops is underway in the labs but with only weeks to go on the Hagfors Center construction project, many areas of the building are beginning to look complete. The photo above shows a completed chemistry lab; at right is a photo of the storage room for flammable lab supplies.

Mechanical and fire alarm systems. Commissioning of the mechanical systems and testing of the fire alarm system are in progress as we quickly approach occupancy of the building.
Flooring. Crews are working on the epoxy flooring in the mechanical room this week, having completed the work in the grow rooms. Work on the first-floor corridor flooring also is underway this week.

Window cleaning is part of the preparation for final walkthroughs.

Shades and final walkthrough on second floor. Crews are installing shades and doing final clean-up on the second floor this week in preparation for the final walkthrough of the second-floor labs, classrooms, and offices. The photo at right shows a crew member cleaning the windows as part of the final preparation work.

Skyway. Crews will be finishing installation of lighting and mechanical systems in the skyway this week.
Coffee shop. Equipment and counter installation is scheduled for the second-floor coffee shop this week.
Third floor plumbing and clean up. Bathroom plumbing installation continues on the third floor this week, and final cleaning begins on that level.
Exterior. The final sidewalk on the west side of the building (see photo below) and the final plantings will be completed this week, weather permitting.