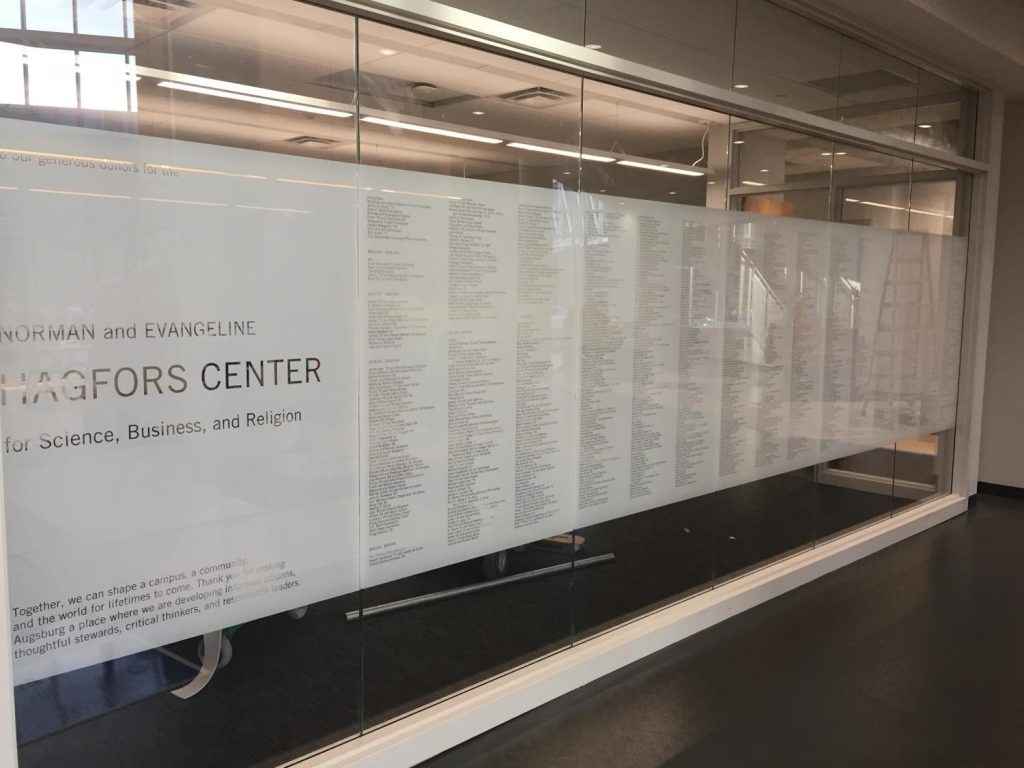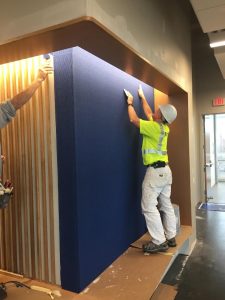 McGough Construction crews continue to prepare for inspections and final walkthroughs of the Hagfors Center. Last week, windows etched with donor names were installed in a first-floor classroom off the main lobby. (See photo above.) Other construction site work this week includes the following:
Wall coverings in corridor seating areas. Crews are installing carpeted wall coverings above the built in benches in corridor seating areas. (See photo at right.)
Floors and sills. The installation of elm wood window sills continues this week. Crews are also installing flooring in the flexible classroom and base trim around the edges of the floor. In the main lobby, the plywood that has been protecting the terrazzo floor will be removed this week.
Mechanical air (HVAC) systems. Crews will continue air pressure balancing of the air systems in the building this week.
Signage. Regulatory codes require certain building signage to be installed before Augsburg can take possession of the building. These include stairwell signs, as shown in the photo below, at left.
Coffee shop operable wall. When the Hagfors Center coffee shop is not open for business, it will be enclosed by a wooden wall. The photo below at right shows the operable wall, folded into the open position to the left of the coffee shop. The skyway connection to Lindell Library is off to the right.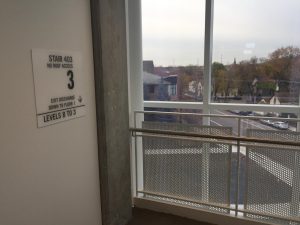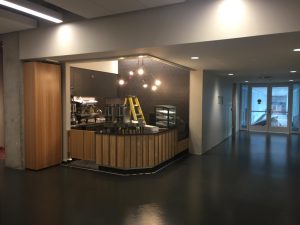 Grow tables and equipment. Along with additional furniture deliveries, equipment is being installed in the Hagfors center this week — including a nuclear magnetic resonance spectroscopy, sterilizers, glass washers, and grow tables. Below, at left, are the grow tables in the grow room. At right are the grow tables in the rooftop green house.