It's finals week for the fall term 2017, and the inside of the Hagfors Center is as active as the insides of Lindell Library and campus study study spaces. The final work of getting the building ready for full operations. Information Technology installations continue; faculty and staff continue to settle into their spaces. All faculty and staff will have a chance to see the inside of the building this Thursday afternoon, at the annual faculty and staff holiday party — a great way to end the semester!
Following are some of this week's more visible updates:
Wayfinding and room signs. Installation of room number signs — along with room donor recognition plaques — are in the process of being installed. Wayfinding and directory signs are also part of this project.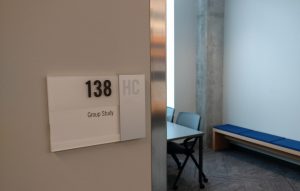 Art installations – Find information about the artists below on the Art and Identity website.
[1] Winter Corn – Norman Holen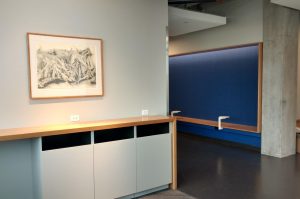 [2] Mindscape – Joonja Mornes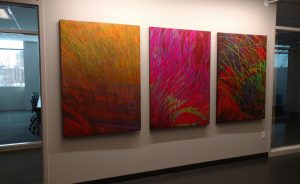 [3] Tessellated Transistors – Kimberlee Joy Roth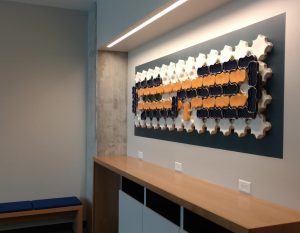 Much work is still underway, including the two art installations below. If you don't have the opportunity to see the building this week, it opens for classes on Monday, January 8, and all are welcome to visit!