We are currently closed.
Location
Bethel Lutheran Church
Youth Hall
810 3rd Ave SE
Rochester 55904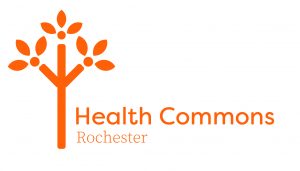 ---
Volunteer and Student Learning Opportunities
The Rochester Health Commons welcomes volunteers and Augsburg nursing students. We ask that you watch an orientation video prior to your volunteer shift to ensure that you understand the Health Commons philosophy (video link is available on the signup webpage).
If you want to donate to the Health Commons, you can do so on the donation tab above or you can bring donations of new socks, diapers, wipes, underwear, hygiene products, or cold weather attire (all sizes from infant to adult are needed in socks, diapers, underwear, and clothing/jackets) to Bethel Lutheran Church or Augsburg University.
About
The Health Commons in Rochester is a new nursing-led community health initiative started in Rochester, Minnesota. This new branch of Health Commons is beginning to provide services focusing on identifying health concerns of the community.
Our focus is to build relationships based on mutual benefit and understanding with those who utilize our space.  We believe that health is a journey that incorporates the importance of belonging, finds the strength in survival and de-emphasizes the expert model.  Our nursing practice is embedded in social justice praxis and transcultural nursing principles.  Our mission is to intentionally seek to honor the dignity of all our participants and focus on reducing stereotypes in our healthcare system.
Health disparities affect our local and global communities in deep ways embedded in historical context and social norms that need to be dismantled to focus on creating a more healthy, and peaceful world. Nursing faculty members and students from Augsburg University led, organize and participate at the Health Commons in hopes to create changes in our healthcare system to honor the wisdom of all people as they seek to reduce bias, increase compassionate based care, and discover the what it means to be a citizen nurse.
POPULATION SERVED
The people who come to the Health Commons are from diverse cultural and socioeconomic backgrounds. Many of our participants  are marginally housed or experiencing poverty.  Everyone is welcome, and all services are provided free of charge. Health concerns might include nutrition, medication, stress management, respiratory conditions, injuries, skin problems, and chronic disease such as diabetes and hypertension. Frequently, people with these problems come to the Health Commons for its easy access, its supportive environment, and assistance with connecting to other healthcare resources.
Contact
To find out where and when you can get in contact with the Health Commons in Rochester, contact us at rochesterhealthcommons@augsburg.edu.