While our time in the classroom and working with students is a priority for us, we are also a community of scholars. We present our research at national and international conferences, and publish book reviews, articles, essays, and books. Here is just a sampling of some of our work:
---
Phillip C. Adamo's essay, "Monks and Heretics: Using Eco's The Name of the Rose as a Textbook in an Upper-level, Undergraduate History Seminar," which appears in Postscript to the Middle Ages: Teaching Medieval Studies through Umberto Eco's The Name of the Rose, edited by Alison Ganze (Syracuse University Press, 2010), draws on his experiences in the classroom. Adamo has also been a historical consultant for three children's books for Capstone Press: Rachel Hanel's Life as a Knight: An Interactive History Adventure; Kathy Allen's The Horrible, Miserable Middle Ages: The Disgusting Details about Life During Medieval Times; and Alison Lassieur's The Middle Ages: An Interactive History Adventure (2008-2009).
---
Jacqueline deVries, editor (with Sue Morgan), Women, Gender and Religious Cultures in Britain, 1800-1940 (Routledge, 2010) is the first comprehensive overview of women, gender and religious change in modern Britain spanning from the evangelical revival of the early 1800s to interwar debates over women's roles and ministry. Includes case studies, further reading lists and a survey of existing scholarship, as well as identification of new research trajectories. deVries also co-wrote co-wrote Living Faith: Stories from the first 150 years, for the sesquicentennial of Westminster Presbyterian Church in Minneapolis.
| | |
| --- | --- |
| | |
---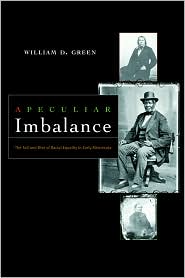 William D. Green's A Peculiar Imbalance: The Fall and Rise of Racial Equality in Early Minnesota (Minnesota Historical Society, 2007), concerns the 1850s, as Minnesota Territory was reaching toward statehood, and settlers from the eastern United States moved in, carrying rigid perceptions of race and culture into a community built by people of many backgrounds who relied on each other for survival. Green unearths the untold stories of African Americans and contrasts their experiences with those of Indians, mixed bloods, and Irish Catholics. He demonstrates how a government built on the ideals of liberty and equality denied the rights to vote, run for office, and serve on a jury to free men fully engaged in the lives of their respective communities.
---

Don Gustafson, a third-generation member of First Lutheran Church of St. Peter, created Three Sundays at First: A Story of Our Congregation, for its 150th anniversary.
---
Michael J. Lansing's The American West: A Concise History, written with Anne M. Butler (Wiley-Blackwell, 2007)  traces events from pre-history to the present day, and offers a concise and accessible history of the American West. Grounded in attention to race, class, gender, and the environment, the text focuses on social, economic, and political forces that shaped the lived experiences of diverse westerners and influenced the patterns of western history. Lansing also wrote The Faith of Our Forebears: 100 Years at Mount Olive Lutheran Church for his congregation in Minneapolis.