The Student Created Learning Experiences, or SCLEs, are classes created by Honors students based on their interests. SCLEs can become an independent study course or can be open to all Augsburg students.
Here are some examples of previously offered SCLE courses.
The Art, History, and Science of Brewing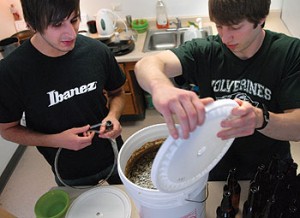 In The Art, History, and Science of Brewing, students take an adventure through human history and discover how brewing came about, how it has affected cultures past and present, and they learn how to create a brew of their own.
Shotokan Karate
Students study Shotokan Karate and Japanese martial arts through participation in the course at the Movement Arts Center. The objectives of the course are to gain a better understanding of Japanese martial arts and improve overall fitness in a challenging environment.
Cross-Country Skiing: Nordic Activity and Culture
This course is intended to embrace an active outdoor lifestyle even during cold Minnesota winters.  Cross Country Skiing: Nordic Activity and Culture will do this by introducing students to a potentially life-long sport and several of its exciting cultural components including Minneapolis Nordic culture, cross-country ski stores, and sauna.
PADI (Professional Association of Diving Instructors) Open Scuba Diving Certification
The classes for PADI open diving certification requires four, three hour classes in which students learn the basics of scuba diving and apply techniques in an on-site pool.
Independent Study: Fin-de-Siecle Vienna
Using examples of music, art and theatre created in Europe, particularly Vienna, at the end of the 19thcentury, the course will explore how to appreciate and understand the various art forms, examine the relationships among the arts, and consider the expression of themes and ideas in these art forms.
Japanese Kanji
Students study Kanji (written Japanese characters adapted from the Chinese language) in an effort to improve Japanese language reading level (a student's formal Japanese classes have required them to learn only a few hundred of these characters, and recognition of at least two thousand is necessary to be considered fluent).
The Development of Scientific Thought
This course is designed to examine the intersection of Philosophy and its influence on the development of modern science during the formative period of the 1600's to the present. Lectures on Philosophical movements will be interspersed with lectures and labs on various branches of science. The goal is to gain a philosophical understanding of the purpose of science, where it's going, and where it came from while also elucidating how science works within the fields of biology, chemistry, physics, etc.
Philosophy of Science
Most science classes immerse the student in an empirical search for information within a specific field. This class looks at science from a 30,000 foot vantage point to consider both how science developed and how it may change in the future.  Students strive to answer questions such as "What is the purpose of science?" and "What are the limits of knowledge?" The answers to these and other scientific issues are tethered to philosophical ideas throughout history. Students explore the inexorable bond between philosophy and science by surveying different philosophical movements and their impact on science as well as examining a spectrum of scientific fields such as biology, chemistry and physics, including labs. Gaining insight into the history, methods and theory of science is key to understanding science not as an inaccessible model for gaining knowledge, but as an ever-adapting, dynamic method of discovery that is a function of the time we live in. This class is designed for those who are interested in how science interacts with the world by combining hands-on learning of science with the top-down understanding of the philosophy of science.