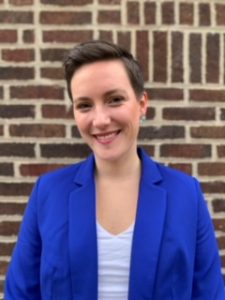 Interfaith @ Augsburg is delighted to welcome Jane Ulring as our new Managing Director starting November 1. Our executive director, Najeeba Syeed shares, "Jane was the ideal choice with her deep commitment and experience in our campus, community and national contexts. She is a wonderful addition to our staff and will expand our capacity to offer new and innovative interfaith programming."
Jane Ulring is a graduate of Augsburg University where she earned her Bachelor's in Philosophy, and Union Theological Seminary (UTS) where she completed her Master of Divinity in Social Ethics. While in seminary, Jane interned for a LGBTQIA affirming ecumenical inter-campus ministry, serving a diverse group of NYC's students. As an intern, she loved working with college-aged youth and accompanying them in their growth.  
Upon graduating from UTS Jane was awarded Union's Interreligious Engagement Prize for academic excellence in the IE field. Within the broader field of IE, Jane's personal passions lie at the intersection of interfaith activism, care for creation, and mutual healing from colonial violence. She is committed to work braiding religious diversity, public service, and justice for Earth's communities. She has volunteered and worked for numerous causes and witnessed firsthand how intentional interfaith collaboration can propel local initiatives forward. In October 2021, Jane accepted the position of Program Manager working for Interfaith America where she managed faculty partnerships, interfaith curriculum development grants, and fellowships. She is excited to return to Augsburg in service of the university's and Minneapolis' community, and welcomes the opportunity to strengthen Augsburg's commitment to building a thriving religiously diverse commons.  
Jane's portfolio will include campus based, Twin Cities and regional programming.  She will be developing partnerships with congregational and community entities. She is also committed, as we are, to a diverse interfaith table that includes a wide range of traditions, communities and forms of practice and belief.  Jane says, "I am excited to join Interfaith @ Augsburg as Managing Director.  Accepting this position is a blessed home-coming of sorts for me. The values of service and justice instilled in me during my college years at Augsburg are what first sparked my passion for interfaith work. This opportunity to, once again, assume the identity of 'Auggie' and build interfaith programming in service of our campus, Minneapolis' community, and beyond is a great honor. I look forward to collaborating with talented and imaginative students, faculty, administrators, and staff to bring Interfaith @ Augsburg to life."