We are offering IN-PERSON and REMOTE support this semester – see schedule below. Please know that the time frames are subject to change, and may change throughout the semester. 
Our office is located in Oyaté Commons – lower level of the Christensen Center, in  Suite 2.
You can ALWAYS contact us by email at isss@augsburg.edu or by phone at 612-330-1659.
---
SPRING SCHEDULE 2022
OFFICE HOURS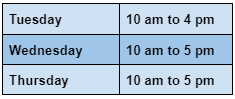 REMOTE HOURS

---
schedule an appointment 
We would like to meet with YOU! And it's a fast and easy process to schedule a time with us. We are able to provide answers, including—but not limited to—visa compliance and regulation (J1/F1), general questions regarding Augsburg and our campus, as well as questions pertaining to CPT/OPT.
Schedule a meeting with Bettine, ISSS Director (virtually only)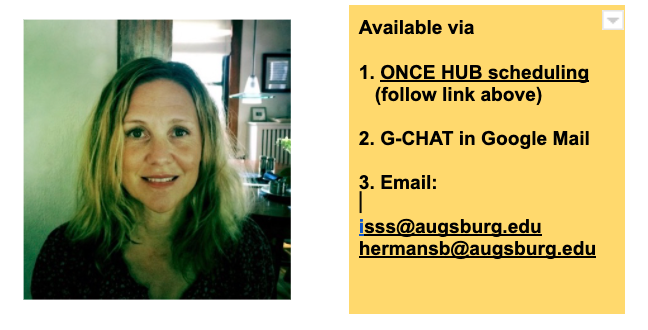 ---
Schedule a meeting Priti Bhowmik, ISSS Program Assistant (both in-person and virtually)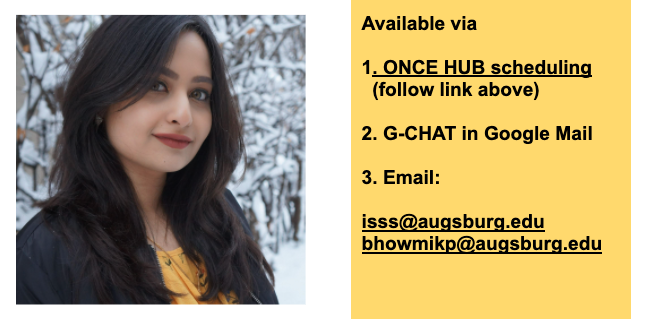 ---
Virtual DROP-In Hours
We offer anyone who is interested to connect with us through our VIRTUAL DROP-HOURS. This way of connecting with our ISSS team is meant to support our students with quick questions and urgent needs.
Please log on to the Zoom Meeting by selecting time and date from the table below. Our virtual drop-in is first come, first served. You will be placed on a hold if there is someone before you.
If you have challenges logging on below use this zoom link.