Advising, Advocacy & Support
LGBTQIA+ Student Services offers advising, advocacy, and support for all LGBTQIA+ and allied students at Augsburg, including help on academics, questions around gender and sexual identity, personal and social life, bias and discrimination reporting, and advocating on a student's behalf around changing policies, practices, or procedures at the University.
Feel free to drop into Christensen Center 1D (on the Ground Floor of the building in the "Auggie's Nest"), call 612-330-1499, or email grewe@augsburg.edu.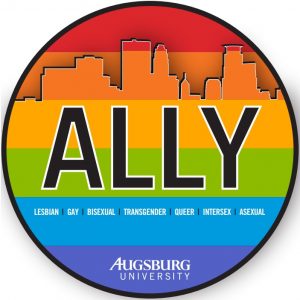 EDUCATION & TRAININGS
Educational workshops and trainings are available for all students, staff, and faculty at Augsburg University.  These workshops are a great way to learn about the LGBTQIA+ community and an opportunity to ask questions.  They covers topics such as LGBTQIA+ history and culture, myths and stereotypes, privilege, allyship, confronting LGBTQIA+ bias, recognizing and dismantling LGBTQIA+ oppression, and more.  Workshops are offered and advertised to the entire campus each semester, and customized trainings are available to departments, offices, and student organizations by request.
Lavender Celebration & Awards Ceremony
Lavender Celebration & Awards Ceremony honors outstanding LGBTQIA+ and ally-identified student leaders at Augsburg University.  The winners of the Karen Neitge Scholarship and LGBTQIA+ Student Leadership Awards are recognized at this event.
LGBTQIA+ STUDENT Leadership Retreat
The LGBTQIA+ Student Leadership Retreat takes place in early fall semester to bring LGBTQIA+ and allied-identified students together to network, socialize, learn, and develop leadership skills.  Students have an opportunity to explore their own identities, understand definitions and terminology, connect with other students in the LGBTQIA+/allied community on campus, and develop plans for action for the upcoming year.
LGBTQIA+ Newsletter
The LGBTQIA+ Newsletter is a biweekly electronic newsletter that lists LGBTQIA+ -specific announcements and events on or around campus.  To subscribe to the newsletter, or to submit an event or announcement, please email lgbtqia@augsburg.edu.
Soup, Gender & Sexuality
This ongoing monthly series is open to the entire Augsburg University community as a dialogue around issues of sexuality, gender, and their intersections.   All attendees can help themselves to soup and great conversation!