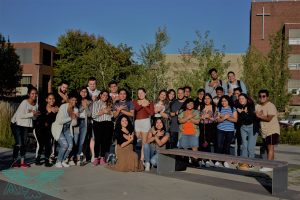 Welcome!
Latinx Student Services (LSS) welcomes you to Augsburg University. Whether you are joining us directly from high school or are a transfer student, LSS provides a variety of services, programs and support for you, your family, and our community.
MULTICULTURAL LIFE EDUCATIONAL PRIORITY STATEMENT
We believe when students have a greater understanding of self, they become empowered to reclaim* ownership of their education. Multicultural Life provides opportunities to deepen awareness and knowledge of identity, resilience, and advocacy.
*Due to white supremacist foundation that is rooted within higher education, education does not allow historically underserved students to take stake in their learning. 
Covid-19 Resources for Latinx Communities in Minnesota
Navigate Minnesota
https://www.facebook.com/215741012428850/videos
COVID-19 Recursos Para Minesotanxs Indocumentadxs COPAL
https://www.copalmn.org/recursos?fbclid=IwAR3y-I8
CLUES
https://www.clues.org/wp_english/coronavirus/
Additional Resources
https://docs.google.com/document/d/1Bkev-cl7tpPps0hV7fiu89ccAvAIikFFkE1JjhGIHIk/edit#heading=h.gjdgxs

¡BienvenidOs!
La oficina de Servicios para Estudiantes Latinx (LSS) te da la bienvenida a Augsburg University. Independientemente de si estás comenzando tu primer año ó te hayas transferido,  LSS es un lugar que ofrece una variedad de servicios, programas, y apoyo para ti, tu familia, y nuestra comunidad.
LSS está ubicada en la planta baja de Christensen Center, Suite 2 (edificio #3 en el mapa)
Horario de oficina: Lunes a Viernes, 8:30 am – 4:30 pm
Citas: En person en la Oyate Commons o llamando al 612-330-1663