Augsburg's MSW program prepares students to practice social work in both clinical and macro settings using a social justice and anti-oppressive lens. Our Council on Social Work Education-accredited MSW  builds on Augsburg's rich 150-year history of service to the community. 
Program Mission
We strive to prepare exceptional social work professionals for anti-racist and anti-oppressive advanced social work practice that promotes intersectional racial and social justice in a diverse and global society.
Our hybrid weekend classes include full and part-time options, allowing professionals the flexibility  to work while completing a graduate degree. Students benefit from the connection and in-person collaboration with peers and faculty while also having the convenience of being able to navigate online learning during the weeks classes are not held in person.  
Augsburg's MSW program offers two concentrations: Multicultural Clinical Practice (MCCP) and Multicultural Macro Practice (MCMP). We also offer an MSW/MBA dual degree as well as a pathway for Licensed Alcohol and Drug Counseling (LADC).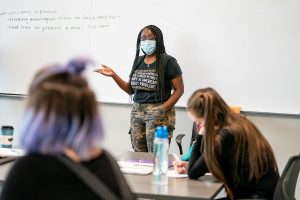 Students enter our program at either the Foundation or Advanced Standing level and then choose between the two concentrations. Both concentrations prepare students to practice ethically in a diverse and global society. Our small class sizes of 10-20 allow us to stay student-centered while meeting  the unique learning needs of all students. Our full time faculty care deeply about teaching and also pursue distinctive scholarship in their areas of expertise. Our strong pool of adjunct faculty draw on their experiences as innovative practitioners and administrators in agency-based settings.
Our field internships offer unique learning opportunities and experiences in both urban and rural settings, and include opportunities in culturally diverse settings. Students even have the opportunity to engage in short-term study abroad experiences. In the SWK 699 (Global Elective) students  learn about social work and social services in countries outside of the US. Our faculty have led short term study abroad experiences to Slovenia, China, Namibia/South Africa, Mexico, India, Hong Kong, Singapore, Thailand, Denmark, Iceland and more. 
Augsburg Master of Social Work Students Learn:
how individuals and groups interact with their environment;
how social policies and programs affect individuals, families, communities, and society;
how to use a range of client-centered approaches to practice with client groups of all types and sizes;
how to apply theories and methods of practice through the field placement experience;
the importance of practice informed by sound, scholarly research
how to evaluate the effectiveness of your social work practice and of social work programs.
As an Augsburg MSW graduate, you will be better prepared to emphasize your clients' strengths, solve problems within a holistic, systems framework, and practice social work informed by sound research and evaluation.