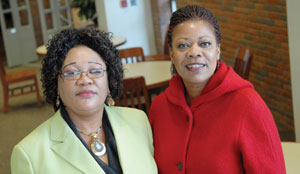 "I like DSWAP because it has given me the opportunity to acquire clinical social work skills necessary for me to become an effective social worker."
DSWAP MSW student Ethel Arisa
"What an opportunity to participate in such a cutting-edge and prestigious program! The faces and lives of those that venture to journey through the process of healing and change are diverse. The distinctive experiences, trauma, and lifelong circumstances individuals have encountered require a new kind of communication. I have been given the mantle and will be sent out to communicate clinical social work to racially and culturally diverse communities. I am interning with graduate students from all over the world; Peru, Nigeria, South Korea, Cameroon, Thailand, and Kenya. Upon graduation, the DSWAP team will move forward as candidates for clinical licensure; removing the barrier and stigma to receiving relevant culturally sensitive therapy services."
DSWAP MSW student Dorothea Harris
The Diversity Social Work Advancement Program (DSWAP) is a program funded by the Minnesota Department of Human Services Adult Mental Health and coordinated by Family and Children's Services of Minnesota. DSWAP recruits racially and ethnically diverse second-year MSW students for internships to complete graduate school and recent MSW graduates to help them obtain licensure. DSWAP scholars are selected from the MSW programs at Augsburg University, St. Catherine University/University of St. Thomas, and the University of Minnesota.
DSWAP has three primary goals:
To increase the number of licensed mental health professionals from immigrant, refugee, and minority communities.

To expand the accessibility of culturally competent, trauma-informed mental health services to members of diverse communities.

To train and develop a cadre of supervisors with a deepened understanding of diverse cultures within the community and a greater understanding of the dynamics of cross-cultural supervision.
DSWAP Scholars will participate in the following curriculum, training and professional development opportunities:
Advanced year MSW field placements offering caseloads of at least 50% dedicated to providing services to members of immigrant, refugee or minority communities. A $3,500 stipend will be provided for all DSWAP Scholars while in field placement.

MSW curriculum on trauma, immigrant, minority, and refugee issues, and supervision.

Intensive training in specific trauma therapies, including Narrative Exposure Therapy.

Intergroup dialogue sessions, exploring cultural identity and relationship.

Community leader speaker series.

Assessment of professional writing skills, with follow-up training as needed, as well as coaching in licensure test taking.

Ongoing professional development support for two years post graduation.