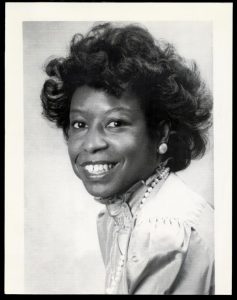 M. ANITA GAY HAWTHORNE, known to students as "Mom," gave ten years to Augsburg University. During her tenure, she utilized the concept of Pan-Afrikanism to create a program unique to any college campus in the country. Ms. Hawthorne was totally committed to the development of students and dedicated to the spoken word. She was a visionary for what Afrikan people can do and an "abolitionist" of ignorance and intolerance. PAC continues to be inspired by her love and through her spirit in the legacy she left with her untimely death in January 1998.
MARGARET ANITA LEONARD GAY HAWTHORNE
Anita, as she was affectionately called, was born on February 23, 1953, in Charleston, West Virginia, the only child of Roscoe E. and Josephine L. Leonard.
Anita was raised in Baton Rouge, Louisiana, and was baptized at an early age at Mount Pilgrim Missionary Baptist Church (9700 Scenic Highway) under Reverend Eddie White. She attended South Scotlandville Elementary and graduated from Southern University Laboratory High School. After receiving her BS Degree in Psychology from Southern University, she met Claude Gay, III. Afterward, she earned her MS in Counseling and Psychology from Howard University and moved to Minnesota in 1977. She later met and married her loving husband Kevin Hawthorne in 1994.
Anita served on many boards and committees. Among the many, she was an advisor to the Excelsior Chorale Ensemble, Co-Founder of Asili Institute for African Women in the Diaspora, planning committee, presenter, speaker for the Pan African Student Leadership Conference, and officer for the Association of Black Psychologists.
Anita was a board member of African American Family Services, the Southern University Alumni Club, Minnesota Lupus Chapter, NAACP and a long time active member of Zion Baptist Church. She served tirelessly as the Director of Pan-Afrikan Student Services at Augsburg University. She also taught several classes at Augsburg, including, "Black in America", Introduction to Women's Studies".
Anita was a woman of many talents. All who were blessed to be acquainted with her knew of her love of words, which she was always willing to share in her poetry.