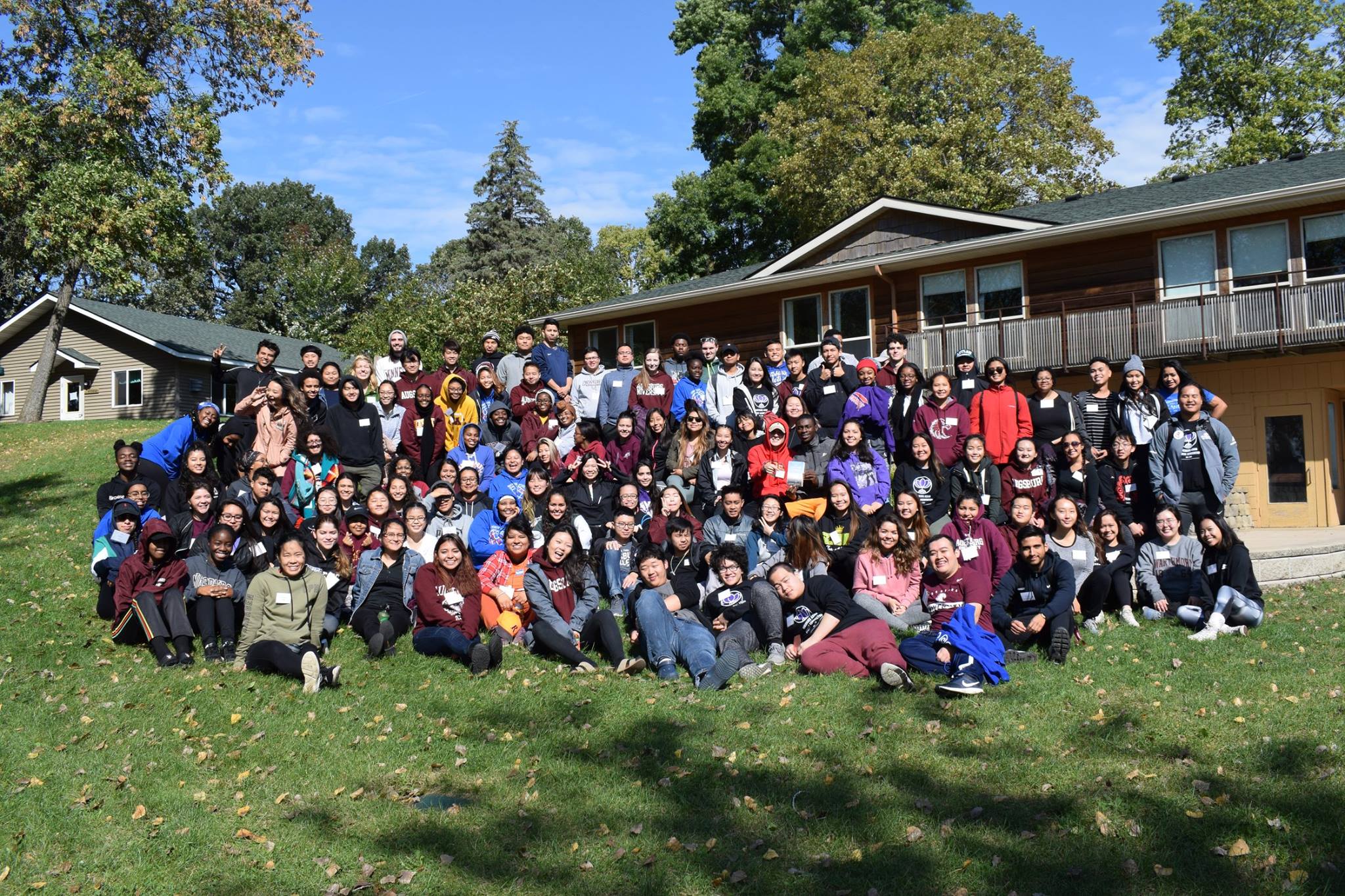 With the growing number of multiracial students and transition in leadership in each department this umberalla was created to label the space in which we serve students. Multicultural Student Services IS NOT A DEPARTMENT. Since the existence of the 4 departments in 1993, the space and departments were known as Ethnic Student Service Directors or Ethnic Directors. In 2013, to be more inclusive to our student and campus partners, Multicultural Student Services was established to connect students, departments and community. MSS is essential the artificial glue of the 4 departments.
Multicultural Student Services serves as an umbrella for the following departments: American Indian Student Services, Latinx Student Services, Pan-Afrikan Center, and Pan-Asian Student Services; providing advising, mentoring, support, and fellowship to ethnically diverse students. Services provided by Multicultural Student Services include:
Assisting students with the admissions process and financial aid application
Providing academic advising and course planning
Offering counseling services (personal, social, and cultural) including interventions, crisis counseling, and advocacy
Fostering student security and comfort
Providing opportunities to network with other students, faculty, staff, and alumni of color
Offering community and professional referrals, networking opportunities, and information for jobs and internships
Supporting and assisting admissions in the recruitment of ethnically diverse students
Assisting with new student orientation and registration
Assisting in the social and cultural transition to college
Advising student organizations including Augsburg Asian Student Association (AASA), Augsburg Indigenous Student Association (AISA), Augsburg Latin American Students (ALAS), Hmong Women Together (HWT), and Pan-Afrikan Student Union (PASU)
Offering scholarship opportunities as well as assists in seeking/provides resources for other scholarships
Assisting Scholastic Connections program in seeking mentors
Multicultural Student Services
612-330-1087
Office Location: Oyate' Commons, Christensen Center basement
The four individual programs (American Indian Student Services, Latinx Student Services, Pan-Afrikan Center and Pan-Asian Student Services) are housed together in the basement of the Christensen Center building in Suite 2. The space is shared with Study Away/Abroad (2 staff) and International Student and Scholar Services (ISSS) (3 staff). In 2014 we named the space Oyate' Commons in recognition of the first inhabitants of this land, the Dakota people. Oyate' is the Dakota word that translates in english to "the people" or "the nation".
---
American Indian Student Services
Director: Jennifer Simon
612-330-1144
aiss@augsburg.edu
American Indian Student Services Website
Latinx Student Services
Director: Ruby Murillo
In English: 612-330-1309 | En Español: 612-330-1459
latinx@augsburg.edu
Latinx Student Services Website
Pan-Afrikan Center
Director: TBA
612-330-1022
pac@augsburg.edu
Pan-Afrikan Student Services Website
Pan-Asian Student Services
Director: Hli Vang
612-330-1530
panasian@augsburg.edu
Pan-Asian Student Services Website
---
Scholarships
Multicultural Student Services Scholarships
The Multicultural Student Services Scholarships (including ASIA Scholarship, Bonnie Wallace American Indian Scholarship, HOLA Scholarship and M. Anita Gay Hawthorne Scholarship) recognize returning underrepresented undergraduate students in the Day program. Students who are eligible and awarded will receive a $2,500 annual, renewable award. These scholarships are for returning students of American Indian/Latinx/Pan-Afrikan/Pan-Asian descent and/or a student who has participated, demonstrated record of and/or potential for leadership and awareness within the communities mentioned above.
First-Time Applicants Eligibility Criteria:
-Must have completed at least one full semester at Augsburg by February 1st, 2019
-Be enrolled as a full-time student for the academic year 2019-2020
-Meet a minimum cumulative GPA of 2.5
-Meet the University's standard of conduct
-Complete this application and essay
-Must demonstrate financial need as defined by Student Financial Services.
Previous Recipients Renewal Criteria:
-Meet satisfactory academic progress as defined by the university which includes maintaining a minimum cumulative GPA of 2.0
-Meet the University's standard of conduct
-Student must complete this application, required essay and questions.
Applications for the 2019-2020 academic year have closed. 
Note: DACA and undocumented students are eligible and highly encouraged to apply. Promise, Presidential and ActSix Scholarship recipients are not eligible for this award.
Questions/Concerns? Contact Mai Xee Vang at vangmm3@augsburg.edu or 612-330-1663 or stop by Oyate Commons, Lower Level of Christensen Center
Scholastic Connections Scholarship
Scholastic Connections is a scholarship program for high-achieving undergraduate students of color at Augsburg University. It is designed to assist students succeed in completing their undergraduate degree and prepare them to be engaged, successful citizens of the world on graduation by facilitating career development and planning.
We do this by forming a community of alumni that recognizes, supports, challenges and inspires our Scholars, by providing a network of belonging, asking the really big questions, providing intentional encounters with the "other", exercising habits of the mind and pursuing worthy dreams (taken from Big Questions Worthy Dreams by Sharon Daloz Parks).
Scholarship:  $5000 annually renewable
Network community: scholars and alumni of color
Applications for the 2019-2020 academic year have closed. 
---
Annual Event: Fall Leadership RetreaT
Each year, we take students off campus for the weekend to build community, engage in important discussions, gain leadership tools and have fun!
Student organizations who plan the FLR consist of:
Augsburg Asian Student Association (AASA)
Augsburg Indigenous Student Association (AISA)
Augsburg Latin American Students (ALAS)
Pan-Afrikan Student Union (PASU)
International Student Organization (ISO)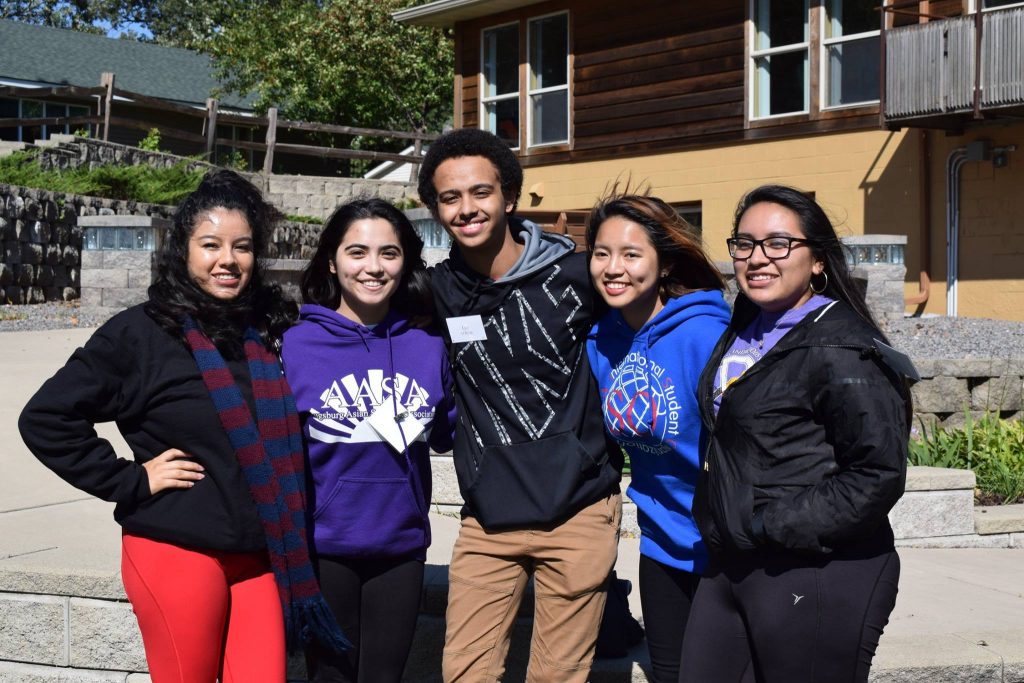 ---
Visit us on social media