"Introducing the Jazz Orchestra"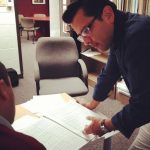 Dates: August 17 – 21, 2020
Hosts: Augsburg University (USA) and University of Costa Rica – Pacific campus (CR)
You are cordially invited to participate in a virtual seminar in which the concept of the "Jazz Orchestra" as a professional ensemble will be presented. In this format, the orchestra will encounter [confront… deal with…] the idiomatic language of North American jazz and the traditional jazz ensemble will rise [accede] to another level of musical expression. Don't miss out!
Topics include:
Notated "swing" rhythm in the score
Idiomatic phrasing and articulation in jazz
Orchestration and harmonic language
Score study [of actual parts]
R.S.V.P. – The virtual symposium requires high internet connectivity. Certificates of Participation will be offered from Augsburg University in Minneapolis, Minnesota, U.S.A
Attendance at 80% or more of the conference sessions is required in order to receive the certificate of participation. All sessions will have translation available in real time.
Register by clicking on the button below in order to receive information on connecting to the symposium via Zoom. We hope to see you soon!
Register Here
Seminar Schedule
Presenter
Dr. Rafael Antonio Rodriguez 
Director of Orchestra & Jazz
Augsburg University
Rafael's jazz bio
Poster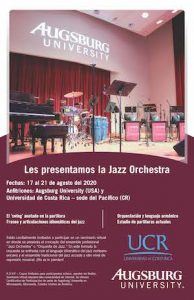 "Les presentamos la Jazz Orchestra"
Fechas:  17 al 21 de agosto del 2020
Anfitriones: Augsburg University (EE.UU.) y Universidad de Costa Rica – sede del Pacífico (CR)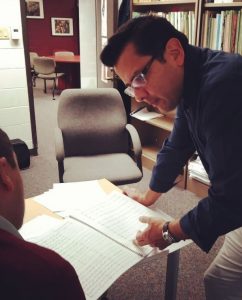 Están cordialmente invitados a participar en un seminario virtual en donde se presenta el concepto del ensamble profesional "Jazz Orchestra" o "Orquesta de Jazz." En este formato la orquesta se enfrenta con el lenguaje idiomático del jazz norteamericano y el ensamble tradicional del jazz accede a otro nivel de expresión musical. ¡No se lo pierden!
Temas incluyen:
El 'swing' anotado en la partitura
Fraseo y articulaciones idiomáticas del jazz
Orquestación y lenguaje armónico
Estudio de partituras actuales
R.S.V.P. – Seminario virtual requiere alta conectividad de internet. Se ofrecen Certificados de Participación de parte de Augsburg University en Minneapolis, Minnesota, Estados Unidos de América.
Se requiere asistencia en 80% o más de las sesiones para recibir el certificado de participación. Cada sesión se presenta con traducción disponible en tiempo real.
Haga clic en el botón siguiente para registrarse, así podrás recibir información sobre como conectarse al simposio por medio de Zoom. ¡Esperamos verlos pronto!
Registrarse aquí
Cronograma del seminario
Orador Principal
Dr. Rafael Antonio Rodriguez
Director de Orquesta y Jazz
Augsburg University
Bio jazz de Rafael
Póster