Upholding a generations-long tradition of excellence, today's Augsburg Choir also establishes contemporary standards for student-centered learning, interdisciplinary relevance, and community engagement in the choral curriculum. Our study and performance of wide-ranging repertoire for mixed voices, open to students from any degree program, fosters independent musicianship both for aspiring music professionals and for the lifelong avocational musician. The singers in The Augsburg Choir work together and with external collaborators to explore ensemble mastery as peace practice.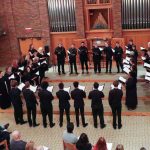 The Augsburg Choir's artistic collaborations are supported by funds from the John N. Schwartz Endowment for Choral Leadership. Recent projects have included: professional concert collaboration in Lutheran music of the early Baroque with The Rose Ensemble and the Dark Horse Consort; the world premiere with the students of Harding High School of a composition on texts by local Hmong poets; performance of double-choir repertoire with Vocal Essence's SOTA; participation in Reinaldo Moya's Tienda, a chamber opera on the early history of Mexican immigrants to the Twin Cities; and a concert evening of WaterMusic, presented together with local hydro-scientists and water-protection activists, also featuring water poetry from faculty and students in Augsburg's Comparative Religion and River Semester courses.
Selection to The Augsburg Choir is reserved for those auditionees with the strongest combination of vocalism, music literacy, and commitment to ensemble citizenship. Aspiring members seeking to improve their sightsinging prior to choral placement auditions are enthusiastically welcomed to contact the director for guidance.
Moving Music Online
Professor Kristina Boerger, D.M.A. – John N. Schwartz Professor of Choral Leadership and Conducting at Augsburg – was not able to transfer her classes online as easily as other Augsburg professors. She needed to change her entire curriculum to fit an online platform…(full article)
2019-2020 Performances:
Friday evening, September 27
Sesquicentennial Celebration Gala – The Augsburg Choir will perform during the gala program
Saturday, September 28 at 4 p.m.
Homecoming Collage Concert with the Augsburg Choir, Augsburg Orchestra, and Augsburg Concert Band
Hoversten Chapel, Foss Center
Open to all!  Reception to follow the performance
Tuesday, October 22 at 7 p.m.
Choral Showcase: Including The Augsburg Choir, Masterworks Chorale, Cedar Singers & Riverside Singers!
Hoversten Chapel, Foss Center
Advent Vespers
Friday, December 6 at 5 & 8 p.m.
Saturday, December 7 at 2 & 5 p.m.
Central Lutheran Church, Minneapolis
Reservations Required (Available beginning in October, date & time to be posted here in fall)
Sunday, January 26, 2020 – 2 p.m. Service – CANCELLED
The Augsburg Choir performing at Congregation Bet Shalom in Minnetonka
February 21 & 22 – 7 p.m.
Sesquicentennial Celebration Project – Tienda: An original opera composed by Reinaldo Moya, including The Augsburg Choir & The Augsburg Orchestra, Hoversten Chapel – Foss Center
Thursday, April 23, 2020, All Day – CANCELED
Invitational Early Music Festival and Culminating Concert, with special guests The Mirandola Ensemble
The Augsburg Choir is excited to welcome guests from Harding High School, Hennepin County Community College, St. Michael-Albertville High School, Shattuck-Saint Mary's School and Vocal Essence's Singer of This Age.
Performance at 7 p.m.
Hoversten Chapel, Foss Center
Free and Open to All!
(Parking Permit for evening Choral Concert)
---
---
JOHN N. SCHWARTZ PROFESSORSHIP IN CHORAL LEADERSHIP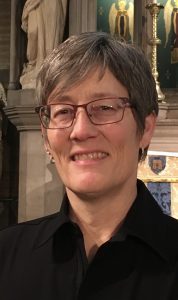 Augsburg University and the Department of Music are pleased to announce that Kristina Boerger, DMA, has been appointed the inaugural John N. Schwartz Professor of Choral Leadership and Conducting. The search generated nearly 100 applicants nationally and internationally, and a 10-person committee of music faculty, community members, and university representatives, along with Provost Kaivola and President Pribbenow, made the final selection.
Kristina holds degrees in music education and conducting from the University of Illinois, has worked in public school, collegiate, and professional settings, and spent a number of years working in New York City, where her work received very favorable reviews in the New York Times.  In addition to conducting, she is an excellent singer as well, having performed with numerous outstanding groups as a chorister and soloist.  She has founded choirs and is deeply committed to the values of inclusion, access, and equity, musics of diverse cultures, and commissioning original works.  She has collaborated with leading composers and with artists in other art forms in creatively advancing the field of choral study and performance.