The 34-voice Augsburg Choir, under the direction of Kristina Boerger, celebrates a long tradition of excellence in choral music. Praised for its high level of musicianship, the ensemble performs a diverse repertoire including compositions by well-known Scandinavian and American composers as well as a wide variety of music from throughout the world. The Augsburg Choir has premiered works by Knut Nystedt, Stephen Paulus, Steve Heitzeg, Carol Barnett, Egil Hovland, Kari Tikka, and Sigvald Tveit.
The Augsburg Choir's annual Advent Vespers services are regularly broadcast on public radio. In 2004, the 25th anniversary year, Twin Cities Public Television recorded and broadcast Advent Vespers, which was subsequently awarded a Regional Emmy Award. The Choir regularly tours locally, nationally, and internationally. In addition to national tours throughout the United States, the Choir has toured in Ireland, Sweden, Norway, Finland, Russia, Estonia, Hungary, the Czech Republic, Germany and China.
The Choir, in it's 85th year, upholds the University's history of choral excellence dating back to the early part of this century. While honoring its roots in the Scandinavian Lutheran choral tradition, the Augsburg Choir has developed a generous and free choral sound, performing music from China to Colombia and South Africa to Russia. This choral tradition encompasses not only the mission of Augsburg but also the legacy of noted conductors such as Larry L. Fleming and Leland B. Sateren.
2019-2020 Performances:
Friday evening, September 27
Sesquicentennial Celebration Gala – The Augsburg Choir will perform during the gala program
Saturday, September 28 at 4 p.m.
Homecoming Collage Concert with the Augsburg Choir, Augsburg Orchestra, and Augsburg Concert Band
Hoversten Chapel, Foss Center
Open to all!  Reception to follow the performance
Tuesday, October 22 at 7 p.m.
Choral Showcase: Including The Augsburg Choir, Masterworks Chorale, Cedar Singers & Riverside Singers!
Hoversten Chapel, Foss Center
(10/22 Parking Permit, Choirs)
Advent Vespers
Friday, December 6 at 5 & 8 p.m.
Saturday, December 7 at 2 & 5 p.m.
Central Lutheran Church, Minneapolis
Reservations Required (Available beginning in October, date & time to be posted here in fall)
Sunday, January 26, 2020 – 2 p.m. Service – CANCELLED
The Augsburg Choir performing at Congregation Bet Shalom in Minnetonka
February 21 & 22 – 7 p.m.
Sesquicentennial Celebration Project – Tienda: An original opera composed by Reinaldo Moya, including The Augsburg Choir & The Augsburg Orchestra
Hoversten Chapel
Tickets/Details: TBD
Thursday, April 23, 2020, All Day
Augsburg High School Invitational
(More details coming soon!)
---
---
JOHN N. SCHWARTZ PROFESSORSHIP IN CHORAL LEADERSHIP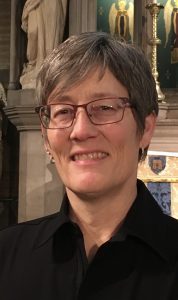 Augsburg University and the Department of Music are pleased to announce that Kristina Boerger, DMA, has been appointed the inaugural John N. Schwartz Professor of Choral Leadership and Conducting. The search generated nearly 100 applicants nationally and internationally, and a 10-person committee of music faculty, community members, and university representatives, along with Provost Kaivola and President Pribbenow, made the final selection.
Kristina holds degrees in music education and conducting from the University of Illinois, has worked in public school, collegiate, and professional settings, and spent a number of years working in New York City, where her work received very favorable reviews in the New York Times.  In addition to conducting, she is an excellent singer as well, having performed with numerous outstanding groups as a chorister and soloist.  She has founded choirs and is deeply committed to the values of inclusion, access, and equity, musics of diverse cultures, and commissioning original works.  She has collaborated with leading composers and with artists in other art forms in creatively advancing the field of choral study and performance.