Nancy's Reflections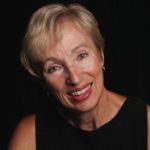 When I met my first choir at Augsburg in January of 1994, I met a small group of young singers who saw themselves in the big shadow of the Augsburg Choir. They were called the Chapel Choir and mainly sang for chapel services. This was not unusual as historically women's choirs have been on the bottom ladder rung of choral hierarchy. It was my great joy to show singers the value of their voices and abilities as they learned the musical and vocal skills to embrace great music to share with the world.
One of the first concerts given in 1994 was in conjunction with the University of Minnesota and my dear colleague, Kathy Romey, as we sought to empower these voices. Women have sung for centuries as they work and play, and composers are capturing that spirit and writing for these voices in great numbers. Choral musicians all over the world are embracing the importance and unique ability of soprano – alto choirs, and our 25-year old collaborative concert called WomanVoice celebrates this growth.
As the demographic of our Augsburg campus changed, we added to our sacred repertoire by exploring music of other cultures and music written by women composers. We wanted the singers to feel the validation and empowerment of singing in a soprano – alto choir and singing about issues and emotions that affect those who identity as women and those whose voices need to be heard. We strive to have every singer feel comfortable, safe, accepted and affirmed by singing unique music that unites and inspires.
Augsburg is poised to lift off into a new era of choral leadership with our dynamic new Director of Choral Activities, Kristina Boerger, and with some new recruitment initiatives from the Admissions Office. We are empowered by our Augsburg mission of service and inclusion, seeking to support it in our music-making. I will remain as Artistic Director of Advent Vespers for one final year to enjoy this exciting time, but I will pass the baton to a new conductor.
Thank you, Augsburg University and colleagues, for fueling MY growth as a teacher, conductor and composer.
Nancy Grundahl
---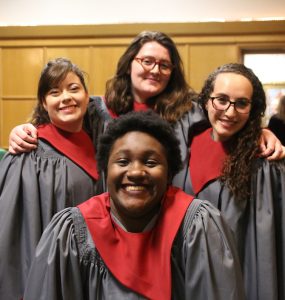 The Riverside Singers, directed by Nancy Grundahl, carry on the long tradition of treble choirs at Augsburg University. The singers participate with other Augsburg musical organizations in the annual Advent Vespers each Christmas season at Central Lutheran Church.
Another anticipated event is the annual WomanVoice concert in March when college women's choirs from around the area join hearts and voices to sing music by, for and about women. Participating in chapel services several times during the year is an important part of the mission of the choir, as is hosting an invitational treble choir festival in the fall of the year.
2018-2019 Performances:
Saturday, October 13 at 4 p.m.
Homecoming – Choral Showcase Concert
Hoversten Chapel, Foss Center
Open to all!  Reception to follow the performance
A freewill offering will be taken during the performance
Parking
> It's Homecoming, so please allow a generous amount of time for parking, and plan to walk a bit!
> Parking will be available without a permit during Saturday's events in Lots A, D, and L, and street parking along lot C.
> Please also consider using one of the ramps at the U of MN.  While not free … very convenient!
Advent Vespers
Thursday, November 29, 8 p.m. (Open Dress Rehearsal)
Friday, November 30 at 5 & 8 p.m.
Saturday, December 1 at 2 & 5 p.m.
Central Lutheran Church, Minneapolis
Reservations Required (Available beginning October 19 at 12 p.m.)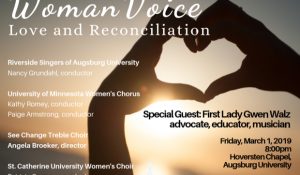 Friday, March 1, 2019 at 8 p.m.
Hoversten Chapel, Foss Center
Featuring special guest First Lady Gwen Walz, advocate, educator, and musician. WomanVoice is an annual concert, which uplifts the music, poetry, and creative activity of women while exploring issues relevant to contemporary society.
> Augsburg Riverside Singers (Nancy Grundhal, conductor)
> St. Catherine's University Women's Choir (Patricia Connors, conductor)
> See Change Treble Choir (Angela Broeker, director)
> University Women's Chorus (Kathy Saltzman Romey and Paige Armstrong, conductor)
This event is free and open to the public. Tickets are not necessary, seating is general admission.
Monday, April 15, 2019 – 7:30 p.m.
Augsburg Vocal Jazz, Riverside Singers & Flute Ensemble, spring pops concert
Sateren Auditorium, Music Hall
(4/15 – parking permit)
Saturday, April 27, 2019 at 7 p.m.
Riverside & Cedar Singers Spring Concert
Hoversten Chapel, Foss Center
Reception to following celebrating Nancy Grundahl!
(4/27 – parking permit)