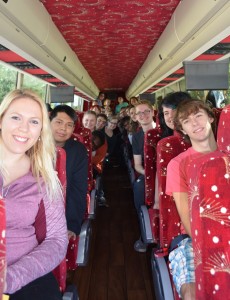 The Augsburg Music Department has three ensembles which tour or have a retreat event each year:
Visit each page to check out where our next performances will be or to find useful materials to help promote a concert near you!
---
How do I have an Augsburg Ensemble perform in my community?
Contact Cathy Knutson to discuss all of the options for scheduling an Augsburg ensemble to visit your community.
Phone: 612-330-1279
Email: knutsonc@augsburg.edu
What is required to host an ensemble?
Each ensemble tour and performance varies, however, hosts may be asked to help coordinate:
the logistical details at the performance venue (lighting, sound, dressing rooms, etc)
an evening meal
host families or hotel recommendations
marketing and advertising for the performance
---
Previous Tours:
2018-2019 Tours & Retreats
Augsburg Concert Band – Minnesota, South Dakota
Augsburg Choir – Performance Series with The Rose Ensemble
Augsburg Orchestra – Retreat, with guest musicians and conductors from Costa Rica & Bolivia
Augsburg Orchestra Members – Summer music travel to Costa Rica
2017-2018 Tours & Retreats
Augsburg Concert Band – Minnesota, Wisconsin
Augsburg Choir – Minnesota, South Dakota, Nebraska, Iowa
Augsburg Orchestra – Retreat, with guest conductor from Costa Rica
2016-2017 Tours
Augsburg Jazz – Minnesota
Augsburg Concert Band & Augsburg Jazz – Minnesota, Illinois, Wisconsin
Augsburg Orchestra & The Augsburg Choir – Minnesota
2015-2016 Tours
Augsburg Symphony Orchestra – Florida
Augsburg Concert Band & Augsburg Jazz – North Dakota & Minnesota
The Augsburg Choir – Minnesota, Missouri, Illinois, Wisconsin
2014-2015 Tours
Augsburg Symphony Orchestra – Minnesota
Augsburg Concert Band & Augsburg Jazz – Minnesota, Iowa, Nebraska, Kansas, Missouri, Arkansas, Louisiana & Tennessee
The Augsburg Choir – Minnesota, South Dakota
Augsburg Choral Performance – Carnegie Hall, New York
2013-2014 Tours
Augsburg Symphony Orchestra – Florida
Augsburg Concert Band – Minnesota, South Dakota, Iowa & Wisconsin
The Augsburg Choir – Ireland
2012-2013 Tours
Augsburg Symphony Orchestra – Chicago
Augsburg Concert Band & Jazz Ensemble – augsburgmusic.blogspot.com
The Augsburg Choir – Minnesota, Wisconsin, Manitoba
2011-2012 Tours
Augsburg Symphony Orchestra – Florida
Augsburg Concert Band – Minnesota & Wisconsin
The Augsburg Choir – Minnesota, North & South Dakota, Montana, Wyoming, Washington & Oregon
2010-2011 Tours
Augsburg Symphony Orchestra – Duluth
Augsburg Concert Band – Minnesota, Iowa, Missouri, Illinois & Wisconsin
The Augsburg Choir – Minnesota, Wisconsin, Illinois & Iowa
2009-2010 Tours
Augsburg Symphony Orchestra – Florida
Augsburg Concert Band – North Dakota, Montana & South Dakota
The Augsburg Choir – China & Hong Kong
2008-2009 Tours
Augsburg Symphony Orchestra – Chicago
Augsburg Concert Band – Romania
The Augsburg Choir – Minnesota, South Dakota, Nebraska, Oklahoma, Texas, Louisiana, Missouri, Illinois