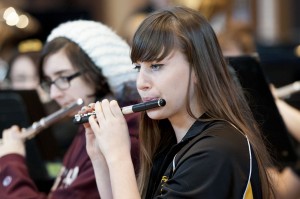 If you would like to schedule a special clinic for your students or group, Augsburg offers a number of options for visiting ensembles of all ages and ability levels. Visiting ensembles usually spend 60-90 minutes with one of our experienced faculty members. Clinics are available for bands, choirs, orchestras, jazz ensembles, and other groups.
Booking a Clinic:
Requesting a clinic—All room and clinic details will be coordinated through the music department. Please fill out the Clinic Request Form.
Fees & stipends—The music department does not require a space/rental fee. Any clinician stipends are the responsibility of the clinician in negotiation with the guest ensemble.
Equipment requirements—Guest ensembles should provide all smaller accessory equipment & percussion. Larger items such as pianos, timpani bass drum, etc. can be provided by Augsburg University. Please include as much detail as possible on the Clinic Request Form.
Ensemble Clinicians: