Thank you
For celebrating this year's Advent Vespers with us!  Please enjoy some images and archival links from previous Advent Vespers below.
---
40th Annual Advent Vespers, 2019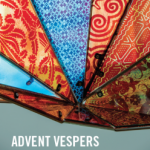 Augsburg University invites you to download the
Advent Vespers Program, 2019
. In celebration of Augsburg's sesquicentennial and the 40
th
 anniversary of Advent Vespers, Augsburg alumni shared their reflections on series of scriptures. We hope that 
this devotional
 will enrich your Advent experience. This year's theme is
Light for the World to See
.
Video from 2019
The Augsburg University Archives has numerous recordings and images to view. Please enjoy Light for the World to See posted in these archives.
Images from 2019
Photography, Courtney Perry/Augsburg & Robert Stacke
---
39th Annual Advent Vespers, 2018
Thank you for participating in the 2018 Augsburg Advent Vespers services. Please enjoy some of the highlights from 2018 below:
Photography, Courtney Perry/Augsburg