What is Inclusive and Active Learning?
Augsburg U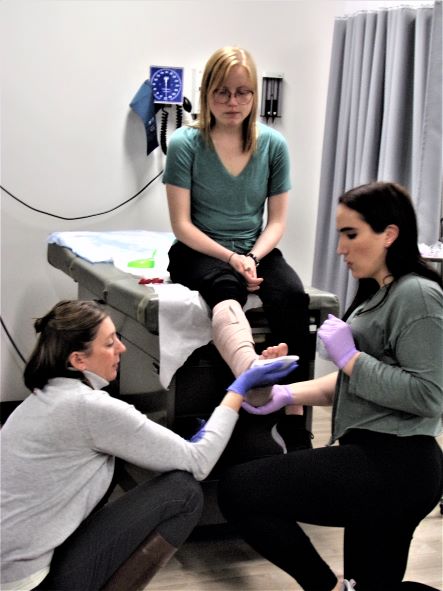 niversity PA Program sets itself apart through truly living out our mission: provide PA education that is based upon a foundation of respect and sensitivity to persons of all cultures and backgrounds. The Augsburg experience is driven by inclusive and active learning. 
We are a primary care-focused PA program.
The Augsburg PA curriculum guides students beyond a 'typical' PA education, through an inclusive and active learning environment.  A 'typical' PA education includes dissection in the human anatomy cadaver lab, conducting comprehensive patient histories and physical exams, learning how to diagnose and treat medical conditions, prescribing medications, and performing procedural and surgical skills. 
We do this AND so much more… 
---
Inclusive Learning
An inclusive PA pedagogy encourages student and faculty reflection on how race, gender, and other socioeconomic factors are represented and addressed in healthcare and within the PA program. Our goal is to provide a safe, supportive space for students and faculty to engage in critical conversations that will drive change. We are not perfect, nor do we pretend to be, but we strive to listen, learn, do good things to combat marginalization and  inequality in healthcare and improve access to care and health outcomes. 
Augsburg PA Program values the experience, perspective and knowledge that our diverse students bring. The program depends on our supportive faculty, diverse graduate fellows, and dedicated staff to learn and receive feedback from students, to mentor students, provide tutoring, and promote student success in all aspects of the program. We do this through:
Diverse Graduate Fellowships

Student Society Diversity and Inclusion Chair

Personalized advising and mentoring by faculty

Tutoring and study groups facilitated by faculty

Engagement with PA student advisory groups (admissions, curriculum)

Augsburg University Diversity and Inclusion Certificate Program for all faculty and staff

Collaboration with the Center for Learning and Accessible Student Services

Promoting a student/provider wellness and resilience mindset
The Augsburg PA inclusive care curriculum empowers students to practice inquiry and understanding, preparing students to thoughtfully work alongside their patients promoting health in everyday life. The impact of the Social Determinants of Health upon our patients are addressed in each course with emphasis placed on the following topics:
Trauma-informed and Healing-Centered Care

Caring for Patients with Disability or Special Healthcare Needs

Caring for Sexual and Gender Minority Patients

Transgender Care

Race, Racism, and Health Inequities in Medicine

Care for People Experiencing Homelessness

Religion and Spirituality in Health Care Practice

Professional Burnout and Provider Impairment

Caring for Refugee and Immigrant Communities




---
Active Learning
The academic phase of the program focuses on active learning and challenges students to develop skills in clinical decision making, interpersonal communication, and developing content knowledge needed to provide patient care in the ever-changing healthcare landscape. The program utilizes:
Cadaver lab small group dissection with clinical case correlations

Simulated patients (actors trained as patients for students to learn from)

Substance Use Disorder curriculum with MAT-waiver training

Point of Care Ultrasound hands-on training curriculum

Seminar small group, case-based learning with faculty guides

Lecture-based sessions framed with patient cases 

Inter professional activities with nurses, doctors, mental health providers, interpreters

Simulation mannequins

Technical skills workshops (i.e. suturing, casting/splinting, biopsies, intubation, chest tubes, central lines)
Unique opportunities offered to students at the Augsburg PA Program include 
Engaging in a newly established collaboration with the

Augsburg University Health Commons

. The Commons are spaces that support relationship building, connects people from various backgrounds, and provides resources.  We are not a clinic nor is there a fee for service.  Actions and decisions focus upon the principle of hospitality and relationships are grounded in mutual benefit.  There are no experts or hierarchies in place, but a community of people who care. All are welcome and simple acts of hospitality are at the core of what we do. The PA Program is excited to be a part of the Health Commons and the Cedar-Riverside Community. An opportunity to develop a Masters Project and/or a clinical phase elective in public health at the health commons are available to interested students.

International experiences* allow students to expand their perspective on healthcare. As a component of the Masters Project, PA students may choose to take the interdisciplinary course, "

Health Care, Leadership and Universal Responsibility," 

In the past, students have traveled to China, Nicaragua, and Costa Rica.

Augsburg University is offering the Costa Rica experience for our PA students in 2022!!

The program also has approved international clinical sites in Belize, Ecuador, and South Africa. These are on hold due to COVID-19, the program is continually reassessing international travel options for both masters and clinical experiences.
*There is an additional cost associated with both the master's project international experience and the international clinical rotation. Students who elect these experiences can expect to pay between $3,000.00 to $6,000.00 in addition to standard PA course tuition. Costs change dependent upon the market, international site and length of stay. Students may choose to apply their financial aid to cover the associated costs.
---
Clinical Experiences
The Augsburg PA Program has taken a unique and highly effective approach to clinical placements over the 12-month clinical phase. We have a dedicated team that seeks student input while working to strategically place students in rotations that align with their personal and professional goals. 
Over the course of the clinical year, every student is required to successfully complete 7 core clinical experiences* and additional electives or preceptorships that complement our primary care-focused curriculum. These include
Psychiatry and Behavioral Health*

Emergency Medicine*

Family Medicine*

General Surgery*

Internal Medicine*

Pediatrics*

Women's Health*

Electives e.g.

 Urgent care, primary care, cardiology, pulmonology, orthopedics, emergency medicine, critical care, surgery, transgender care, pediatrics, infectious diseases, internal medicine, dermatology.




---
Maduakolam, E., Madden, B., Kelley, T., & Cianciolo, A. T. (2020). Beyond diversity: envisioning inclusion in medical education research and practice. Teaching and Learning in Medicine, 32(5), 459-465.
Green, K. A., Wolinsky, R., Parnell, S. J., Del Campo, D., Nathan, A. S., Garg, P. S., … & Dasgupta, S. (2021). Deconstructing Racism, Hierarchy, and Power in Medical Education: Guiding Principles on Inclusive Curriculum Design. Academic medicine: journal of the Association of American Medical Colleges.

Torralba, K. D., & Doo, L. (2020). Active learning strategies to improve progression from knowledge to action. Rheumatic Disease Clinics, 46(1), 1-19.