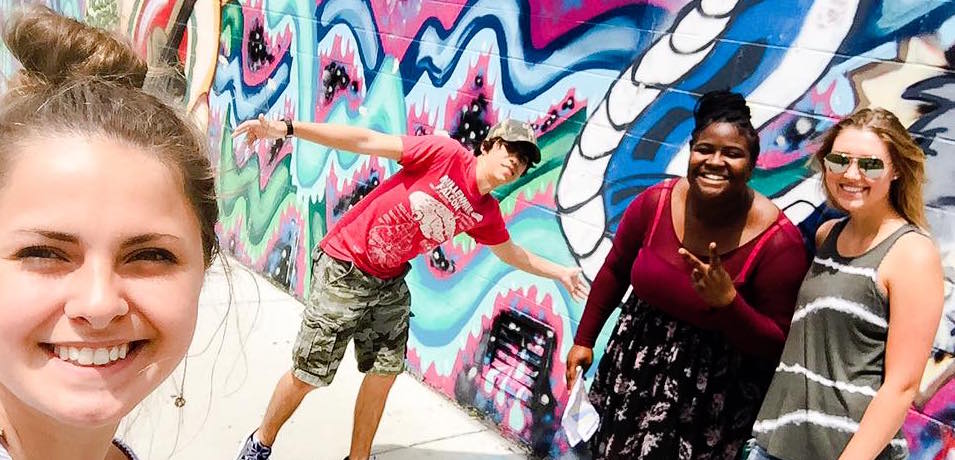 This interdisciplinary major forms leaders at the intersections of church and society. Students develop the necessary theological and theoretical frameworks, leadership skills and servant hearts to lead communities in their expression of faith and their public work for justice in the world.
Graduates work in the areas of youth & family ministry, congregational ministry, community organizing, public policy & advocacy, non-profits and graduate school.
Students earn a Bachelor of Arts in Theology and Public Leadership and are encouraged to combine this degree with a concentration, a minor or second major in an area of interest. Follow TPL on Facebook!
Intersection of Church and Society
We equip leaders for ministry in congregations, youth agencies, camps, non-profits, community organizing, parks, recreation centers, etc. If you sense a call to live out your faith professionally at the intersection of church and society, then consider our TPL program.
Preparing You for the Future
Our students achieve their goals upon graduation, whether its entering seminary, divinity school, a volunteer corp or getting a full-time job in their specific field. This degree program prepares you for entry-level careers in multiple fields and each of those fields will have different pay rates. However, one can easily make a living and lead a comfortable fulfilling life working in any of these disciplines in the non-profit sector.
Undergraduate Admissions
Why STUDY THEOLOGY AT Augsburg?
There are many reasons to study Theology and Public Leadership at Augsburg. Here are a few that we think are most important.
A Proven Track Record
We have been around awhile and know what we are doing. Augsburg has a long history of equipping leaders for full-time professional ministry. The Theology and Public Leadership program grew out of the Youth and Family Ministry degree program which began in the mid-1990's.
Learning in the City
Our location is the perfect place to study and become the public church! We are in the heart of Minnesota's Twin Cities which gives us easy access to every type of church you could imagine – mega-churches, house churches, cathedral churches, traditional churches, alternative churches, urban churches, suburban churches, rural churches, liberal churches, conservative churches, etc. It also gives us easy access to a plethora of ministries outside of the church such as environmental agencies, housing agencies, lobbying agencies, community organizing agencies, etc. Augsburg's neighborhood, Cedar-Riverside, is pretty exciting too!
Learning by Doing
You won't just learn from books or lectures in a classroom, you will also learn by doing out in the community. You will have many opportunities for internships, volunteering and part-time employment that all relate to your field of study. Augsburg has been recognized for its emphasis on service learning. This is an approach to education that sees the neighborhood and the city as an extension of the classroom. Read more about Service Learning at Augsburg.
Vocational Discernment
We believe God calls each of us to serve our neighbors in unique and important ways. This is the meaning of vocation, or call. We believe you have a call – right now. At this moment you are in the process of living out God's call for your life. Your Augsburg experience will enhance your awareness of how God is calling you to serve the world. Read more about Vocation at Augsburg.
Diversity
Augsburg's student body is incredibly diverse – we look different, we learn differently, we believe in different things, etc. This diverse community makes for a very exciting place to learn and to have your faith formed. You will be in Religion classes with students from many other religious traditions and with some who are not religious at all. This only serves to strengthen your own understanding of your faith and how to communicate it with others. There is no better way to be trained for ministry in today's world. Read more about Diversity at Augsburg.
Extra Curricular Opportunities
As a student in the Theology and Public Leadership degree program, you will have plenty of opportunities to develop your skills for Ministry and Public Leadership through involvement with Campus Ministry, the Augsburg Youth Theology Institute and attendance at the ELCA Youth Ministry Network's annual conference.
Are You Discerning a Call to be a Pastor?
Check out the new 5 year BA/MDiV pathway, Public Church Scholars where students earn a BA in Theology and Public Leadership from Augsburg University and a Master of Divinity from Lutheran School of Theology at Chicago (LSTC).