Are you called?
Do you hope for vibrant churches?
Do you believe in leadership development for the common good?
Are you called to be a pastor?
Let us accompany you on that journey!
5 Years, 2 DEGREES

The Public Church Scholars five-year degree pathway prepares students to be intentional leaders of a multiracial, multiethnic, public church. In this educational pathway, students will take a deep dive together in Christian community to explore theological education, leadership formation, experiential learning in an internship, and preparation to be public leaders in the church. Students in this pathway will complete two degrees in five years; a Bachelor of Arts in Theology and Public Leadership from Augsburg University and a Master of Divinity from Lutheran School of Theology at Chicago (LSTC).
Some unique elements of the Public Church Scholars pathway include:
Co-curricular formation including a supportive cohort of peers
Training in equity and inclusion, cultural competency, and vocational discernment
Spiritual direction practice (individual and group)
Life coaching and professional mentors
Accompaniment through the candidacy process for ordination
Completion of Clinical Pastoral Education (CPE)
Four years of part-time, paid contextual learning and internship in a congregation
Spanish language and theological study in Mexico
HOLISTIC APPROACH

As an urban, student-centered university, Augsburg is educating students as stewards of a more inclusive democracy, engaged in their communities and uniquely equipped to navigate the complex issues of our time. Because we are rooted in a robust theological tradition, we are committed to shaping character, inviting vocational discernment, and building biblical literacy. This identity shapes the way in which the Public Church Scholars degree seeks to create a pastoral leadership degree program rooted in theological convictions that compel us to live and lead with an openness to the complexities of our world and our neighbors.
At Augsburg University, Public Church Scholars learn to practice and lead using the public church framework of accompaniment, interpretation, discernment, and proclamation. This framework is taught and practiced in the Theology and Public Leadership degree program and its foundation supports student's preparation to be pastors and leaders in the church.
This work is enhanced and deepened at seminary by LSTC's commitment to Public Church. LSTC's curriculum cultivates competencies for leadership in a public church and focuses on community engagement, public witness, and social transformation. This holistic approach to theological education breaks academic disciplines out of their silos and allows creative collaboration to flourish.
SCHOLARSHIPS AND AFFORDABILITY
This pathway addresses barriers of the overall cost of education and reduces the length of time required to complete a pastoral leadership degree, five years instead of eight. This pathway also provides college access to the ministry profession for underrepresented and minoritized students. We are committed to significantly reducing debt for the student when entering candidacy, seminary, and then ministry.
Following admission to Augsburg University, students will complete an application and interview for admission into the Public Church Scholars (PCS) five year pathway. Students accepted to the PCS cohort are eligible to receive the Regents Scholarship, which is a minimum of $18,500. This award is not stackable with other merit scholarships. Accepted students will also receive an additional PCS scholarship ($1,500–2,500) that is renewable as long as students are enrolled in the PCS pathway and are in good academic standing. Students in the PCS cohort will also receive financial aid for seminary tuition in their third, fourth, and fifth years.
We prioritize additional aid for students who have a demonstrated need and receive the Federal Pell grant.
98% of Augsburg students receive financial aid that includes both grants and scholarships.
Students in the PCS cohort will also experience four years of part-time, paid contextual learning and internship in a congregation
ENROLL NOW
Our team is committed to identifying, recruiting, and enrolling a diverse and hopeful cohort of emerging leaders to serve in the public church for the sake of the world. Students – Start your Augsburg Application NOW to join this exciting pathway!
To request general information and express your interest in the PCS pathway, fill out the inquiry form below.
Request Information
INFLUENCERS AND MENTORS
Do you know a young person with gifts for ministry? Nominate them now and our team will follow up with them about the Public Church Scholars pathway. Thank you for identifying leaders with gifts for leadership in the church.
Nominate a Young Leader
CONTACT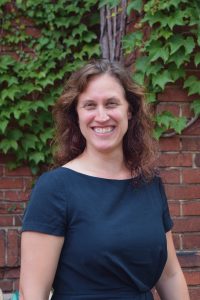 Adrienne Kuchler Eldridge '02
Public Church Scholars Program Director
Christensen Center for Vocation
612-330-1412 | office
---
GENEROUS SUPPORT
This pathway has been made possible through a generous grant from the Kern Family Foundation, a Wisconsin-based private philanthropic foundation committed to education for future church leaders through Accelerated Pastoral Degree Programs.
Support the mission of Augsburg University, including initiatives like Public Church Scholars.
Give now