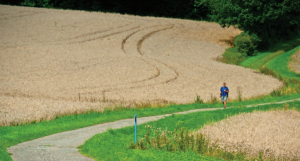 by Betsey Norgard
Scholars of the Reformation gain deep knowledge by studying the writings of Martin Luther, but for Hans Wiersma it also became experiential when he spent four days walking in the footsteps of Luther's pilgrimage to Rome 500 years ago.
Just before fall semester classes began, Wiersma joined the project "Here I Walk," led by Andrew and Sarah Wilson, two Lutheran ecumenical scholars, who retraced the entire 1,085-mile route walked by Luther from the monastery in Erfurt, Germany, to Rome. Wiersma walked with the Wilsons for 66 miles, from Erfurt to Coburg.
Wiersma had met Andrew Wilson at a conference, and what resulted for Wiersma was a fortunate convergence of his disciplinary interest in Reformation studies, his research focus on the early Luther and the Augustinian monks who followed him, and Wiersma's undergraduate background and continued interest in documentary filmmaking.
The modern pilgrims followed the old pilgrim routes, sometimes spotting stone route markers from the 16th century. They followed the traditional rules of pilgrimage—prayers, scripture reading, chores, and conversation. "It gave me a sense of how 16th-century monks traveled," Wiersma says, "and what it felt like." He enjoyed the absence of modern distractions. As it was for the early monks, lodging could be found each night, with bigger towns conveniently spaced a day's walk apart.
What Wiersma brought back was an "appreciation of how much Europe is built on its past. It's still easy to connect with Europe of 500 years ago in the old church buildings, pilgrim paths, and road markers." He says that while he went there as a Lutheran pastor, part of a Lutheran Church with all its modern trappings, he came back with a much better understanding of the formation of the early Lutheran movement. "Those monks started reading the Bible in a new way that differed from the institutional church's way," he says.
Wiersma's "Here I Walk" experience caused him to reflect upon Luther's own experience. Luther's 1510 pilgrimage brought him to Rome, where he was scandalized by the conduct of clergy and the religious commercialism. Wiersma understood that Luther's long journey back to Germany would have given the monk a long time to think over and talk about what he witnessed in Rome. Seven years later, he posted the 95 Theses, igniting the Reformation.
From the Fall 2010 Augsburg Now