As we move through Lent, into Holy Week and eventually Easter, Christian communities across the globe are moving through the life-giving story of Jesus as they gather together. We are reminded in this season that this resurrection story has the reality of death as a cornerstone of the truth it speaks. This three-part blog series by Riverside Innovation Hub Program Manager, Kristina Frugé, explores the complexities of being a people whose Christian story requires us to hold death and life in the same desperate grasp. The series will reflect on how we struggle to steward the gift of this complex but beautiful story and why we must continue to come alongside each other in our call to live into its promise.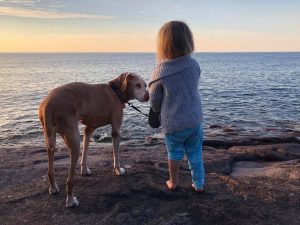 Nearly 15 springs ago we brought a tiny spry Vizsla pup home. We named her Roxy. She was our first "baby" as a newly married couple in our new-to-us home. She brought joy and mischief to our family through all it's ups and downs. She was the constant source of comfort and companionship through the birth of three children, the loss of three other pregnancies and the many other in between moments of our life together. She worked her way into the hearts of our family and our children and taught us all how to love and let others love us.
This winter Roxy also taught us how to grieve. Our family huddled together over her aged body, shedding tears and final kisses knowing that her spirit had accepted the end. She impressed upon the hearts and minds of my young children that love is costly. She also clearly showed how it's all worth it. After especially long days, I often find my 8 year-old son huddled in a corner or on the stairwell trying to push the tears back into his eyes with his fists.  "I miss Roxy," he sniffles. She was always his most faithful ally, at the ready to comfort and cuddle with him at the close of the day. I sit next to him, with tears welling up in my own eyes and press my hand to his heart. I say, "Do you feel that hurt right here?" He says, "Yes." I tell him, "This is the greatest gift. Not everyone gets to feel this. This sadness in your heart is proof that you got to love and be loved unconditionally. You will always have Roxy's love and it will remind you how to keep loving." Logan shakes his head knowingly and we hold on to each other and the cherished memory of Roxy's love for us.
This loss has created a gap in our family. It feels similar to what I see when I look out the window at a winter that has overstayed its welcome. Daily, I pine for a glimpse of green grass and the hope-filled promise of new buds on trees. I strain to hear the sweet songs of the birds beckoning spring to takeover the chill of this season. We are in a gloaming, in-between time. Winter's barrenness holds fast as signs of a fresh season begin to spring to life. Christians have a name for this season that parallels the truths that creation has on display this time of year. It is called Lent.
Lent is a season that works to open a gap in our routines and our false assumptions about ourselves and our neighbors. It parts the veil, shedding light on the vulnerabilities and fears that we work hard to keep at arm's length. It names the unpopular truth that from dust we have come and to dust we will return. Churches find their pews most full on Christmas and Easter, the joy-filled seasons of the year. We prefer the glad-tidings of celebrating the birth of Jesus and the triumphant Hallelujahs of Easter's resurrection chorus. But Lent disrupts these two seasons with the harsh, brutal reminder of the necessity of death. The fullness of God's love for the world as embodied in Jesus is not complete without this part of the story. The most vulnerable truth Lent points us towards is the intimate and integral relationship between life and death.
The rhythm of life, death, and new life is woven into every fiber of the world God created and is creating. Each day on my way to work and home, I drive a few extra minutes out of my way to follow the parkway along the Mississippi River. The trees that reside along the riverbank state this truth each season, a constant reminder of how creation is called to be.
For months, their brittle branches arch naked through the chilly sky until spring emerges with signs of new life budding and humming and growing larger as the days get longer. This makes way for summer's flourishing green cover that helps the planet breath and shades the soil and its critters from the sun's warmest days. Finally, and always, autumn arrives with a vibrant burst of color as the trees beautiful hues point to what always must follow life and flourishing—death. This dying display of beauty gives way to the barren and dormant winter season, and the waiting begins again.
And so as this gap in the seasons daily displays the complexities of death and life, how do we pay attention to the truth? How do we let the soil filled with decayed bits of life from last summer teach us? How do we be aware that the stuff of loss all around us is also creating the space for life to breath anew again? These are the things I will ponder this week as we honor what would have been Roxy's 15th doggie birthday. We will spread her ashes in the places she loved to run, play and explore, adding them to the mix of muck and spring mess that is preparing for a new thing.
The season of Lent begins by reminding us that from dust we came and to dust we will return. This is not a morbid sentiment, but a statement of the sacredness of the cycle of life and death and new life again. The trees along the Mississippi River speak this truth as they move through the seasons, just like the memories of our silly, loving, bed-hogging dog Roxy will remind my kids that love is worth the risk of loss. The dust pressed into our foreheads on Ash Wednesday reclaims this holy life giving element of dust, soil, ash—the remains of what was once living which holds the power to bring about life and love again.
We are a dusty people. This is our calling. In a culture where death is perceived as the enemy, we are called to embody this mystery and live it out defiantly.