The following story is from Amanda Vetsch, one of RIH's Innovation Coaches. She shares her team's experiences with discernment at University Lutheran Church of Hope (ULCH.) ULCH is located in Dinkytown near the University of Minnesota campus. Their work this year has focused on the challenges and opportunities of being a church in meaningful relationships with young  neighbors who are experiencing frequent transition.
In theory, our idea was rooted in the intersection between God's story, Our Story, and Neighbor's story so it should have felt good, but we trusted our guts and realized that we had made plans and decisions. We hadn't actually practiced discernment.
The Innovation Team at ULCH had a meeting to begin discerning their next most faithful steps in response to all that they had been hearing, seeing, and learning through the artforms of accompaniment and interpretation. The conversation began with a grounding reflection, responses to that reflection, and flowed into naming the main themes from the stories we've heard or learned about thus far. Then, we began to brainstorm the ways that we might respond to those stories and came up with a couple of ideas to write into the grant. We moved toward making a plan to write the grant and set some due dates for ourselves.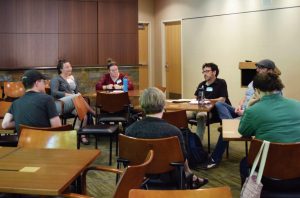 There was very little enthusiasm to begin writing or researching. As the Innovation Coach, this concerned me. I want my team to be excited about the work they are being called into. I didn't want to shut down their idea, but I did need to investigate why the energy was low. Maybe it had nothing to do with the grant idea and more to do with the post-lunchtime lull, or the busyness in their work or personal lives, or maybe it was me projecting my own ideas onto what I expected them to come up with for the grant. As all good coaches do, I sent out an evaluation form. The form asked questions like:
On a scale from 1 – 10, how much energy do you have when you think about the work of the Innovation team?

If we were to start ALL over at the beginning of this work, where would you focus the accompaniment energy?

If there were NO boundaries to money, energy, or anything, what would you do for the grant proposal?
These questions were strategic. I wanted to know why the energy seemed low at our meeting. I wanted to know if they felt content with the listening they had done thus far and I wanted to push them to dream a little bit bigger in a more anonymous form. We also had a few one to one conversations amongst ourselves and multiple folks self identified that the group energy was low.  In reflecting upon this meeting, one team member said, "I think we felt a certain pressure to produce something in that first meeting. So we were pushing ourselves to come up with a really tangible product, and I don't think we felt like we had the freedom to say that we had more listening to do."
On the surface this meeting went well, we talked about the things we were supposed to talk about, we reflected on what we had learned, and came up with an idea.  In theory, our idea was rooted in the intersection between God's story, Our Story, and Neighbor's story so it should have felt good, but we trusted our guts and realized that we had made plans and decisions. We hadn't actually practiced discernment.  
Then, the question is how do we go from decision making to discernment? For the ULCH Innovation Team, it meant reconvening our team. This time we started by rooting ourselves in a reflection practice that pushed us away from the tendency to intellectualize and into dwelling in the emotional responses. We took thirty minutes at the beginning of the meeting to reflect, dwell in, and share the ways that we had felt the Spirit moving in this work. The specific question was, "During the artform of  (accompaniment / interpretation / discernment) , when did you feel most alive? Remember the specific moment. What did it feel like, sound like, smell like?"  Each person at the meeting had an opportunity to share their memory. In some ways, I'm sure this activity could have felt like a waste of time. We weren't learning any new information and we weren't following the action plan to complete the grant by the impending due date. Yet, we needed to take time to reflect in this way because it allowed us to reorient ourselves. We needed to shift out of the comfortable way of reflecting on our learnings as nuggets of information and into a reflection of experiences and awareness of where we sense God at work.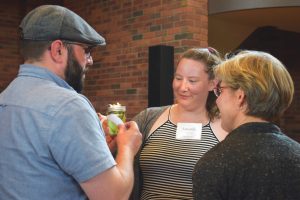 We challenged ourselves to dream a bit bigger. We tried to imagine a proposal idea that had no limitations to money, time or energy. This lead us to collectively realizing we didn't have the information or experiences to represent what our neighborhood and congregation is dreaming about. So we dreamt up ways to begin to hear our neighbors' and congregations' dreams. In reflecting on the second discernment meeting, a team member said, "It was helpful to name the fears, or what feels risky. There's a tendency to want to know beforehand that it's all going to work as we plan it to. And we needed to be able to say, well it's risky and it's supposed to be."
There is no magic formula for discernment. One of the biggest lessons we're learning in this process is that discernment takes time and trust. There is a desire deeply ingrained in us to achieve and be productive, but discernment cannot happen when we focus on the product more than the process. A shift in rhythm has to happen and we have to trust that we have heard, experienced, seen, and felt God at work. For ULCH, this shift in rhythm means slowing down, giving ourselves permission to push back some due dates, and taking notice of where the energy is or isn't so we can reorient our attention to where it is most needed. Being freed from expectations to produce a flashy new thing is allowing our team at ULCH to tend to relationships, stories, and life in our ever-changing neighborhood.