The following story is written by Lindsay Boehmer, one of our Innovation Coaches. She shares about her experiences with her congregational teams as they did the messy, surprising and creative work of interpretation—working to weave together their neighbor's story, God's story and their own story.
I love sticky notes! The first day I met the RIH staff, I was forced to reveal this bit of information about myself through a get-to-know-you question. Just the other day, I earned a new title from Isra—a middle schooler who attends Trinity Lutheran Congregation's Homework Help Program—when she saw the piles of sticky notes I was documenting from a team activity earlier in the week: "What are you!? The treasurer of sticky notes!?" Well, yes, actually. I use sticky notes for many activities in my life, and this job has been no exception.

The first time I introduced sticky notes to my Innovation Teams was to brainstorm and collect our learnings from our accompaniment work in the neighborhood. Teams reflected on questions such as "what are our neighbor's hopes, dreams, and desires for our shared neighborhood?" and "how are our neighbors experiencing anxiety, fear and heartache?" When it felt like our listening had fallen a bit flat, and we hadn't done nearly all that we had hoped or planned to do, seeing these brightly colored learnings come together on the paper was exciting! It brought new energy as we realized we had heard from our neighbors! We quickly noticed that most of our sticky notes were not from the organized listening we had planned, but from the times we just showed up to events, gathering places, or even just the bus stop.
As we moved from accompaniment into interpretation, I saw increased opportunities for sticky notes to be involved! At St. Luke's Episcopal, the team created a 106-year timeline and invited the congregation to add important events. Sticky notes—small and large, square and rectangular, in eight different colors—filled the years highlighting births, deaths, marriages, programs, leadership, and so much more. The congregation later went through and labeled these sticky notes as high or low or growth points in their congregation. Then, they sat together and shared these stories: one person's memory triggering another, full of laughs and happy sighs of remembrance. I was asked by more than one member if we were keeping the timeline permanently. I raised my eyebrow about the brightly colored sticky notes becoming a permanent feature of their space, but it was about more than the sticky notes. These sticky notes hold stories that have carried this congregation and that hold life-giving potential for the future of this community.
These sticky note activities have been great. They've added color to our thinking and allowed for both individual and group reflection, but they still haven't used the sticky notes to their full potential yet. See, in my opinion, the best use of sticky notes is when you have a whole bunch of them with a whole bunch of ideas, and you can move, re-stick, add, or throw away and create order out of chaos. It's like a puzzle seeking order, and I find this life-giving!
By the end of February, the team at Trinity Lutheran Congregation had conducted four adult forum hours around interpretation topics of our story and God's story. The team had met with multiple community leaders and residents and had showed up to numerous events, activities, and gatherings in the community. When we gathered for our March meeting, I brought all of the reflections/notes and "data" that the team had collected over the past five months. We walked through it, reviewed it, added things that were missing, and then I gave them sticky notes: every size and shape and color!
The team quickly picked pink to represent Trinity and everyone began writing the themes, values, events, activities, descriptions, actions, and phrases that stood out to them. When the activity dwindled, they chose orange to represent the neighborhood and began writing again. Soon, the board in front of us was covered in orange and pink sticky notes. The team began to group them, moving the sticky notes from place to place. Soon, they were adding arrows to show how the groupings influence each other and noticing that some groupings were all orange, others all pink, and others had both colored sticky notes.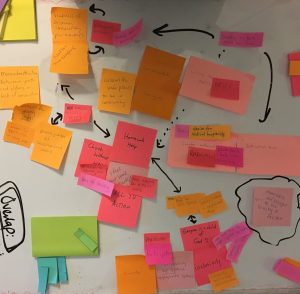 This project is still a work in progress. The team has taken these stories and weaved them together in a way that is making new meaning that they hadn't noticed before. These pink and orange sticky notes are holding and blending stories and potential for Trinity's work to accompany the neighborhood's work; they are holding a grant proposal.
It was those piles of sticky notes that Isra saw me combing through the other day at Trinity when she called me the treasurer of sticky notes. And I'll wear that title proudly, because in these sticky notes, I believe there is treasure. Sure, they are a bunch of brightly colored pieces of paper with a bit of sticky glue on one end, but they're holding stories and learnings and hopes and fears and dreams. And in their brightly colored, organizing way, they are helping us ask new questions, see different connections, and begin to discern the work that God is calling us to participate in.