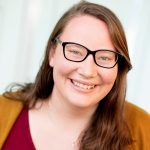 Amanda joined the Riverside Innovation Hub team in August of 2018 as an Innovation Coach. Prior to that, she lived, played, and learned in Rwamagana, Rwanda as a volunteer with Young Adults in Global Mission (YAGM), studied at Viterbo University in La Crosse, WI and grew up in Minneapolis, MN. 
During her time as an Innovation Coach, she worked with two amazing innovation teams and their congregations. She learned a lot of things and is most grateful for the opportunity to teach and grow with people as they experimented with the Public Church framework. Her favorite part of the work is Accompaniment and the various ways it takes shape, but her most favorite is meeting with people over coffee, or hanging out at coffee shops, or really anything that has to do with coffee. 
She now joins the team as the Riverside Innovation Hub Coordinator. When she isn't working, she's either at Luther Seminary working on her M.A. in Theology with a Concentration in Justice and Reconciliation or playing volleyball. 
Amanda is grateful for the opportunity to work alongside of faith communities as they discern how to show up as a Public Church in a way that is simultaneously authentic to the gospel call for justice, love, and mercy and most appropriate to their own geographic contexts.