This week's story is written by Marie Page, a congregational learning partner at Church of All Nations (CAN). She shares about CAN's experience of understanding the land as their neighbor. 
Throughout the past year, our leadership discerned that learning how to relate to the land as neighbor would be the most far-reaching and impactful focus for our RIH partnership. Over the past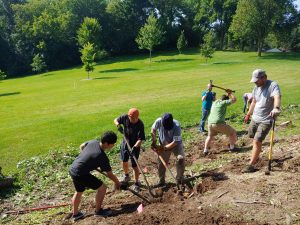 winter, we had a core group of pastors, staff, youth, and adult members who met regularly to study the guiding philosophies and practices of permaculture in preparation for spring. The multi-year plans for our property were made after many discussions with our friends at Ecological Design [the women-owned design group behind Main Street Project, Tiny Diner, and more]; they incorporated a kid's play area, culinary and medicinal herbs, fruit and nut trees, berry bushes, a pergola, and an outdoor worship space- all priorities for our community. 
When spring [finally] came, we got to work! Our regular core group meetings turned into work days, and we even had a few "Permablitz" events with the whole community to kick start some of the most needed projects: removing typical sod, spreading compost, reseeding bee-friendly lawn, planting trees and perennials, and a lot of weeding.
We were honestly surprised by the number of people who came out regularly for core team meetings and that even more came out for our Permablitz and work day events. We could see the enthusiasm spreading as real visible changes took root around the church- wildflowers and grasses that we'd maybe only seen in stores or pictures, and especially our herbs. Our community has been blessed by several meals made with herbs grown right outside our doors, that many of us planted and watered and weeded. 
We've also had many positive interactions with neighbors we'd not talked to previously. Many  were grateful for the work we're doing and curious to learn more. In addition, we've had talks with the local park just down the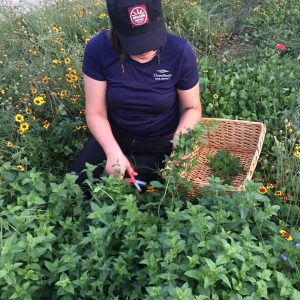 hill, on our same lake- they've been working to foster native species all around their property and are enthusiastic. There was one individual who must've been upset over the temporary visual changes when we were doing initial digging and reseeding- they reported us to our local watershed district, but when the district came out and saw our plans, they were thrilled with the work we're doing, as it will greatly slow the water flow and prevent erosion down into Silver Lake at the base of our hill. 
Our children have responded beautifully. They were deeply impacted by our VBS program we put on this year, which we crafted intentionally as an offshoot of our permaculture project, to help them understand what we were doing and feel included in it. As we'd spent a lot of time studying how water moves around our property (in preparation for the addition of swales and rain gardens), we created a curriculum around the many ways God uses water to bring forth and sustain life. We were astonished by the degree of attention, focus, and enthusiasm for the stories and activities this year- far more than any of the standard programs we've put on in the past. At the end of the week, they each got a watering can and helped water the herbs in our front yard.
A few weeks ago we had a special Sunday program where 20 of our grade school children helped us harvest some of those same herbs they'd helped water this spring, which we will be processing for our craft fair fundraiser this winter. We were able to teach them how to care for the plants and pick gently with gratitude for the work they have done to make this gift for us. We also showed them how to notice which flowers have bees but to not be afraid of them- because the bees don't want to hurt us, just like we don't want to hurt them. They also learned how to notice when the herb is too young or too old to be picked.
This aspect has been the most profound for many of us. In bringing many forms of nature closer to our building, we've been able to reshape the narratives that many of us were raised with: nature is an angry "other" that will harm us if given the chance. Instead, we're able to experience and share with our children that the land is loving and abundant when we approach respectfully- full of food and medicine both for us and for the many forms of crawling friends that have moved in to enjoy the harvest. (The variety and quantity of bugs, bees, butterflies, and frogs has surprised even those of us who've lived in this area our whole lives!)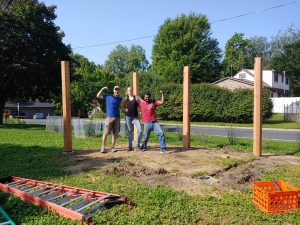 It has been profoundly healing for many of us not just to learn these things ourselves but to watch our children grow up in a community where the land as neighbor is part of the air we breathe- seeing them greet their favorite plants, not scream and run from grasshoppers or even bees but approach carefully, with curiosity. This re-narration of "other" into "neighbor," then friend, and then family is fundamental to our ministry as a church. It fills us with profound joy and hope to work towards a future where the natural open-hearted curiosity of our children can be guided with love to carefully navigate and embrace the unknown, rather than shrinking back or isolating from it in fear. Their hearts and minds, shaped in this way, will shape a better world. 
Thanks to the support of our members and partners like RIH, God is bringing forth a harvest far beyond what we could've asked or imagined- in our land, and in our lives. We can't wait to see the new developments next year will bring!