aPPLICATION iNSTRUCTIONs
The Riverside Innovation Hub is seeking young adult authors (age 23 – 35) to co-write a chapter of a book. In early November, a community of fifty young adults gathered at Augsburg University in Minneapolis, MN to identify our deepest held concerns, hopes, and dreams for God's church at The Threshold Envisioning event. From those conversations, we distilled key themes that Young Adults want the church to know as it moves from the present moment, into the future. Each of those themes will be a chapter of the book. A list of the themes that emerged can be found in this summary document.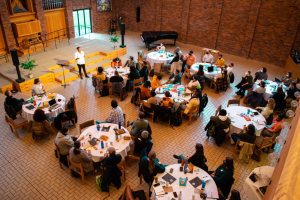 The deadline to apply to be an author is December 12, 2022.
Apply to be a Young Adult Author
Application Instructions
Complete the

application form

.

The application contains four sections:

Biographical Information

Themes

Expectations

Writing Sample(s).

Partial applications will not be reviewed, you must complete all four sections.

Submit your application by emailing a single document attachment (pdf, word doc, or google doc) to Amanda Vetsch (

vetsch@augsburg.edu

) before 11:59pm on December 12, 2022.

Applicants will be notified in early January.
---
Frequently Asked Questions
Will authors be compensated for their work?
Yes! Authors will receive a $1,000 stipend after the final draft is submitted. Lodging, meals, and travel will be covered (or reimbursed) for both writing retreats.
When and where will the writing retreats be?
Writing Retreat #1:
3/17/23 – 3/20/23 at Montreat Conference Center in Montreat, NC
Writing Retreat #2:
11/10/2023 – 11/13/2023 at TBD
Is there any flexibility with attendance for the writing retreats?
Nope! In-person attendance is mandatory for all of the days for both writing retreats. We likely have masking and testing requirements, though the specifics will be determined closer to the event date.
Do I need to be Lutheran or someone who goes to church regularly?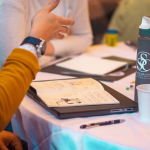 Nope! There's no need to be a part of a specific denomination, or church to apply. We're looking for people who care deeply about the church, regardless of how frequently or infrequently you currently participate in a formal faith community.
Do I need to be from Minneapolis/St. Paul area?
Nope! We're excited to have people from all over the US apply!
When is the application due? Where can I find it?
For any additional questions reach out to Amanda Vetsch (vetsch@augsburg.edu) or 612-330-1229