Individuals from all personal and professional backgrounds are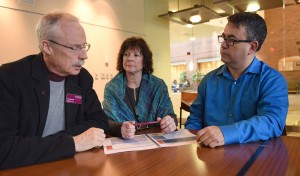 encouraged to participate in our Whole Leader Roundtables. These gatherings allow leaders the opportunity to connect and provide meaningful insight and fellowship to one another as we navigate the leadership challenges of today.
WHAT TO EXPECT
One individual member brings forward a challenge for the group to focus on during the Roundtable discussion. The group collectively explores the challenge by considering the perspectives of Identity, Purpose, and Stewardship and attempting to understand a "whole" way forward. Advice is not given, but questions are asked as the group supports the member to more completely discover the many dimensions of the challenge.
Challenges can be anything the host is struggling with, including how to balance work and family life, how to make professional decisions that depart from their parents' beliefs, or how to break through to new ground in a relationship that remains compartmentalized.
Through the Roundtable, we build trusting relationships that support leaders to reflect openly to gain insight and create solutions when tackling personal challenges. This process supports their ability to see things whole.
Join Us at the Next Roundtable
Our next Whole Leader Roundtable is Wednesday, March 8th at Augsburg University. For future dates, check out the Whole Leader Roundtable Schedule.
The Roundtable is free and open to the public but advanced registration is required.
Please contact us with specific questions.