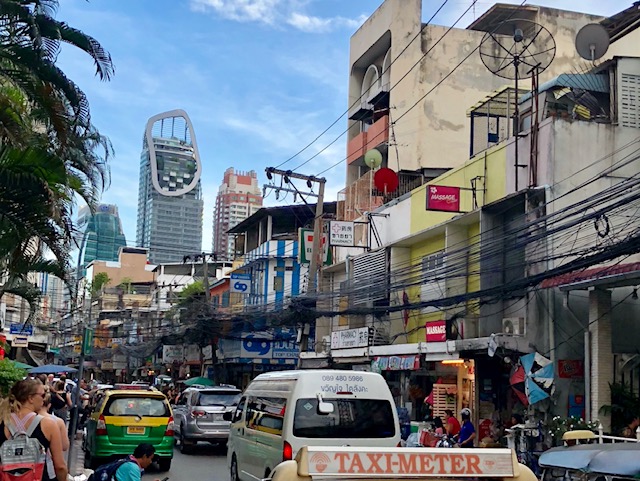 by Steve Dahl, MSW, LGSW (Augsburg '18)
On July 1st, twenty-three Augsburg MSW students and two brave professors boarded the first of three flights that carried us 9,800 miles to Bangkok, Thailand.  Not wanting to waste a moment of our brief time in Bangkok, we hit the ground running with tours of Wat Phra Kaew and Wat Pho, two of Thailand's most beautiful and culturally significant Buddhist temples. After a gracious welcome dinner with our Asia Institute guides, Ms. Yee and Ms. Ouyang, and a very sound night's sleep, we travelled to Thammasat University, where we enjoyed the first of our peer-led article discussions about social work and social welfare in Thailand.  Dr. Takashi Tsukamoto, Thammasat political science faculty, gave a fascinating lecture on the complex Thai political landscape by Thammasat students led us on a campus tour, including the site of the 1976 massacre of dozens of students who were protesting the return to power of a military dictator.  The profound significance of this tragedy was not lost on us, as we reflected on the political privileges we enjoy living in a country in which we can openly criticize and oppose our government.
We then flew north to Chiang Mai, where we convened at Chiang Mai University to continue our peer-led article discussions and learn about Thailand's social and economic development from Dr. Sittithep Eaksittipong; Thailand's ethnic and cultural values from Dr. Siya Uthai; Thailand's opium challenge from Dr. Patamawadee Jongruck; ethnic diversity and Hmong people in Thailand from Dr. Prasit Leepreecha; and human trafficking, migration, and refugees in the Greater Mekong Region from Ms. Christina Crawford, Esq.  Connecting theory with practice, we visited Baan Dek Foundation, a nonprofit working with marginalized children, many of whom live in makeshift construction camps with their parents who have been trafficked into Thailand for exploitative construction labor.  Our interactions with Baan Dek staff provided rich opportunities for us to explore both the importance of culturally responsive social work practice as well as the invaluable synergies of practice at micro, mezzo, and macro levels.  A hike to a secluded Hmong village in the hill country of Northern Thailand provided an unforgettable glimpse into the world of the Hmong indigenous people and their struggles to maintain Hmong cultural identity amid constant social, political, and economic challenges.  While in Chiang Mai the group also had the honor of learning about Theravada Buddhism—followed by 95% of Thais—and dynamic meditation from Phra KK and the spiritual value of intentional community service from Phra Ram at Wat Suon Dok.  Phra KK also unveiled the wisdom of the common Thai phrase, "เหมือนกัน แต่แตกต่างกัน"—"Same same, but different"—as we explored the ways in which people around the world are simultaneously the same in many respects and different in others.
Having studied the harrowing post-Secret War experience of Hmong who fled Laos across the Mekong River into Thailand, it was surreal for our group to cross the great Mekong as we headed into Laos to continue our learning.  At the American Embassy's outreach center in the capitol city of Vientiane, we were privileged to learn about the complex political history and relationship of the U.S. and Laos from Mr. Joe Narus, Chief Economic Officer at the U.S. Embassy.  Our embassy center hosts also had invited Lao graduates of Embassy education programs to participate in small group discussions with us about issues related to economic, political, and social development in Laos.  These discussions drove home the stark contrasts between U.S. and Lao approaches to promoting social welfare, reflecting the fundamental differences between our highly individualistic, capitalist, industrial culture and the collectivist, socialist, agrarian culture of the Lao People's Democratic Republic.  Dr. Robert Cooper, a local author and former United Nations leader of highland refugee services in Thailand, shared perspectives on ethnicity and social welfare in Laos, underscoring its struggles to balance social development with the rapid economic development driven by hydropower and copper exports to its neighbors, Thailand and China.
Vientiane is home to COPE, a unique non-profit dedicated to helping people in Laos with mobility-related disabilities.  The vast majority of the thousands served by COPE are people injured by the millions of unexploded ordnance (UXO) remaining after the so-called Secret War waged by U.S. and Vietnamese forces in Laos during the Vietnam War.  At the COPE Visitor Centre, the group was stunned into contemplative silence by the model cluster bombs, homemade prosthetics, and artifacts crafted by Laotians out of materials from UXO and other military debris littering the landscape after the war.  As we reflected on the impact of the war on the people of Laos, we learned of the on-going efforts of many non-governmental organizations to safely locate and rid the landscape of UXO.  Though difficult to recognize at first, woven through this painful tapestry is a bright thread of resilience.  As we slowly emerged from our silence on the bus ride from the COPE Visitor Centre, many noted this remarkable strength of the Lao people as we reflected on the day's profound experiences.  Before leaving Vientiane to return briefly to Bangkok, many of us took advantage of rare free time to further explore the rich beauty and many markets of the city by foot, motorbike, or iconic tuk-tuk.
A few weeks after returning home, we came together for a much-appreciated chance to reconnect as a group and to discuss our learning abroad and its impacts since our return.   Many of us noted that we were still struggling in various ways to comprehend, integrate, and articulate it all.  A few key themes emerged in our group reflections.  Many of us discussed having heightened awareness of our significant privilege as U.S. citizens who too often take for granted our ability to criticize and interact with our government and to rely on its peaceful transitions of power.  However, many also described frustration and shame about the destructive impact the U.S. has had on nations like Laos and particular ethnic groups like the Hmong.  Some shared their deepened commitment to international social work practice, especially to address human trafficking, sustainable development, and indigenous and ethnic group oppression.  One overarching theme pervaded our reflections: as human beings interact with their diverse environments around the world, we are "same same, but different," as are the ways in which we work together to promote individual and social well-being the world over.
Many thanks to Professors Koh and Bosch for leading us through this transformative journey, Peggy Johnson and the Augsburg Center for Global Education and Experience for their support, and our many gracious hosts, guides, and faculty in Bangkok, Chiang Mai, and Vientiane.