When you are preparing for a career in the health sciences, what you do outside of class matters. Experiences like volunteering at a local clinic, serving as a CNA, or working as a medical scribe offer opportunities to identify your interests and talents, as well as the chance to observe the various roles within a medical team.  Spending significant time in a clinical or hospital setting will not only deepen your understanding of the career you are interested in pursuing but will also help you identify and gain the skills that are needed to succeed.  Finally, opportunities like these provide excellent material for discussion in your professional school applications, diversify your resume, and create connections with working professionals.
If you are interested in medical school, the Association of American Medical Colleges (AAMC) has an excellent site designed to help students gain medical experience: AAMC Medical Experience.
The National Association of Advisors for the Health Professions also provides a list of summer academic research, shadowing, clinical research, basic science research, translational research, employment, academic enrichment, MCAT prep, and others.
Check out our list of:
Research Fellowships and Internships
---
Shadowing Opportunities
Prehealth Opportunities During the Pandemic
Shadowing is not a strong clinical experience, and virtual shadowing is even less so, but it adds value in terms of knowing what healthcare professionals might encounter during the course of a day. Due to the limitations COVID-19 has imposed on shadowing, here are some virtual opportunities to consider:
eShadowing, launched by Meded Media (Dr. Ryan Gray), has separate sessions with physicians and PAs.
WebShadowers
Hearts for Health is a nonprofit dedicated to promoting accessible and engaging opportunities for pre-health students, and believe that it is crucial to gain exposure and insight into the health fields students are pursuing. Hearts for Health provides virtual shadowing experiences for students to learn and interact with healthcare professionals in various specialties. Here are some websites to learn more about Hearts for Health:
Volunteer Opportunities
Volunteering works best, for both you and the organization, when done over a sustained period of time.  You can build relationships with patients, understand the workings of your organization and its various roles, and increase your skills and abilities much more when you volunteer regularly at one location.  Through these volunteer opportunities, you will also get to know professionals who may allow you to shadow them or even write a letter of recommendation for you.
In addition to regular college volunteer opportunities, the Health Care Serve & Learn Experience provides volunteers who commit to six hours per week for a total of 72 hours per semester the opportunity to meet with healthcare professionals such as physicians, nurses, PTs, OTs, medical imaging techs and lab techs.
Augsburg Campus Kitchen offers different types of service-learning experiences, different times to fit into student schedules, and levels of commitment depending on how involved a student wants to be. This is a great way to learn about the relationship between food and health, to work with people from different backgrounds and cultures, and to become meaningfully involved in their community. Opportunities include:
Delivery shifts- Serve a meal at a community center, homeless shelter or senior apartments
Gleaning shifts- Collect surplus produce from farmers markets and move fresh, organic vegetables into low-income communities
Augsburg/Brian Coyle Farmers Market shifts- Help set up and run the weekly West Bank Farmers Markets (Tuesdays) and contribute to making fresh food more accessible in this community
Cooking shifts- Lead or participate in a cooking class and help make healthy meals to be delivered around the community.
Augsburg Health Commons
The Health Commons hosts drop-in health centers dedicated to serving those in need. The people who come to the Health Commons are from diverse cultural and socioeconomic backgrounds. Everyone is welcome, and all services are provided free of charge. Health concerns might include nutrition, medication, stress management, respiratory conditions, injuries, skin problems, and chronic diseases such as diabetes and hypertension. Frequently, people come to the Health Commons for its easy access, its supportive environment, and assistance with connecting to other healthcare resources. Volunteer opportunities are available in the Cedar-Riverside Neighborhood and Downtown Minneapolis at Central Lutheran Church.
Crescent Cove Respite & Hospice Home Care
Crescent Cove offers care and support to children and young adults with shortened life-expectancies, and their families who love them. It is the only home in Minnesota and only the third in the country. Opportunities for volunteers are available to support kids and young adults, and their families at Crescent Cove and their community. Katie Lindenfelser, Founder & Executive Director, received her B.S. in Music Therapy from Augsburg.
Fairview Hospice-Contact Anne Myers-Richards (612-728-2408 or amyersr1@fairview.org)
NorthPoint Health and Wellness Center
Remote Volunteer/Internship Opportunities
Democracy Lab has a database of in-person and remote volunteer opportunities to use technology to solve challenging social, economic, environmental and civic problems. They connect volunteers with the social, nonprofit and civic sectors "through the power of tech-for-good volunteerism."
St. David's Center– Contact Mali Anderson (manderson@stdavidscenter.org)
TRIA (PT Volunteer and Shadowing & Observation)
University of Minnesota Medical Center
Educational Programs
Dental School Preparation Programs
The University of Minnesota School of Dentistry offers high school and undergraduate students programs to get a head start on dental school.
Dental School Preparation Course
The Dental School Preparation Course offered at the University Of Minnesota School Of Dentistry is a 20-hour intensive program designed to prepare students for the field of Dentistry.
Des Moines University's Health Professions Advanced Summer Scholars Program
Des Moines University's Health Professions Advanced Summer Scholars program – DMU Health P.A.S.S. – is a great way for promising college sophomores and juniors to prepare for and enhance their chances of getting into medical school and other health professions programs.
The Ladder is a club for Northside kids who are interested in health careers. It's designed to expose kids to health careers through mentoring. The club is inter-generational, with members from fourth grade up through practicing physicians.
Virginia Commonwealth University
The Summer Academic Enrichment Program or SAEP at Virginia Commonwealth University is an intensive, six-week inter-professional program designed to enhance the preparation of junior and senior undergraduates, and post-baccalaureate students, actively pursuing enrollment in a health professions school. Students apply to one of four tracks (dentistry, medicine, pharmacy or physical therapy), which will determine their discipline specific concentration. Upon completion of the program, participants will have the tools that will help them to assess their strengths and weaknesses in regards to application into a health professions school. The 2016 application deadline is February 1, 2016.  SAEP will run from May 23 – July 1, 2016.
Summer Health Professions Education Program (SHPEP)
The Summer Health Professions Education Program (SHPEP) is a free summer enrichment program focused on improving access to information and resources for college students interested in the health professions. SHPEP's goal is to strengthen the academic proficiency and career development of students underrepresented in the health professions and prepare them for a successful application and matriculation to health professions schools. These students include, but are not limited to, individuals who identify as African American/Black, American Indian and Alaska Native and Hispanic/Latino, and who are from communities of socioeconomic and educational disadvantage.
Ohio University Summer Scholars Program in the Heritage College of Osteopathic Medicine
This program is a rigorous five-week premedical program to help participants become more competitive in the medical school admissions process and be more successful after acceptance into medical school. Program runs late May for five weeks, and consists of courses, lectures, and labs designed to be rigorous, intensive, and realistic. Students will be reimbursed for travel costs, receive program materials, room, and a "modest living allowance".
Doctor of Psychology Diversity Scholars Program at University of San Francisco School of Nursing and Health Professions
The Diversity Scholars Program is for USF PsyD prospective students. This two-day program includes dinner with current PsyD students, meeting with key USF leadership including the Dean, roundtable discussion with PsyD professionals, student-led campus tour, and priority interviews for applicants into the grad program. Transportation and costs covered.
Scholarships
UDALL Undergraduate Scholarship
The Udall Scholarship provides
Access to the Udall Alumni Network: an association of change-makers, working in Indian country and environmental fields, sharing innovative ideas, professional advice, and job and internship opportunities.
Five days in Tucson, Arizona, at Scholar Orientation: extending your professional network, meeting other scholars and alumni, and learning new skills.
Up to $7,000 for eligible academic expenses. (See our FAQs for scholarship award benefits and conditions.)
Research Fellowships and Internships
Research is an important part of the health field, with labs throughout the world focused on finding new discoveries and treatments that will be relevant for today's most pressing health issues.  If you have an interest in both health care and biomedical research, it may be beneficial to gain experience in both areas to help you discover which you find most engaging.  Research experiences offer students the opportunity to collect, analyze, and think critically about data, and to practice writing and presentation skills in a professional setting.  Below you will find research opportunities that will allow you to build these skills while researching important health-related issues.
University of Alabama at Birmingham Research Opportunities: use this SIBS Application to apply for any or all of the three following programs
Hackensack UMC Summer Clinical Research
Hennepin County Medical Center Emergency Department
The Jackson Laboratory Summer Program
The Jackson Laboratory is an independent, not-for-profit research institution. The Laboratory's work is dedicated to the betterment of human health through research in mammalian genetics.
Mayo Innovation Scholars Program- Augsburg University
Mayo Clinic scientists have developed new products that may be marketable. These products are submitted to the Mayo Clinic Office of Intellectual Property (OIP) for a thorough investigation of marketability. One of these products or inventions is assigned to each MISP team.  Augsburg's team of five will work together to understand the science and applications of the projects or innovations and analyze the market potential. The end result of the team investigation will be a business plan and final presentation at Mayo Clinic.
Mayo Clinic Research Opportunities:
Medical College of Wisconsin Summer Research Program (Recommended by an Auggie)
The Summer Program for Undergraduate Research (SPUR) provides the opportunity for students to learn first-hand the potential of the biomedical sciences as an interesting and fulfilling career.  The SPUR program provides laboratory experience in science, in which the undergraduate works with graduate faculty, students, and staff on significant ongoing basic science research issues.
National Alliance of Research Associates Program (NARAP)
NIH Summer Internship Program in Biomedical Research
NIH Undergraduate Scholarship Program
The NIH UGSP will pay up to $20,000 per academic year in tuition, educational expenses, and reasonable living expenses to scholarship recipients. Scholarships are awarded for 1 year, and can be renewed up to 4 years.  For each full or partial scholarship year, you get to experience two NIH service obligations:  a 10-week Summer Laboratory Experience at the NIH and employment at the NIH after graduation. Must have "exceptional financial need" to be eligible (see link for details).
Roswell Park Cancer Institute Summer Research Participation Program in Science
University of Pittsburgh School of Medicine Research Programs
Washington University in St. Louis
The Summer Research Program in Global Health is an eight-week program open to: full-time college undergraduates; graduate students pursuing a Master in Public Health (MPH), Social Work (MSW), or Population Health Sciences (MPHS); and medical students looking to gain experience in the field of global health research.
For information on additional research opportunities, please visit our On-Campus and Off-Campus Research pages.
Work Opportunities
There are a number of ways in which you can get experience in the medical field while earning money.  Below is a list of jobs that students may do during the school year, during the summer, or immediately following graduation to gain medical-related experience.
CNA
PCA
EMT
Pharmacy Tech
EKG Tech
Operating Room Tech
Medical Scribe
If you are planning on applying for medical school, we strongly recommend that you consider working as a Medical Scribe.  Scribes provide medical documentation services for physicians, physician assistants, nurse practitioners or other providers.  Under the physician's close direction the scribe will usually witness the patient interview and physical exam, and create a medical record for the patient based on the interaction. Scribes synthesize and enter this information into the electronic medical record. Scribes are also fundamental to workflow in the clinical setting, following up on lab results, facilitating specialist consultation,  and assuring that the radiological procedures and results are obtained in a timely manner.
Check out the local scribing companies and organizations that hire scribes listed below:
Gap Year Ideas
Many students choose to take a year (or more) off between their undergraduate studies and professional school to increase the competitiveness of their applications for admission. There are many worthwhile ways to spend this time including working in the health field, gaining lab experience, traveling or studying abroad, and working in community service. Focus on increasing your core competencies.  Below you will find a number of opportunities that may help you gain skills and encourage personal growth during your time between programs.
Post-baccalaureate Programs
Post-baccalaureate resources from AAMC include a searchable database
Post-baccalaureate information – compiled by National Association of Advisors for the Health Professions (NAAHP)
PostBacCAS – Centralized application service for postbaccalaureate programs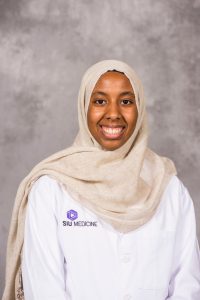 Aisha Mohamed, B.S. Biology '16, recently shared her experiences with MEDPREP which is affiliated with Southern Illinois University School of Medicine. MEDPREP has a mission of diversifying the field of medicine and is geared toward students who are financially and/or educationally disadvantaged. "What is great about MEDPREP is that they understand that sometimes life gets in the way of our career goals and they offer a second chance. What I love the most about MEDPREP is that it is holistic. Not only do we work on mastering science concepts covered on the MCAT, we also work on our AAMC application and meet one-on-one with medical school admissions representatives. MEDPREP is also for students interested in dental school. About 85% of students who apply to Medical School get in which speaks volumes as to how successful the program is.  The program is two years long; during that time you have the option of earning a Masters in Biological Sciences or a Masters in Public Health."
Research
Apply for National Fellowships and Scholarships through URGO – Teach, study or research abroad, all while adding an impressive award to your resume
NIH Post-baccalaureate Intramural Research Training Award
Service Learning
Global Health Corps recruits and selects highly qualified applicants with diverse skill sets to work with high-impact organizations in year-long paid positions. During their fellowship year, fellows make a significant and measurable contribution to the placement organization and the target population.