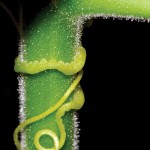 Q: What is it?
A: The parasitic plant dodder (Cuscuta pentagona) attached to a host plant from which it acquires all its water and nutrients.
Lucy Bukowski '16
Major: Biology, Minor: Environmental Studies
Research mentor: Bill Capman, associate professor of biology
Augsburg College students have studied the interactions between dodder and its host plants since 2008, and this summer Lucy Bukowski '16 worked on an experiment testing the hypothesis that a decline in the health of the host plant triggers the dodder to flower. Bukowski's project benefitted from the help of a plant pathologist at the University of Minnesota-Twin Cities who offered greenhouse space, thus providing a larger growing area and better growing conditions for Bukowski's research.
---
More about the dodder project
Bill Capman has mentored Augsburg College students conducting hands-on research using the dodder plant both to fulfill their undergraduate coursework and to gain experience through the College's co-curricular programs. In Bukowski's case, spending the summer working on an individually tailored project offered a structured yet challenging opportunity to gain exposure to the steps comprising sophisticated academic research, which include conducting a literature review, collecting and analyzing data, presenting key project takeaways to a live audience in a setting that simulates a research conference, and more.
Bukowski's project built upon research by a series of previous Augsburg College students during the past 10 years whose work focused primarily on patterns of host plant resistance to dodder. Faculty members often lead subject-specific research that incorporates new students year after year, adding depth and longevity to the investigation while also allowing students to contribute to a body of research that is bigger than their individual project.
Anika Clark '14 took part in research advised by Capman during the summer of 2013, and she said her experience was enhanced through the contributions made by preceding students.
"[By] looking at the methods of previous research done at Augsburg, I could optimize the methods for my specific question," she said.
Clark's research spurred a unique—and fortunate—opportunity for Bukowski. Through the research presentation at the conclusion of Clark's 2013 project, a plant pathologist from the University of Minnesota became intrigued by the dodder research at Augsburg. He invited Capman to give a research seminar at the University of Minnesota on the dodder work and then offered the use of some of his greenhouse space as an improved setting in which to grow dodder and its host plant, velvetleaf, during the summer of 2014.
"Lucy got to work side-by-side with really big science," said Capman, explaining that the greenhouse is also used for research on wheat rust, soybean aphids, and other projects linked to global food security.
Access to a bigger and more uniform growing space allowed Bukowski and Capman to implement a large-scale project for the first time, building on an already fascinating series of studies.
Bukowski and Clark said they plan to attend graduate school in the future and appreciate the ways in which on-campus summer research at Augsburg has helped to prepare them for the next phase in their education.
"Prior to [the dodder] project, I had no research experience," said Clark. "I am so lucky that…I gained a sense of confidence regarding my abilities."
Bukowski hopes her first research experience will lead to additional opportunities prior to her graduation while also enhancing her graduate school applications and preparedness for its rigorous workload.
"This project shows I can work semi-independently and successfully on research," she said. "I know it will open up more doors for me in the future."