The score was tied at 2-2 in the fourth inning as a University of Wisconsin-Stout slugger knocked a foul ball down the right field line. Auggie outfielder Brian Bambenek '07 sailed through the air—glove extended. The ball landed in the pocket, then popped out as his body slammed into an unprotected portion of fence at the Hubert H. Humphrey Metrodome in Minneapolis.
After minutes of darkness, the then-senior's eyes blinked opened to see Augsburg College's Head Athletic Trainer Missy Strauch hovering over him. She monitored numbness in his fingers and toes, held his hand in the ambulance, and called his parents, Nancy and Mike, to report that their son had injured three disks in his neck.
During the days and weeks that followed, Strauch went well beyond her job description to get Bambenek back in action.
"I am forever in debt to Missy for all she did for me," said Bambenek, who today is co-owner of the Great Lakes Baseball Academy in Woodbury, Minnesota. "She is an incredible trainer who truly loves Augsburg College, and we still find time to catch up a few times a year. And her cutting-edge research in arm care continues to influence my work with athletes."
We don't have all the bells and whistles of Division I schools, but I would stack our program's continuity of care against any of them. –Keith Bateman, Baseball head coach
These types of bonds with athletic training staff are the norm at Augsburg. During her 18-year tenure, Strauch has built an expert, dynamic team of professional trainers and student assistants who collaborate across campus and within the community to achieve a holistic approach to the safety and wellness of Augsburg's more than 500 student-athletes.
It's fast-paced, passionate work. Strauch and her staff know players' names. They generate daily injury reports and conduct pre- and post-season screenings, and a member of the medical staff travels with every team to most away contests. Strauch demands best practices and has championed increased data collection and the adoption of many advancements, including the computerized concussion evaluation system, IMPACT. She and her staff connect with professors to formulate accommodations for injured student-athletes.
"At its core, our role is about relationships—building trust with coaches and student-athletes and developing supportive partnerships throughout campus and with professionals in the community. We work to become part of the team. Assistant Mitch Deets, for instance, camped for a week in northern Minnesota for a cross country team training trip. Assistant Athletic Trainer Kassi Nordmeyer will be traveling to Boston with volleyball this fall and then wrestling and softball throughout the year," said Strauch, who works specifically with football, men's and women's hockey, and baseball.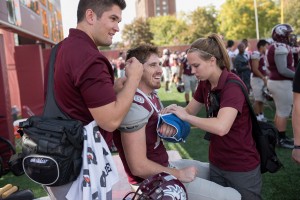 "We don't have all the bells and whistles of Division I schools, but I would stack our program's continuity of care against any of them. And you won't find stronger bonds. I should show you our stack of Christmas cards and wedding invitations from former student-athletes. Those personal connections make all the difference." Baseball head coach Keith Bateman agrees.
"First-year and transfer student-athletes are often a little hesitant to disclose an injury because they are afraid of not playing. And coaches like being in charge, so I would say many athletic trainers run into walls with team leadership. But not here, not with Missy. She won't let them or us get away with that," said Bateman, who is in his 13th year at Augsburg. "She and her staff become such a part of our teams that they know when players are having a bad day by the way they carry themselves. They want student-athletes to play, to be tough, but not to be stupid."
A thoughtful evolution
Former head football coach Jack Osberg '62 worked closely with Strauch for more than 10 years, watching the sports medicine program grow from a part-time enterprise to a comprehensive team that features four certified athletic trainers, one athletic training intern, one physician assistant fellow, 11 student sports medicine assistants, two physicians, one chiropractor, and two physical therapists.
"As students at Augsburg in the late '50s and early '60s, we didn't have athletic trainers. Coaches took care of taping, injury rehab, and other training situations. The technology, knowledge, equipment, facilities, communication, and pre-season conditioning available to coaches and student-athletes now is remarkable," said Osberg, who served as head coach for 14 years and as an assistant coach from 2007-10. "I respect Missy and her staff having observed their mentoring of student assistants, poise when handling serious injuries, and focus on the latest training techniques."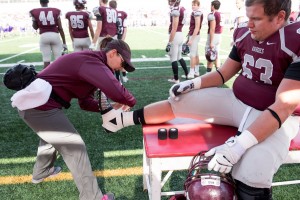 Women's hockey player Claire Cripps '16 is one such student who can testify to the program's expert attention and nurturing approach. Days before midterms last year, the forward sustained a concussion on the ice, leaving her with headaches, dizziness, sensitivity to light, and an inability to focus for almost two weeks.
"Missy sent an email to the dean and each of my professors explaining what happened, which led to postponing my exams until I had the ability to study and focus again," said the exercise science major who plans to pursue a doctorate of physical therapy. "There were no issues with any of my professors, and they all wished me well, which made me really feel that sense of community that convinced me to come to Augsburg after my first visit to campus."
That same sense of community drew Jennifer (LaManna) LaBore '03 to play softball and basketball for Augsburg more than 15 years ago. She and Missy became fast friends after LaBore tore her ACL, and that bond remains today.
"Missy was like a second mom," said LaBore, who played basketball from 1999 to 2002 and softball from 2000 to 2003. "I spent more time in the training room than I did at home with all the injuries I sustained in college. Missy would set up appointments with expert doctors and keep me positive and motivated throughout the recovery process. She even made sure I saw doctors in network. Those little extras showed she cared about me as a person, not just because it was her job.
"Even after graduation, I call Missy if I hurt myself," said LaBore, who works as an account executive for HeathPartners in Bloomington, Minnesota. "I called her a few months ago about my dad's torn rotator cuff, and she recommended a surgeon. She inspires that same down-to-earth, caring, and dedicated spirit throughout the staff. They are some of our loudest cheerleaders, and they certainly feel like family."
Advancements in prevention
Although the most common injuries are routine sprains and bruises, concussions and other serious traumas are a growing area of concern as student-athletes' speed, size, and strength has increased. But, Strauch says, the diagnosis, treatment, and rehabilitation also have improved. In collaboration with Twin Cities Orthopedics, Augsburg's implementation of IMPACT (Immediate Post-Concussion Assessment and Cognitive Testing) establishes a baseline for each student-athlete so that health care professionals can quickly and accurately measure changes and potential damage in the aftermath of a concussion. The team's cutting-edge equipment and data collection, paired with the College's longstanding relationships with area doctors, ensure that concussions are addressed promptly and thoroughly.
Dr. B.J. Anderson, who serves as Augsburg's director of general medicine, said the College's sports medicine program offers a "gold standard" of care, particularly when it comes to addressing serious injuries.
"I've worked with athletic trainers across the globe, and Augsburg's team is second to none," said Anderson, who is a primary care provider for the University of Minnesota Boynton Health Service. "The College's neurocognitive testing is state of the art, and the staff's relationship with me and other doctors results in continuity of care. We get them in early, address the problem, and get them back in action."
I've worked with athletic trainers across the globe, and Augsburg's team is second to none. –Dr. B.J. Anderson
It's collaboration and conversation among Augsburg faculty and staff that make all the difference in ensuring student-athletes perform their best in competition and in the classroom.
When Carol Enke, instructor for Health, Physical Education and Exercise Science, noticed that a typically advanced student turned in puzzlingly poor work, she reached out to her colleagues.
"Earlier in the semester, I had used the student-athlete's work as an example of excellence in class, so when she turned in a below-average lab assignment, I called Missy right away," said Enke, who served as Augsburg's head softball coach for 21 seasons. "I knew the student had experienced a concussion weeks prior because Missy called me after the incident. [When] we realized that the injury affected the student-athlete's ability to analyze … the entire campus community came together in support. That's what we do at Augsburg."
And, while Augsburg Athletics employs progressive protocols to safely assess and treat injuries, the College is equally focused on prevention. In June, Ryan Rasmussen came on board as Augsburg's head strength and conditioning coach and has since worked closely with athletic trainers to keep student-athletes in optimum condition. He is the first collegiate strength and conditioning coach certified in a novel restorative movement approach called RESET. Rasmussen says the system pinpoints and eliminates compensation patterns, empowering Augsburg student-athletes to return to play faster and achieve better performance through optimal movement.
"To reap the full benefits of physical activity, we need flawless posture and movement, and this restorative approach helps us achieve just that," Rasmussen said. "Having a team of people who are concerned with the health of our athletes is hugely important. We recently collaborated on rehab for a hockey player with a torn ACL. She is returning to play this year and was the top performing woman among the five teams reviewed during our conditioning test."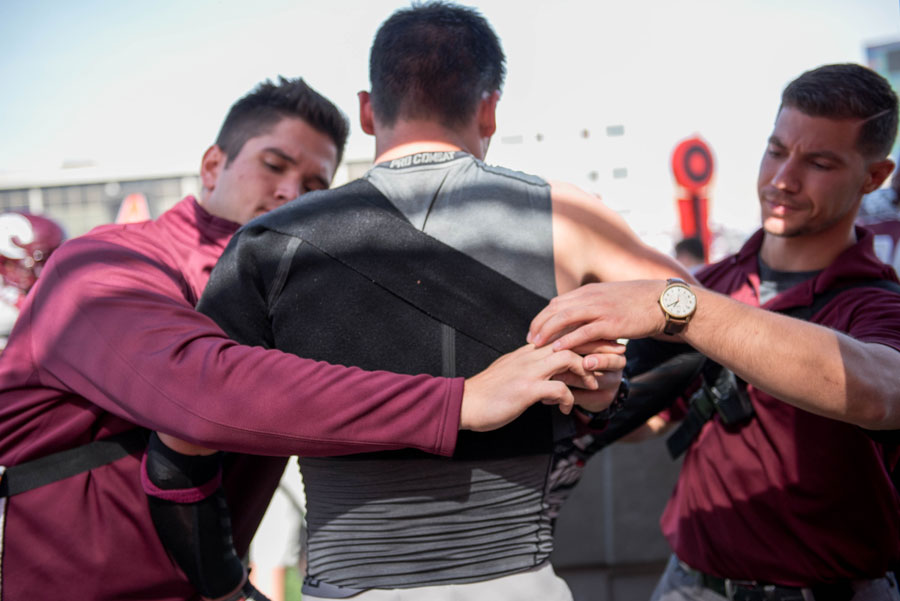 Inspiring mindful student-athletes
Mental health and nutrition also are pillars of wellness that the Athletics staff is committed to addressing in a collective, proactive manner. Sports medicine professionals advise student-athletes about the latest in nutrition and collaborate regularly with Augsburg's Center for Wellness and Counseling to ensure student-athletes are aware of the center's resources and community support. Center Director Nancy Guilbeault said anxiety and stress are increasingly present in student-athletes lives, but Augsburg is committed to helping all students have healthy, happy college days.
"This fall, we worked with Athletics to develop four sessions for incoming student-athletes to address alcohol consumption, mindfulness, body image, and healthy relationships. Athletics, more than many, knows the importance of working as a team to confront the challenges our students face, so they are wonderful partners," said Guilbeault, who has worked at Augsburg for 36 years. "Coaches and athletic training staff are often the first to notice when a student-athlete might need to talk with us, and they stick with them throughout the process—often walking them over to the Center or attending a session with them."
Guilbeault says mental health is often tied with injuries, as student-athletes feel stress associated with "letting the team down" or experience mental health issues because of certain physical traumas. Her team of counselors and the Center's collaboration with a psychiatrist and community resources ensure students receive optimum care.
"Our students receive up to 10 counseling sessions each academic year, and if they need additional support beyond that, we refer them to one of our community partners and keep up with their care," Guilbeault said. "Mindfulness meditation techniques are particularly important for student-athletes because the approach encourages student-athletes to be aware of their bodies and present moments, becoming more resilient to stress."
Building on a strong foundation
Like any strong foundation, the sports medicine team's roster of professionals and holistic, collaborative approach took years to build; but behind the staff hires, the new technology, and personal bonds is Strauch—driving herself and her staff to become more than just "trainers who wrap ankles." They are a passionate team of professionals who will do whatever it takes—from stirring the Crock-Pot at potlucks to calling professors—to ensure student-athletes have the tools and support they need to succeed and achieve their life goals.
"Our profession has changed dramatically in the past decade. Many of my mentors were focused solely on the injury, and we now take a much broader view, a much more involved role," Strauch said. "And the best part about it is that we will continue to grow and continue to adapt to the demands of the future.
"Augsburg is a community dedicated to finding new and better ways to support our students in every aspect of their lives. And Athletics is a family of student-athletes, parents, coaches, and trainers—all striving to do better, work harder, and represent the best of Augsburg. I love this school. Go Auggies!"
---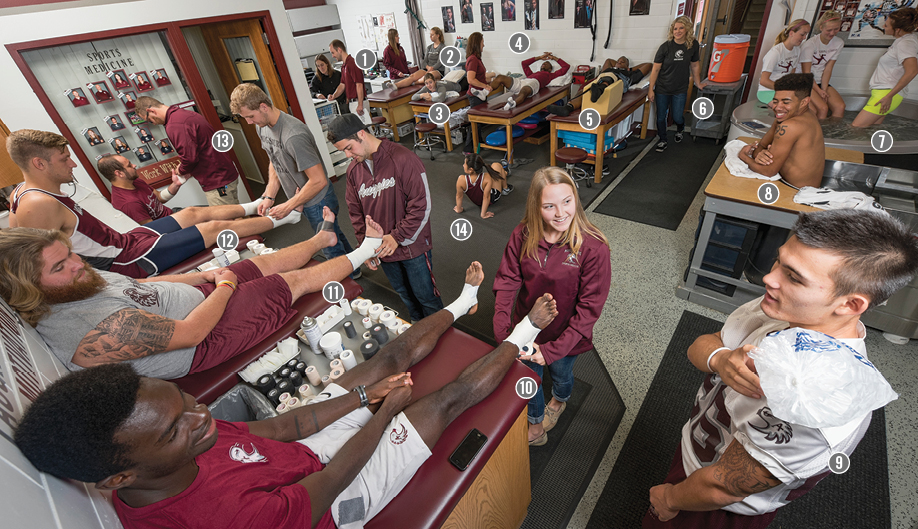 Training Center bustles with energy
In this photo illustration, the Augsburg College training center is a hive of activity. Student-athletes buzz in and out to get care before and after practices and games while athletic training staff assess injuries. After professional staff determine the appropriate care for a student-athlete, the College's student sports medicine assistants implement treatment and get hands-on practice in their field of study. The training center always is humming with action and support meant to help Auggies do their best in competition and in the classroom.
Assistant Athletic Director and Assistant Softball Coach Melissa Lee '04 and Assistant Athletic Trainer Mitchell Deets work at the electronic record check-in station.
Assistant Athletic Trainer Kassi Nordmeyer administers a pre-practice ultrasound on Jessica Lillquist '16, a member of the volleyball and basketball teams.
Courtney Lemke '17, volleyball, is treated with hot packs and electric stimulation.
Head Athletic Trainer Missy Strauch completes a knee evaluation on soccer player Mohamed Sankoh '16.
Jerrome Martin '17 is treated with a cold compress before football practice.
Kayla Fuechtmann '16, a sports medicine assistant and hockey player, hauls a hydration cooler back from practice.
Soccer players receive hydrotherapy. The players are, from left, sports medicine assistant Carter Denison '17, Marta Anderson '17, and Ashley Waalen '17.
Jorden Gannon '18 gets post-football practice hydrotherapy.
R.J. Cervenka '16, a football player, ices his shoulder after practice.
Sports Medicine Assistant Beth Zook '17 tapes the ankle of soccer player Ngochinyan Ollor '15.
Student Medicine Assistant Aden Lehman '17 tapes the ankle of football player Mac Kittelson '16.
Logan Hortop '17, a sports medicine assistant, tapes the ankle of Sean Adams '17, a member of the cross country and track teams.
Sports Medicine Assistant Kristopher Woods '17 delivers wound care to football player Tyler Sis '16.
Silvia Cha '19, member of the cross country team, does ankle rehabilitation.
---