Augsburg University is committed to helping its members – students and employees alike – explore their vocation. As a University with a calling, we welcome the unique gifts that each of our employees brings to our collective work, and we are committed to supporting our employees as they seek to match those gifts with the needs of the University and our larger community. It is through this ongoing discernment of vocation – of helping our community members seek meaning in their lives and work – that we believe we will be best equipped to serve our neighbor and to educate our students at the intersection of faith, learning, and service.
The University recognizes that in order to serve our students and live out our mission we need to be committed to ensuring that the work environment allows employees to have clear expectations of their job responsibilities and career opportunities matched with the needs of the University, as well as competitive compensation. We strive to have a collective commitment to the success of our colleagues. We are dedicated to creating an atmosphere of work that epitomizes co-creation and effective partnerships as a hallmark of our work together.
Augsburg Mission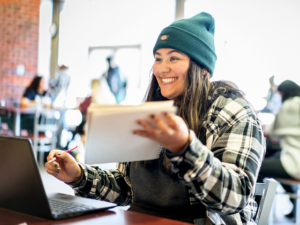 Augsburg University educates students to be informed citizens, thoughtful stewards, critical thinkers, and responsible leaders. The Augsburg experience is supported by an engaged community that is committed to intentional diversity in its life and work. An Augsburg education is defined by excellence in the liberal arts and professional studies, guided by the faith and values of the Lutheran Church, and shaped by its urban and global settings.
To read more about the history of Augsburg University, Augsburg's future and strategic vision, "Fast Facts" about the university, university leadership, and directions and parking, visit About Augsburg University.
Virtual Campus Tour
Check out our Minneapolis campus without leaving your desk (or couch).
EQUAL EMPLOYMENT OPPORTUNITY
Augsburg University is committed to providing equal employment opportunity to all applicants and employees regardless of their race, color, creed, religion, gender, age, national origin, familial status, disability, veteran status, sexual orientation, gender identity, gender expression, marital status or public assistance status, or any other characteristic protected by federal, state, or local law. If you need a reasonable accommodation to complete our application process, please contact our Human Resources Department at phone number: 612-330-1058 or email: hr@augsburg.edu.
TITLE IX
Title IX refers to Title IX of the Educational Amendments of 1972, and it prohibits discrimination on the basis of gender by institutions receiving federal money.  Generally, the Title IX Coordinator is responsible for the development, implementation, and monitoring of meaningful efforts to comply with Title IX law.  This includes overseeing the Title IX complaint process as well as identifying and addressing any patterns or systemic problems that arise.
Title IX Officer:
Katie Bishop
Memorial Hall Room 118A
612-330-1117
bishopc@augsburg.edu